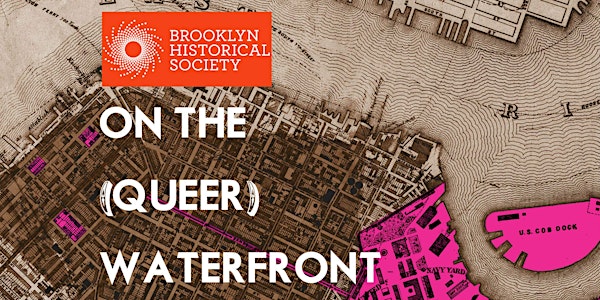 On the (Queer) Waterfront Opening Reception
When and where
Location
Brooklyn Historical Society 128 Pierrepont Street Brooklyn, NY 11201
Description
Join us for the opening of the exhibition On the (Queer) Waterfront: The Factories, Freaks, Sailors & Sex Workers of Brooklyn, and the launch of Hugh Ryan's new book When Brooklyn Was Queer.

About the Exhibition: On the (Queer) Waterfront is the first exhibition ever to focus explicitly on the lesbian, gay, bisexual, transgender, and queer history of Brooklyn. Since the 19th century, there has been a significant – if often overlooked – LGBTQ presence in the borough, much of it clustered along the waterfront, where industrial jobs, cheap housing, and urban anonymity life provided unique opportunities for queer people to explore their own desires and discover one another. By profiling the many queer individuals who have lived in or passed through Brooklyn in the last 150 years, On the (Queer) Waterfront shows both the changes and continuities in our ideas and experiences of sexuality in Brooklyn.
About The Book: Hugh Ryan's When Brooklyn Was Queer is a groundbreaking exploration of the LGBT history of Brooklyn, from the early days of Walt Whitman in the 1850s up through the queer women who worked at the Brooklyn Navy Yard during World War II, and beyond. Ryan is here to unearth that history for the first time. In intimate, evocative, moving prose he discusses in new light the fundamental questions of what history is, who tells it, and how we can only make sense of ourselves through its retelling; and shows how the formation of the Brooklyn we know today is inextricably linked to the stories of the incredible people who created its diverse neighborhoods and cultures. Through them, When Brooklyn Was Queer brings Brooklyn's queer past to life, and claims its place as a modern classic. When Brooklyn Was Queer goes on sale March 5, 2019.