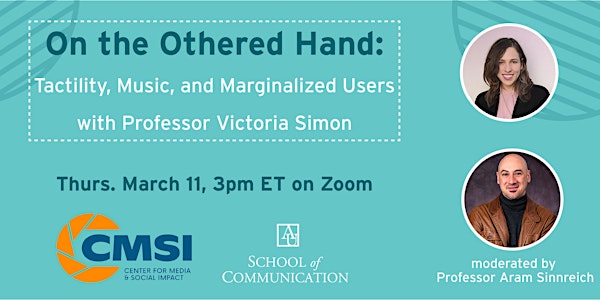 On the Othered Hand: Tactility, Music, and Marginalized Users
On the Othered Hand: Tactility, Music, and Marginalized Users
About this event
How might user interfaces – the process of their development, their design, and the stories we tell about them – be informed by principles of social justice? Why is music touchscreen technology an important case study to unpack the normative accounts of the envisioned end-user? Join AU professor Victoria Simon for a talk that demonstrates the little-known role that theories of users and universal interface design in music technology have played in the cultural formation of smartphone and tablet technology reliant on AI. The event will be moderated by AU professor Aram Sinnreich.
Meet Our Speakers:
Dr. Victoria Simon joined American University in August 2020. Simon examines the history and cultural politics of technological interfaces and software industries, drawing lines between the practices of developers, identity, disability, and democracy. She has a special focus on music and sound, and is currently working on her first book manuscript, titled From Difficulty to Delight: The Genealogy of Haptic Musical Screens. Her latest research has been featured in the journal Amodern (an article on disability, avant-gardism, and the social meaning of the touchscreen), Television & New Media (a study on the intersection of music app aesthetics, videogame design, and queer theory), Communication, Culture & Critique (research on Twitter, videogames, and Shakespeare), From Xenakis's UPIC to Graphic Notation Today (a chapter on historical paradigms of HCI for music composition), and Appified: Culture in the Age of Apps, (a chapter on user interface design and creative labor).
Dr. Aram Sinnreich is a Professor and chair of the Communication Studies division at American University's School of Communication. Sinnreich's work focuses on the intersection of culture, law and technology, with an emphasis on subjects such as surveillance, critical data studies, intellectual property, remix culture, and music. He is the author of three books: Mashed Up (2010), The Piracy Crusade (2013), and The Essential Guide to Intellectual Property (2019). He has also written for publications including The New York Times, Billboard, Wired, The Daily Beast, and The Conversation. Prior to coming to AU, Sinnreich served as Associate Professor at Rutgers University's School of Communication and Information, Director at media innovation lab OMD Ignition Factory, Managing Partner of media/tech consultancy Radar Research, Visiting Professor at NYU Steinhardt, and Senior Analyst at Jupiter Research. He is also a bassist and composer, and has played with groups and artists including progressive soul collective Brave New Girl, dub-and-bass band Dubistry, punk chanteuse Vivien Goldman, and Ari-Up, lead singer of the Slits. Sinnreich was a finalist in the 2014 John Lennon Songwriting Contest, and a semi-finalist for the 2020 Bernard/Ebb songwriting award.
Co-Sponsored by: