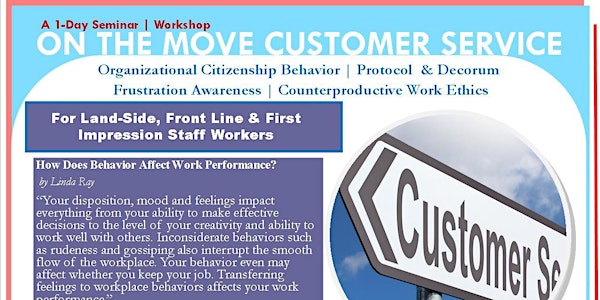 On The Move Customer Service: Land-Side, Front Line & 1st Impression Staff
When and where
Location
950 South Pine Island Road A-150 Plantation, FL 33324
Description
The staff members, who are on the street more than other staff members (e.g., land-side workers in the transportation industry, etc.), the front-line workers who are always working with customers, especially of a diverse ethnicity, and those who are first impression workers, may find these seminars/workshops most valuable. They are constantly under stress to act appropriately, spontaneously, even when working with difficult customers. There is a time when common sense has to kick-in calmly yet pragmatically, when logic fails.
Does your staff know the differences, when, how and why to act?
The adage, "We are excellent at providing customer service; so let us keep it that way?" is not a myth.
Read more about "On The Move Customer Service" which is a reminder, enhancement course (presented in a seminar-workshop environemnt, teaching us that every so often, human relations is an essential part of every staff members professional development training requirement (please continue reading at our website . . . .)
Corporate Strategists is about "on the move customer service" when it counts most . . . proactively and daily!
Thank you for visit our website.