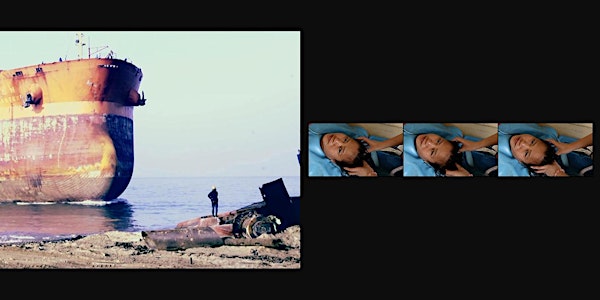 On the Margin: Screening with Patty Chang, David Kelley, and Hira Nabi
Please join us for a screening and Conversation with Patty Chang, David Kelley, and Hira Nabi
When and where
Location
Asia Art Archive in America 23 Cranberry Street Brooklyn, NY 11201
Refund Policy
Contact the organizer to request a refund.
Eventbrite's fee is nonrefundable.
About this event
Screening together Patty Chang and David Kelley's Route 3 (2011) and Hira Nabi's All That Perishes at the Edge of Land (2019), this event examines recent audio-visual approaches to the pressing and intertwined issues of ecological and economic crises. Reflecting on the human as well as environmental costs of global capitalism in rural Laos and coastal Pakistan, the artists reinvigorate documentary images with a wide range of forms, including performance, fictional monologue, and oral history. Reshuffling the figure-ground relationship between human actors and eco-geographical backgrounds, the artists bear witness to the impact of migrant labor and shifting landscapes in under-charted territories of Asia.
The screening will be followed by a discussion between the artists.
Bringing together a group of artists working with video art and other forms of moving-image, On the Margin screening series attempts to examine issues related to labor, migration and the margin. By exploring the space between documentary and art, this series aims to question how collective and/or personal stories complicate the definition of borders in Asia and beyond.
On the Margin screening series is organized and moderated by Zoe Meng Jiang and AAA-A's Furen Dai.
-
Hira Nabi is a Pakistani visual artist and filmmaker. In her artistic research and practice, she thinks through vulnerable ecologies, conditions of labor, memories, and temporality. In her work, witnessing is an act charged with radical possibility, and one that holds immense potential for collective responsibility and love.
Patty Chang is a Los Angeles based artist and educator who uses performance, video, installation and narrative forms when considering identity, gender, transnationalism, colonial legacies, the environment, large-scale infrastructural projects and impacted subjectivities. Her museum exhibition and book The Wandering Lake investigates the landscapes impacted by large scale human-engineered water projects such as the Soviet mission to irrigate the waters from the Aral Sea, as well as the longest aqueduct in the world, the North to South Water Diversion Project in China. She teaches at the University of Southern California in Los Angeles, CA.
David Kelley is an artist working with photography, video, and installation. His recent projects draw attention to the effects of global capitalism, resource extraction, and shifting physical and political landscapes. Influenced by a range of visual traditions, Kelley draws upon elements of experimental documentary, ethnography, performance, and avant-garde cinema. By working at the intersection of these strategies, he encourages an understanding of his subjects that is simultaneously direct and speculative. He is currently based in Los Angeles, California, and is an Associate Professor of the Practice of Fine Arts at University of Southern California.
Image: Left: Video Still, Hira Nabi "All That Perishes at the Edge of Land" (2019). Courtesy of the Artist. Right: Video Still, Patty Chang and David Kelley "Route 3" (2011). Courtesy of the Artists.