Description
Welcome to "ON THE GRIND" - A Podcast for entrepreneurs!
We are going LIVE at Atlanta Tech Village with Show #6
This is going to be the LAST SHOW of the year and it's going to be BIG!
On October 11th The President and Executive Producer of Tyler Perry Studios will be in the building and we will be discussing his incredible journey from his humble beginnings to how he became the President of Tyler Perry's empire!
Ozzie Areu started out working as a security guard at the gate of Warner Bros. Studios greeting guest and movie stars. Eventually moving up to working in the production department where Jennifer Anniston offered him a job and soon after worked for Brad Pitt and Ellen Degeneres. Then in 2006 he met Tyler Perry, he started out as his Executive Assistant and after putting in incredible amount of work, Tyler promoted him to President within two years.
His journey wasn't that easy, Ozzie and his brother Will had other plans in life before working in the flim industry. They lost their father at an early age, so they had to grow up quickly taking care of the family. Their mother making ends meet to pay for college. Will worked the graveyard shift, Ozzie lost his dream job due to driving without insurance, which is illegal in California.
Today, besides producing hundredes of movies and TV shows, Ozzie has created hundreds of jobs by bringing in projects, talent and innovation for the film industry in Georgia. He is also a Tech investor, and has recently created a app for the new gig economy called Veryfier.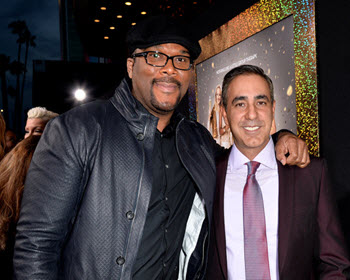 WHAT THE EVENT WILL COVER:
Entrepreneurship, Doesn't matter what your product is the process is the same
Ozzie's journey from security guard to President of Tyler Perry Studios
The film industry: Georgia is RANKED #1 in movie production in the world!
Tech investor - New app for the gig economy - Veryfier
WORK ETHIC, THE HUSTLE, THE GRIND!
How to be happy
Your niche will make you rich!
Passion is key to success
SCHEDULE:
6:30PM TO 7:15pm - Tap the keg and network with amazing people! Sponsored by Bering Ice Vodka and Three Taverns Brewery
7:15pm TO 7:30pm - Presentation by Veryfier App Team. Forbes Article here:

7:30pm TO 8:15pm - Interview with Ozzie Areu
8:15pm TO 9:00pm - Q&A with audience
9:00pm TO 9:30pm - Meet and greet with Ozzie Areu
* RAFFLE PRIZE =
We will be doing a live raffle prize at the event.

1st raffle we will give away a Drone,
2nd raffle - lunch meeting with Ozzie Areu
FAQs
Who is this event for and why should I attend?
Everyone! If you are an entrepreneur, business owner, work in the film industry, student, technology professional, investor or just someone who wants to be inspired by the GRIND then you need to be here! Learn from someone who started with nothing to becoming an influencer. Network with like minded individuals, Get motivated, if you listen to podcast, like amazing craft BEER then this event is for you! (Must be 21 to drink!)
Why is there a fee for this event?
We all have spent $10 bucks on frivolous things in our lives- I promise you for this small fee you will receive amazing value by building your network, gaining new knowledge, and getting inspired. Your donation will also help offset the cost for food, drinks, various cost.....etc....
Do I have to register for a ticket?
YES! - You will need a ticket to claim your seat at Atlanta Tech Village! Only 250 seats available! First Come, First serve! Once seats are filled, No more tickets!
Contact me if you have any questions at otgteam@onthegrindradio.com
What is a live Podcast?
This event will be video taped and featured on Apple iTunes so anyone can download it. Please go to my website to learn more about my podcast and other episodes here: www.onthegrindradio.com
Do I have to bring my printed ticket to the event?
Yes, it will make it easier for us to check you in. Or you can download the tickets on your smart phone
Refund Policy:
You will receive 100% refund until October 1st.
Can I sponsor the event?
YES- Please email us at otgteam@onthegrindradio.com we will give you full details on how to maximize your sponsorship! .... And yes... your sponsorship will be featured on Apple iTunes for worldwide exposure!
SEE YOU THERE!