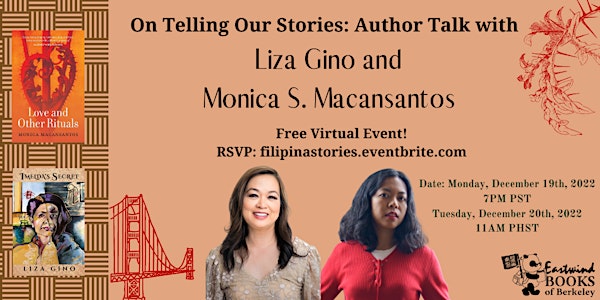 "On Telling Our Stories": Authors Talk w/ Liza Gino & Monica S. Macansantos
For children of immigrants, stories are our inheritance. They are records of where we have been
Refund Policy
Contact the organizer to request a refund.
Eventbrite's fee is nonrefundable.
About this event
The survival of the identities has always demanded of their refugees, which stories will you bring with you when you leave? And which stories will you leave behind? For children of the diaspora, stories are our inheritance. They are records of where we have been. In a culture where euro-centric stories have always taken precedent over the stories of people of color, a lot of us find ourselves disconnected from our roots and find that our stories often go untold.
Monica S. Macansantos in the Philippines joins Liza Gino in the Bay Area through Zoom to discuss their books and share stories about the Filipino Global Diaspora. From New Zealand to San Francisco these stories resonate for all who yearn for home and find themselves on new lands. Join us for an incredible virtual Authors Talk -- save the date Monday, December 19, 2022 at 7pm/Tuesday, December 20, 2022 at 11 am PHST.
How to Get Their Books:
Purchase Love and Other Rituals in-store or from our website: www.AsiaBookCenter.comLove and Other Rituals by Monica Macansantos
Purchase Imelda's Secret by Liza Gino in-store or from our website: www.AsiaBookCenter.com
A man imprisoned by taboo learns the price of love. A child visits the grave of a cousin she's never met; another absorbs the fallout of her parents' divorce. Friendships rupture beyond repair, and family members collide when it comes to caring for their ageing father. These vivid stories of yearning, loneliness and resilience navigate the naivety of childhood, the complications of young adulthood and the politics of marriage. Monica Macansantos is a powerful new voice bringing us the raw and darkly beautiful perspectives of characters lost both in and out of their homeland, the Philippines.
Love and Other Rituals is a collection of short stories that holds a strong focus on love in its many forms, and the difficulties all kinds of relationships can bring. At home in the Philippines, and abroad in the US and Pacific diaspora, the characters search for a sense of belonging and understanding, and contemplate the tentative nature of home. The collection explores coming of age, loss, cultural clashes, family ties, class, immigration and elusive ambitions. Monica Macansantos is a stunning new voice in international Filipino literature, whose work will appeal to readers in the United States, including among the large Filipino communities in the country.
'I loved these beautiful stories by Monica Macansantos, who writes with such beauty and delicacy about desire, home, longing, loneliness, duty, and hope - that is, what it means to be human. Every story is terrific, different, surprising. I can't wait to see what she does next.' - Elizabeth McCracken, author of The Souvenir Museum, Bowlaway, The Giant's House and Thunderstruck & Other Stories; winner of the 2015 Story Prize.
Imelda's Secret is based on several true accounts from family and friends about the Japanese occupation of the Philippines written into one storyline. This novel is not another war story but a story about redemption, advocacy, and strength of the comfort women. Their plight continues way after the war and demands attention and action.
The novel is about two heredera cousins, Imelda and Gloria, who survived World War II. Forty years after the war, they are now living in San Francisco, California, dealing with the trauma of their experiences during the war. Gloria has revealed that she was a comfort woman, whereas Imelda kept it a secret.
Gloria's disclosure hurt her and her sons deeply. Together with Imelda's daughter, Adele, they started to gather other comfort women and advocate for them. Gloria is now dying and is imploring Imelda to tell her story as a comfort woman and continue her fight because it is in the interest of all women to safeguard against sexual tyranny.
Imelda lost a lot during the war and saw how Gloria was ostracized instead of being supported. She kept her secret to protect herself and her daughter. Adele did not know about Imelda's secret. Fearful that her secret will change everything, she refused to speak of it. Gloria's impending death forced Imelda to face the truth. There are other reasons that are compelling Imelda to speak up. One unforeseen element is the appearance of a Japanese Colonel at her door in San Francisco.
Imelda's Secret is life changing. Her nondisclosure was meant to protect her and her family and, yet, the truth cannot stay hidden forever. Changes are coming and Imelda has to brace for it.
About the Authors:
Monica Macansantos earned her MFA in Writing as a James A. Michener Fellow from the University of Texas at Austin, and her PhD in Creative Writing from the Victoria University of Wellington, International Institute of Modern Letters. Her work has appeared in Colorado Review, The Masters Review, Day One, failbetter and Katherine Mansfield and Children (Edinburgh University Press) among other places. She has received fellowships from Hedgebrook, the Kimmel Harding Nelson Centre for the Arts, the I-Park Foundation, Storyknife Writers Retreat and the Honour Society of Phi Kappa Phi. Her work has been recognized as Notable in The Best American Essays 2016 and has made the Top 25 in Glimmer Train's Fiction Open. Born in Baguio, Philippines, she spent her early childhood in Newark, Delaware before returning to the Philippines, where she spent the rest of her childhood and young adulthood. A graduate of the University of the Philippines-Diliman, she calls Baguio home.
Multiple award-winning author, Liza Gino, was compelled by stories told to her by family and friends who lived through the atrocities of World War II. The Philippine-born Gino was exposed to myriad stories about the Japanese occupation of the country. Her time at the University of the Philippines, the premier institution of higher learning in the Philippines, and the fight for social change in the '80sthat empowered Gino to advocate for the rights and liberation of women. As the president of the University of the Philippines Alumni Association of San Francisco and Rotary Club of Daly City Colma Evening, Gino continues to serve her community while running her own business, My Favorite Bite, as a cake artist with notable clients like Willie Mays and Lizzo.
--
Eastwind Books Multicultural Services (EBMS) is a 501(3)c non-profit dedicated to the promotion and accessibility of Asian American and Ethnic Multicultural Literature. EBMS is the community education arm of Eastwind Books of Berkeley which is comprised of a dedicated staff of booksellers, artists, poets, and community workers. Our events are for educational purposes and we appreciate your tax-deductible donations and continued support. Visit us at www.asiabookcenter.com.
This event is supported in part by a Civic Arts Grant from the City of Berkeley