Description
Invited Speaker:
Sharon Egretta Sutton
Visiting Professor, Parsons School of Design
Racism Is Mapped Out on the Earth
An Environmental Autobiography of Activism


Sharon Egretta Sutton, FAIA is an activist educator and public scholar who promotes inclusivity in the cultural makeup of the city-making professions and in the populations they serve, and also advocates for participatory planning and design processes in disenfranchised communities.
Currently, Sutton is visiting professor at Parsons School of Design and adjunct professor at Columbia University. She has also served on the faculties of Pratt Institute, the University of Cincinnati, the University of Michigan, and the University of Washington, where she is professor emerita.
Sutton was the twelfth African American woman to be licensed to practice architecture, the first to be promoted to full professor of architecture, the second to be elected a Fellow in the American Institute of Architects (AIA), and the first to be president of the National Architectural Accrediting Board. She holds five academic degrees—in music, architecture, philosophy, and psychology—and has studied graphic art internationally.
Sutton's scholarship explores America's continuing struggle for racial justice. Her latest book, When Ivory Towers Were Black: A Story about Race in Americas Cities and Universities, portrays what was undoubtedly the nation's most audacious effort to recruit African American and Puerto Rican students to Columbia University's School of Architecture.
Early in her career, Sutton worked as a professional musician in New York City, most notably for Sol Hurok Attractions and in the original cast of Man of La Mancha. Her fine art is in the Library of Congress and has been exhibited in and collected by galleries and museums, business enterprises, and colleges and universities.
Sutton's honors and awards all recognize her dedication to promoting just and inclusive communities. They include the Medal of Honor from both AIA New York and AIA Seattle, the Whitney M. Young Jr. Award from AIA National, and the Albert Nelson Marquis Lifetime Achievement Award, among others. She is a distinguished professor of the Association of Collegiate Schools of Architecture and an inductee into the Michigan Women's Hall of Fame.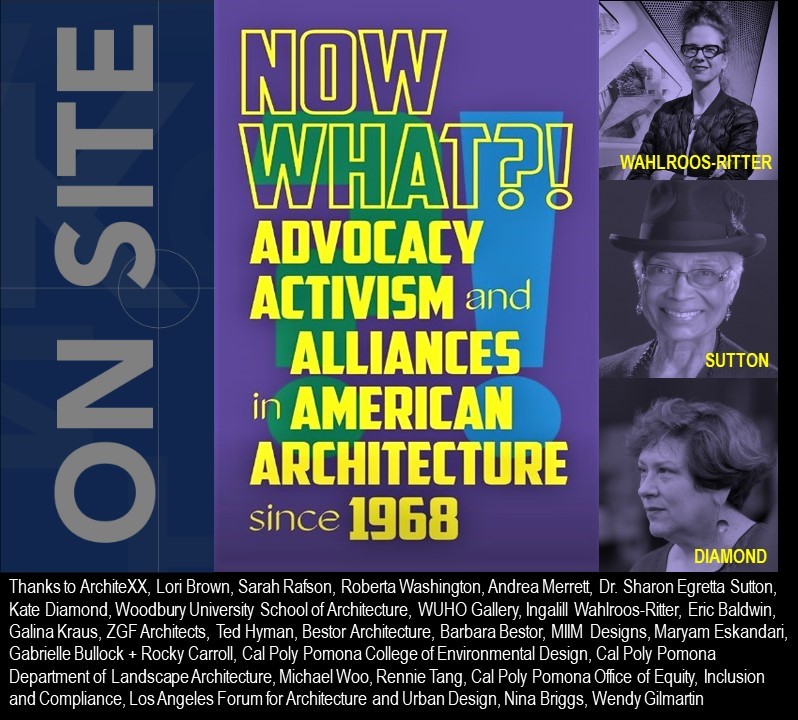 Opening Remarks by INGALILL WAHLROOS-RITTER, FAIA and Dean of Woodbury School of Architecture, a majority minority institution.
Ingalill Wahlroos-Ritter is an architect, educator, and design consultant specializing in the building envelope and the experimental architectural use of glass. Currently Dean of the School of Architecture at Woodbury University, she has taught at Yale, Cornell, the Bartlett, and SCI-Arc. She is also Director of WUHO, the Woodbury University Hollywood gallery, a venue for experimental installations, public lectures and workshops. She currently serves on the LA Forum Board of Directors. The work of her collaborative office, WROAD, navigates transdisciplinary territory in the diverse type and scale of projects. She has collaborated on multiple award-winning projects including as façade consultant on Bloom with DoSu Architects, the Portland Aerial Tramway with AGPS, the Centre Pompidou exhibition, Continuities of the Incomplete, with Morphosis, and as project architect for the Corning Museum of Glass with Smith-Miller + Hawkinson. Ingalill has been awarded the 2018 AIA Presidential Honoree Educator of the Year American Institute of Architects and2016 AIA CC Educator Award.

Introduction by KATHERINE (KATE) DIAMOND, FAIA. Design Director, HDR Architecture|
Kate Diamond is HDR's Civic Design Director and a Design Principal in the Los Angeles office. Kate brings a breadth of experience and passion for translating the aspirations of a diversity of clients into beautiful, high performance projects that encompass: justice, federal, state and local government, K-12 through university, transportation and infrastructure, community building / commercial, residential and mixed-use, and planning and urban design. Additionally, she brings a lifetime personal commitment to sustainable design within the urban context as a key generator of design excellence. Prior to joining HDR, Kate built a strong design reputation as Principal and Lead Designer of several larger practices including HMC, NBBJ, RNL and her partnership with Margot Siegel , AIA, Siegel Diamond Architecture. Siegel Diamond Architecture and its predecessor partnership Siegel Sklarek Diamond was, at the time, the largest entirely woman owned partnership in the US.
SCHEDULE
3:00 - 3:30 PM: Check-in/Refreshments
3:30 – 3:45 PM: Remarks & Introduction of Kate Diamond by Ingalill Wahlroos-Ritter, FAIA, Dean Woodbury SOA & Director WUHO
3:45 – 4:00 PM: Introduction of Sharon Egretta Sutton by Kate Diamond, FAIA, Design Director, HDR Architecture
4:00 – 5:00 PM: Lecture: 'Racism Is Mapped Out on the Earth: An Environmental Autobiography of Activism' by Sharon Egretta Sutton, FAIA, Public Scholar and Activist Educator, Parsons School of Design, Columbia University
5:00 – 5:30 PM: Questions/Answers, Closing by Ingalill Wahlroos-Ritter
5:30 – 6:00 PM: Check-out/Refreshments
---
This lecture is part of the Cal Poly Pomona Department of Landscape Architecture Lecture Series:
:ON SITE: Perspectives from Eight Women
This lecture series features eight female speakers reflecting upon issues, questions and opportunities pertaining to 'site'. The series highlights the multiplicity of meanings and perceptions of site, as both a physical construct and conceptual idea while being in all cases a politically charged and timely topic. It is a platform for women to share their approach to site research and documentation, perceived realities or misinterpretations of site, site boundaries, how the notion of site has changed over time, direct experiences as a designer on a construction site etc. Working in the expansive field of landscape design and urbanism in a variety of capacities, such as design, construction, professional practice, academia, writing, theory and community activism the speakers will dive deeply into 'site' - or 'cite' or 'sight'? - as a rich territory from which to initiate a dialogue. With the current spotlight on equity, diversity and inclusion that reaches across many sectors, ON SITE brings the voices of these women into the foreground at a critical moment in time.
This lecture series will be held in partnership with the traveling exhibition
Now What? Advocacy Activism and Alliances in American Architecture since 1969
now on view at the WUHO Gallery in Hollywood.
SERIES SCHEDULE
Wed 26 Sept 11:30 am (CPP Bldg 7 atrium)
Claire Latané, CPP; Samantha Harris, Culture Horticulture; Nina Briggs. The Fabric
Sat 29 Sept 3:30 pm (WUHO)
Nikole Bouchard, Univ. of Wisconsin-Milwaukee & Noémie Despland-Lichtert, Roundhouse
Sat 6 Oct 3:30 pm (WUHO)
Laura Solano, principal Michael Van Valkenburgh Associates Boston
Sat 13 Oct 3:30 pm (WUHO)
Sharon Egretta Sutton, Visiting Professor, Parsons School of Design
Wed 14 Nov 11:30 am (CPP Bldg 7 atrium)
Andrea Kahn, Adjunct Professor of Site Thinking Research and Practice in the Department of Landscape Architecture Planning and Management at Swedish University of Agricultural Science, founder of designCONTEN

Sponsors:
Woodbury School of Architecture
ZGF
Barbara Bestor
MIIM Designs
Gabrielle Bullock + Rocky Carroll
Cal Poly Pomona College of Environmental Design
Cal Poly Pomona Department of Landscape Architecture
Cal Poly Pomona Office of Equity, Inclusion and Compliance