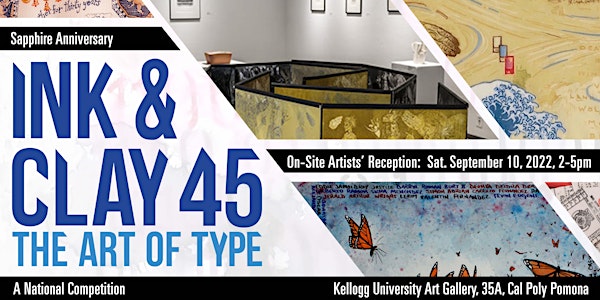 On-Site Ink & Clay 45 Sapphire Anniversary Artists' Reception
Join Gallery Curator, Artists & Jurors for "Ink & Clay 45's" Sapphire Anniversary On-Site Artists' Reception & Awards Ceremony!
When and where
Location
W. Keith and Janet Kellogg University Art Gallery 3801 West Temple Avenue Bldg. 35A Pomona, CA 91768
About this event
The Ink & Clay annual competition is opened to artists working throughout the US, making it a nationwide competition. The exhibition is documented through an on-line printable catalog. Unique among juried exhibitions, Ink & Clay is annually celebrated and recognized by artists and collectors for its quality and diversity.
This year, Cal Poly Pomona and the Kellogg University Art Gallery are proud to celebrate the 45th Sapphire Anniversary of Ink & Clay. In honor of this milestone, this year's competitive event is be celebrated with a special theme:
Ink & Clay 45: The Art of Type.
Due to campus closures, Ink & Clay 45 opened as a virtual exhibition in Fall of 2021. However as the campus has reopened, we our pleased to announce that Ink & Clay 45 will be opening in person at the Kellogg Art Gallery in the Summer of 2022: Open August 18 through November 17, 2022.
Join the celebration on September 10, 2022 with participating artists, Jurors Keiko Fukazawa, Dave Leftner and Kristine Schomaker, and Curator Michele Cairella Fillmore for personal insight about the work, announcement of this year's Award Winners, and encounter art in a unique experience like no other! Event starts right at 2pm (PST). Awards Ceremony at 4pm.
Event is free. Exhibition is free and open to the public.
More information available about the exhibition and related event available at: tinyurl.com/inkclay45
So we may monitor event size, please RSVP 48 hours prior to the event start time by registering here on EventBrite. The event is partially indoors, so masks are strongly recommended.
Visitor protocols: cpp.edu/safer-return/visitors/index.shtml