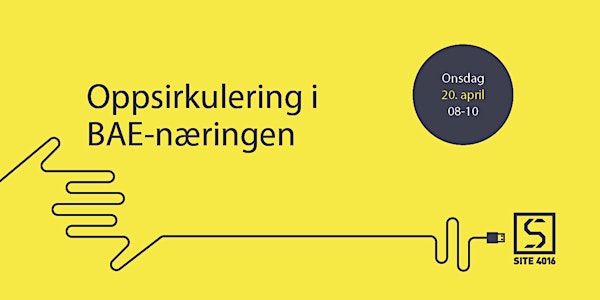 On-Site frokostmøte - Oppirkulering
Byggebransjen begynner å bli mer sirkulær. I dette frokostmøte får du høre fra noen av pådriverne som har testet sirkulær økonomi i praksis.
When and where
Location
Fabrikken 10 Haugåsstubben 4016 Stavanger Norway
About this event
Velkommen til On-Site frokostmøte.
Vi får besøk av Nordic Circles fra Bergen som skal snakke om oppsirkulering av maritimt stål til byggeprodukter. De vil fortelle hvordan de tar ut deler av skip og oljerigger for å lage konvensjonelle stålprodukter og nytenkende konsepter fra byggeindustrien.
Nordic Circles skal oppsirkulere maritimt metall (oljeplattformer og skip) til miljøvennlige og regenerative byggematerialer i byggeindustrien. Nordic Circles ambisjoner er å skape et nytt sirkulært industrieventyr på Vestlandet, og skape industriarbeidsplasser i verftsindustrien, en bransje i omstillingssamfunnet, som del av det grønne skiftet.
Selskapet er allerede anerkjent som World Changing Idea av FastCompany og vært på Tedx to ganger siden oppstarten i 2020. Nå samarbeider selskapet med flere av de største eiendomsutbyggerne i Norge for å skape nye, konkurransedyktige byggeprodukter med minimum Co2.
Site 4016 er opptatt av å bidra med kunnskap innen bærekraft og digitalisering. På dette frokostmøte vil også Site 4016 presentere et eksempel på et sirkulært prosjekt, Spinn, som skal bygges iht. Future Built sine kriterier for sirkulære bygg. På Spinn prosjektet benyttes materialer om igjen og det skal prøves ut nye forretningsmodeller. Deltakerne i prosjektet er Mad, Veni, Faber Bygg, Bravida og GK som vil dele sine erfaringer med et sirkulært prosjekt.
I tillegg kommer Asplan Viak og forteller om ombrukssentralen på Nord-Jæren. Asplan Viak er engasjert av Forus Næringspark (som en følge av et initiativ fra Grønn byg) til å utføre et forarbeid for en mulig etablering av en ombrukssentral på Forus. På grunn av dagens myndighetskrav og til dels et umodent marked for ombruk kan det være en løsning å legge planer for en stegvis etableringav ombrukssentral på Nord Jæren. Det antas at regelverket/myndighetskravene vil bli mer tilpasset ombruk i årene som kommer. I alle fasene må det fysiske ombruksmarkedet kombineres meden digital plattform.
Program:
08:00-08:30: Frokost og mingling
08:30-09:00: Nordic Circles ved Fredrik Barth 
09:00-09:30: Site 4016 - Spinn prosjektet ved prosjektteamet Veni, Mad Arkitekter, Bravida, Faber Bygg og GK
09:30-10:00: Ombrukssentralen på Nord-Jæren ved Una Myklebust i Asplan Viak