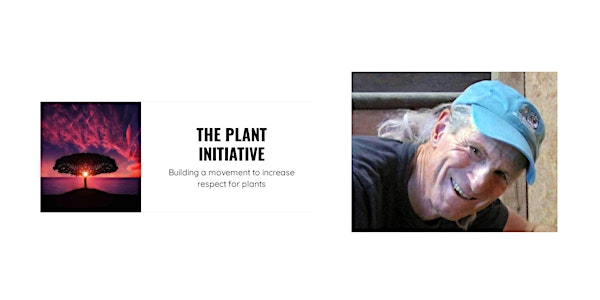 On Respecting Plants: A Conversation with Marc Bekoff
Join us for a special online conversation with Marc Bekoff, Ph.D. about the importance of respecting plants.
Refund Policy
Contact the organizer to request a refund.
Eventbrite's fee is nonrefundable.
About this event
What does it mean to treat plants with respect? Can we think of plants as well as animals as "minded beings"? What kind of ethical issues are raised by recent scientific research on plant sentience and intelligence? These are some of the questions that we will explore with Dr. Marc Bekoff, a world expert on animal emotions and animal behavior.
Dr. Bekoff is professor emeritus of Ecology and Evolutionary Biology at the University of Colorado, Boulder. He has published 31 books (or 41 depending on you count multi-volume encyclopedias), won many awards for his research on animal behavior, animal emotions (cognitive ethology), compassionate conservation, and animal protection, has worked closely with Jane Goodall, and is a former Guggenheim Fellow.
Marc has also published a number of essays on plants, such as What's It Like to Be a Plant? An Interview with "Planta Sapiens" Author, The Inner Lives of Plants: Cognition, Sentience, and Ethics, Are Plants Intelligent?, and Smarty Plants: Research Shows they Think, Feel, and Learn.
His latest books are The Animals' Agenda: Freedom, Compassion, and Coexistence in the Human Age (with Jessica Pierce), Canine Confidential: Why Dogs Do What They Do, and Unleashing Your Dog: A Field Guide to Giving Your Canine Companion the Best Life Possible (with Jessica Pierce) and he also publishes regularly for Psychology Today. Marc and Jessica's most recent book A Dog's World: Imagining the Lives of Dogs in a World Without Humans was published by Princeton University Press in October 2021. Dogs Demystified: An A-Z Guide to All Things Canine will be published by New World Library in June 2023. In 1986 Marc won the Master's age-graded Tour de France. He also works closely with inmates at the Boulder County Jail. In June 2022 Marc was recognized as a Hero by the Academy of Dog Trainers. His homepage is marcbekoff.com.
Marc's philosophy can be expressed in his own words: "My research and writing reflect my on-going and eclectic interests that center on the basic tenets of compassionate conservation, namely, "First do no harm" and the life of every individual matters because they are alive and have intrinsic value, not because of what they can do for us. Treating every individual with respect and dignity is the decent thing to do."
There will be time for questions from the audience following the discussion. The program will be livestreamed on Zoom with a link to be sent to participants before the event and will also be recorded and available for viewing online afterwards.