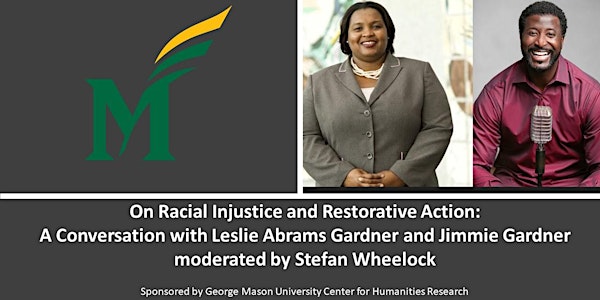 On Racial Injustice and Restorative Action: A Second Conversation
On Racial Injustice and Restorative Action: A Conversation with Leslie Abrams Gardner and Jimmie Gardner moderated by Stefan Wheelock
About this event
On Racial Injustice and Restorative Action: A Conversation with Leslie Abrams Gardner and Jimmie Gardner moderated by Stefan Wheelock." A virtual event sponsored by the GMU Center for Humanities Research, this discussion features a dialogue between the Honorable Leslie Joyce Abrams Gardner and Mr. Jimmie Gardner on the history and current form of legal statutes and policies related to the prison industrial complex and voting rights in what some critics have described as the resurgence of the Jim Crow Era in present-day politics. The panelist will focus attention on the lessons we might learn from America's racial past while offering strategies for restorative justice in an era of racial hostilities.
The exchange will focus on five key concerns.
What bearing does mass incarceration, voter suppression, and over-policing have on the preservation of democracy in our present context?
How did slavery and the rise of antiblack racial terror after the Civil War set the basis for the underrepresentation of black communities in the shaping of present-day policies?
What lessons might we learn from the suppression of black voices in shaping democracy as we continue to imagine "intersectionalist" alternatives to the current understandings of rights and equality?
How might coming to terms with a tragic past help generate concrete policies and initiatives for a more racially just society?
What can we do to "repair" the damage done by one of America's early regimes of violent racist subjugation?
Please join us for what promises to be a robust and fruitful exchange between two pioneers in the struggle for racial justice.
Important event information:
All registrants will be emailed the Zoom link to attend the event.
Space is limited! We encourage you to register early and log in no later than 1:00PM to secure you spot!
The event WILL BE RECORDED and posted on the CHR homepage after the event.
This event is sponsored George Mason University's Center for Humanities Research (CHR).
For more information, please contact GMU Center for Humanities Research (chr@gmu.edu)