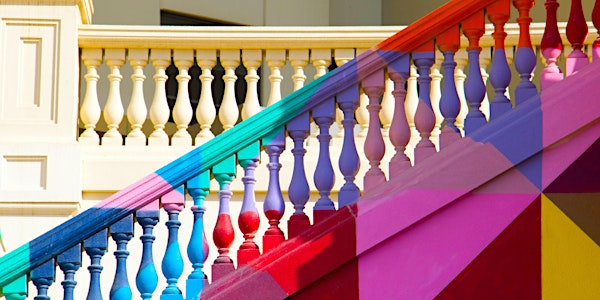 On Poetry and Our Neurodiverse Future
On Poetry and Our Neurodiverse Future: A Live Online Conversation with Chris Martin and Nick Walker
Date and time
Thursday, August 18, 2022 · 6 - 7:30pm PDT
About this event
IMPORTANT EVENT INFORMATION
This event will be streamed live online with an interactive Q&A.
Instructions on how to join will be emailed to registrants shortly before the event.
This event will be recorded and will be available to watch on our YouTube channel and portions of the audio will be released on our podcast.
ACCESSIBILITY
If you need to request accessibility accommodations, please email publicprograms@ciis.edu at least one week prior to the event. For more information, explore our Accessibility web page.
EVENT DESCRIPTION
Some adults struggle to communicate with students who have autism and try to "fix them." But what if we found a way to help these students use their natural gifts to convey their thoughts and feelings? What if the traditional structure of language prevents them from communicating the full depth of their experiences? What if the most effective and immediate way for people on the spectrum to express themselves is through verse, which mirrors their sensory-rich experiences and patterned thoughts?
Chris Martin, an award-winning poet and celebrated educator, works with nonspeaking autistic children and adults, teaching them to write poetry. The results have been nothing short of staggering for students and teachers. Through his student's breathtaking poems, Chris discovered what it means to be fully human.
In his latest book, May Tomorrow Be Awake, Chris introduces the techniques he uses in the classroom and celebrates an inspiring group of young neurodiverse thinkers and their electric verse. In telling each of their stories, Chris illuminates the range of autism and illustrates how each so-called "deficit" can be transformed into an asset when writing poems. Chris' work and writing shows us how to better communicate with people on the spectrum and explores how we can use language to express our seemingly limitless interior lives.
Join queer, transgender, autistic author and educator Nick Walker for a conversation with Chris about the mind, language, human potential, and the lessons we can learn from one other. 
Chris Martin is this very moment endeavoring to become himself, a somemany and tilted thinking animal who sways, hags, loves, trees, lights, listens, and arrives. He is a poet who teaches and learns in mutual measure, as the connective hub of Unrestricted Interest/TILT and the curator of Multiverse, a series of neurodivergent writing from Milkweed Editions. His most recent book of poems is Things to Do in Hell (Coffee House, 2020) and his first book of nonfiction, May Tomorrow Be Awake: On Poetry, Autism, and Our Neurodiverse Future, will be published by HarperOne in 2022. He lives on the edge of Bde Maka Ska in Minneapolis, among the mulberries, with Mary Austin Speaker and their two bewildering creatures.
Nick Walker is a queer, transgender, flamingly autistic writer and educator best known for her foundational work on the neurodiversity paradigm and Neuroqueer Theory. Dr. Walker is a core faculty member in the undergraduate Psychology program at CIIS, a lifelong zen practitioner, senior aikido instructor at the Aiki Arts Center in Berkeley, co-creator of the Weird Luck webcomic, and author of the book Neuroqueer Heresies.
We are grateful to our Bookstore Partner:
Marcus Books is the nation's oldest Black-owned independent bookstore celebrating its 60th year. Marcus Books' mission is to provide opportunities for Black folks and their allies to celebrate and learn about Black people everywhere.
About the organizer
CIIS Public Programs produces events, continuing education opportunities, and a podcast for people who are curious about themselves and the world. Our programs further personal and social transformation by bringing together the diverse voices of visionaries, artists, change-makers, and scholars to share compelling experiences, offer new perspectives, and expand creative horizons. Public Programs enhances and reflects the academic mission of our nonprofit university home in San Francisco—California Institute of Integral Studies 
Discounts
CIIS students, staff, and faculty receive discounts on all events. CIIS Public Programs Members receive a 20% discount on all events. Contact us for more information (contact info below). Please note that we may check your ID for proof of eligibility on arrival at event. 
Refund Policy
Tickets and donations for talks and conversations are nonrefundable.
Tickets are fully refundable up to 7 days prior to the event start. Within 7 days of the event, credit may be available. No refunds or credits are available within 24 hours of the event start. Read our full refund policy at our Frequently Asked Questions web page.
Contact Information
Email: publicprograms@ciis.edu
Phone: (415) 575-6175
Read our Frequently Asked Questions here.