Opening Celebration with the Artists for the Exhibition "On Location in Malibu 2021: Paintings by the California Art Club"
About this event
Join us for the virtual opening celebration of On Location in Malibu 2021: Paintings by the California Art Club, on view at the Frederick R. Weisman Museum of Art at Pepperdine University from May 22 to August 1.
The festivities will include a tour of the exhibition and break-out rooms with some of the participating artists.
The exhibition, the eighth in a triennial series, consists of paintings by artists associated with the California Art Club, one of the oldest and most active fine arts organization in the country. Spotlighted in the display are more than 80 paintings inspired by the beauty and scenic diversity of this famed coastal community.
The artists exhibiting in this display are: Peter Adams, Jannene Behl, Nanette Biers, John Budicin, Nikita Budkov, Cathey Cadieux, Larry Cannon, Karl Dempwolf, Esther Engelman, Bernard Fallon, P.A. Farris, Mark Fehlman, Marian Fortunati, Kevin Gleason, Ken Goldman, Daniel Gonzalez, Eric Fei Guan, Derek Harrison, Joel Heger, Laurie Hendricks, Donald Hildreth, Debra Huse, David Jenks, Virginia Johnstone, Michelle Jung, Chuck Kovacic, Jim Lamb, Beverly Lazor, Frank Lennartz, Calvin Liang, Simon Lok, Tiffanie Mang, Patricia McGeeney, Michael Obermeyer, Barron Postmus, Anette Power, Scott W. Prior, Robin Purcell, Gerald Rahm, Daniel Raminfard, Jeff Richards, Rodolfo Rivademar, Ian Roberts, Liv Saether, Dan Schultz, Jeff Sewell, Liliana Simanton, Michael Situ, W. Jason Situ, Alexey Steele, Jennifer Taylor, Jove Wang and Sharon Weaver.
Image Credits: Michael Obermeyer, Malibu Twilight, Michael Obermeyer, Oil, 20 x 30 inches (above) and Jim Lamb, Rugged Malibu - Santa Monica Mountains, Oil, 36 x 36 inches (below)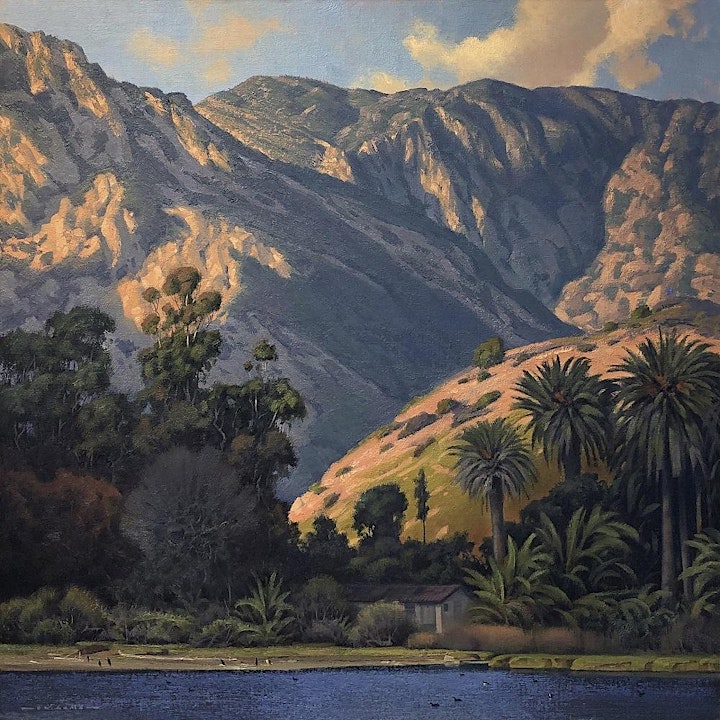 Organizer of On Location in Malibu 2021 Exhibition: Opening Celebration with the Artists
Founded in 1909, the California Art Club is a 501(c)(3) educational nonprofit organization built on the foundation of promoting and supporting contemporary-traditional fine art. As one of the oldest, largest and most active art organizations in the country, the CAC is committed to keeping traditional art alive and believe that our unique outreach programs will continue to attract new generations of artists and patrons alike. 
For more information about the California Art Club, feel free to call our office at 626.583.9009.