Dear friends, this event is currently put on hold as Alice Butler-Short, Founder and President of the VWT is fighting to regain her health.
About this event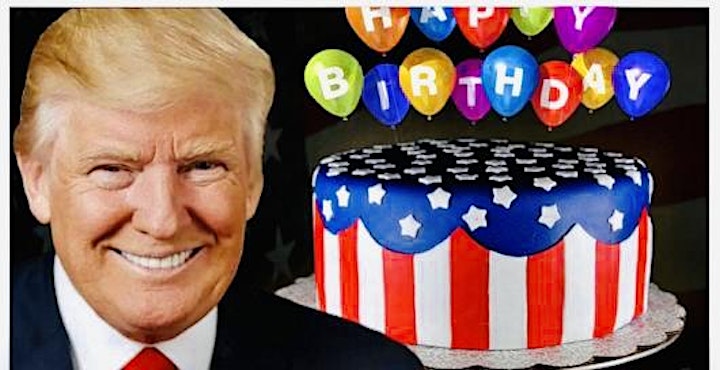 The Founder and President of Virgina Women For Trump Alice Butler Short is currently receiving intensive care and treatment in the Walter Reed hospital. For more info and update about Alice, please visit the website below with daily journals entered by Alice's family.
https://www.caringbridge.org/visit/alicebutler-short
Kindly please keep Alice and her family as well as the medical team in your prayers.
The event is pending on cancellation and the refund arrangement will be made accordingly. Sorry about the inconvenience caused.
Thank you very much!
**** **** **** **** **** **** **** ****
MC - Alice Butler-Short, VWT Founder and President
National Anthem: Angela Knight, Soprano with Washington National Opera
SPEAKERS:
Lt. General Michael Flynn, Ret. USA, former United States of America National Security Advisor to President Donald J. Trump 2017.
Mike Lindell, of My Pillow fame - author of "What Are The Odds - From Crack Addict to CEO." Mike is beloved by all who know him and he relates with humor the story of how God helped him turn his life around and become the successful businessman he is today. Mike is well known for his philanthropy and his unwavering loyalty to President Trump. Everyone will receive a gift of a My Pillow travel pillow.
Katie Hopkins, is a British media personality and a trained Economist graduate of the Royal Military Academy Sandhurst. Katie will have you laughing, crying and everything in between as we put this crazy world to rights. Katie is actually President Trump's "Cheerleader in Chief" in Europe. Katie is a Christian Conservative, married with three young children.
Stephen Moore: Former Senior Economic Advisor to President Trump during the 2016 campaign, is a Distingished Visiting Fellow for the Heritage Foundation's "Project For Economic Growth." He is a Wall Streeet Journal Writer and is one of the Principals of The Committee to Unleash Prosperity newsletter, available free online. Steve has been a great friend of Virginia Women For Trump since its inception in 2015.
Chinese Auction and Live Auction. All proceeds to Veterans charity. (Bring checkbook).
ENTERTAINMENT:
Angela Knight, Soprano Washington National Opera
Carolyn Brown-Benson, will share some original songs from her show Anthem as well as the original song composed for Lt. General Mike Flynn.
**** **** **** **** **** **** **** ****
FOOD: LIGHT LUNCHEON WITH AFTERNOON TEA PASTRIES. VEGETARIAN AND VEGAN OPTIONS AVAILABLE IF ORDERED WITH TICKET PURCHASE.
GENERAL SINGLE TICKET: $135 single tocket lor table of 10 $1,350. Seating will be allocated by date of ticket purchase.
VIP SINGLE SEAT: $500
VIP TABLE OF TEN: $5,000
VIPs: upfront seating, introduction and pictures with speakers. Names listed in program. Special gift. Two glasses of champagne.
Contact me at alicebutlershort@gmail.com after you purchase your ticket if you need a room at the Trump Hotel, and I will give you the code for the reduced rate of $315.00 per night.
SPONSORS NEEDED -MORE DETAILS COMING - GET YOUR TICKETS NOW - FIRST PURCHASED, FIRST SEATED.
Organizer of On-Hold & More Update to Come: Tea For Trump Event
Virginia Women for Trump (the first Women For Trump group in the Nation) was founded by it's President, Alice Butler-Short, in 2015 at the beginning of the Trump Campaign. Dedicated to getting Mr. Trump elected the 45th President of the United States, it's purpose was and is to debunk the media myth that women do not like Trump; to bring women of all ethnicities together under one umbrella as simply Americans; to help get out the vote by engaging with people from all walks of life; and to align our politics with our spirituality, keeping in mind our desire to keep our country One Nation Under God and faithful to the Judeo Christian principles on which it was founded. VWT is now laser focused on working for the 2020 re-election of President Donald J Trump and all Virginia Candidates for office.  Our goal is to turn Virginia RED.
Virginia Women For Trump is a Not-For-Profit, independent club of supporters of President Donald J. Trump. This Club has no connection with Donald Trump, The Donald Trump for President Campaign or Donald J. Trump for President, Inc.