LA Mission College Theatre Arts presents an on-demand video presentation of "El Carne King of Vallarta"
About this event
Los Angeles Mission College Theatre Arts opened its 2021-2022 season on November 18 with the original comedy, El Carne King of Vallarta. The production celebrated the return to live performance for LA Mission College. A video presentation of El Carne King of Vallarta will be available on-demand for three weeks only, from December 6 through 27.
Tickets are $`8.00 for this on-demand video presentation.
Once purchased, you will receive a link to the video, which you can use to watch the video whenever you like.
Using Pedro Calderón de la Barca's classic Spanish play Life is a Dream and playwright Annie R. Such's modern adaptation as launching points, LA Mission College Theatre has created its own comedic take on this epic tale. By setting it in the storeroom of a Vallarta Supermarket and infusing it with the culture, language, people, and music of the Northeast San Fernando Valley, LA Mission Theatre Arts returns to live production with an energetic spectacle.
Ten Mission College actors, seven of whom are theatre majors, have been cast to create the epic and absurd world of "El Carne King of Vallarta." The cast is made up of Daniel Anguiano (Nov 20), Natalie Arrendondo, John Barron, Alex Boch, Abraham Cortez (Nov 18-19), Philip Mejia, Ted Peszynski, Jackie Lopez, Monserrat Lopez, and Erick Tlatenchi. The Theatre Program has once again assembled a team of professional theatre artists and designers to work hand-in-hand with students to bring this production to life. Associate Professor Robert Cucuzza is the director, scenic and prop design is by LA Mission alum Natalie Morales, with lighting and costume design by new Theatre Arts instructors Bri Pattillo and Lena Sands, respectively. Sound design is by Theatre major Danny Arzate. Stage management is by Josias Davalos, Osiel Macareno, and Jacob Padilla.
For more information, please visit www.lamcstage.com.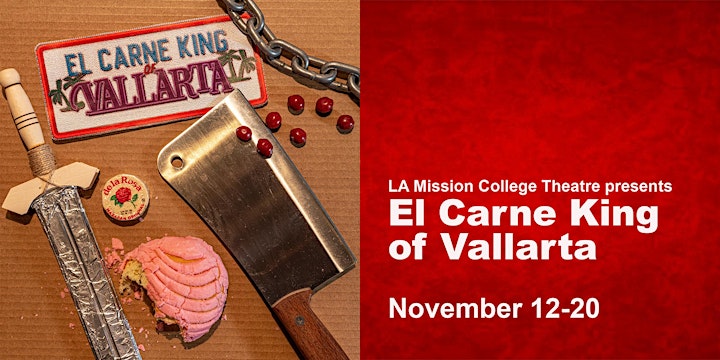 Organizer of ON DEMAND VIDEO of El Carne King of Vallarta