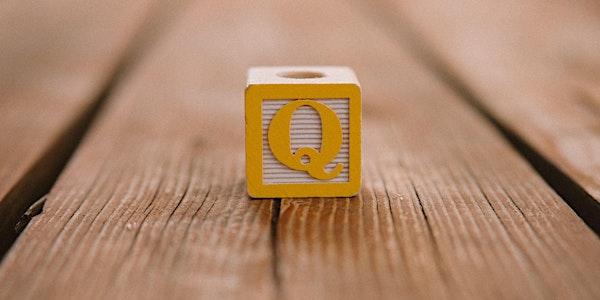 On Cults, Language, and Social Science
On Cults, Language, and Social Science: A Live Online Conversation with Amanda Montell and Zara Zimbardo
Date and time
Wednesday, July 14, 2021 · 7 - 8:30pm PDT
Refund Policy
Contact the organizer to request a refund.
About this event
This event will be streamed live online with an interactive Q&A. Instructions on how to join will be emailed to registrants shortly before the event. This event will be recorded and available to watch on our YouTube channel and portions of the audio will be released on our podcast.
If you need to request accessibility accommodations, please email publicprograms@ciis.edu at least one week prior to the event. For more information, explore our Frequently Asked Questions.
Please Note: ASL Interpretation will be provided.
What makes cults so intriguing and frightening? What makes them powerful? The reason why so many of us binge Manson documentaries by the dozen and fall down rabbit holes researching suburban moms gone QAnon is because we're looking for a satisfying explanation for what causes people to join—and more importantly, stay in—extreme groups. We secretly want to know: could it happen to me? Author and journalist Amanda Montell's argument is that, on some level, it already has.
Our culture tends to provide incomplete answers to questions of cult influence, mostly having to do with vague talk of "brainwashing." But the true answer has nothing to do with mind-control wizardry. In Amanda's latest book, Cultish, she argues that the key to manufacturing intense ideology, community, and us/them attitudes all comes down to language. In both positive and shadowy ways, cultish language is something we hear—and are influenced by—every single day.
Through juicy storytelling and original research into the curious social science of power, Amanda exposes the verbal elements that make a wide spectrum of communities cultish, revealing how they affect followers of groups as notorious as Heaven's Gate, but also how they pervade start-ups, Peloton leaderboards, and Instagram feeds.
Join CIIS professor, writer, and speaker Zara Zimbardo for a conversation with Amanda about influence, the social science of cults, and how to recognize the language of fanaticism all around us.
Amanda Montell is a writer and language scholar from Baltimore, Maryland. She is the author of the critically acclaimed Wordslut: A Feminist Guide to Taking Back the English Language, which she is developing for television with FX. Her writing has appeared in Marie Claire, Cosmopolitan, Nylon, Glamour, The Rumpus, Byrdie, and Who What Wear, where she formerly served as the Features & Beauty editor. Amanda holds a degree in linguistics from NYU and lives in Los Angeles's Silver Lake neighborhood with her partner, plants, and pets.
Zara Zimbardo, MA, received her Master's degree in Cultural Anthropology and Social Transformation from California Institute of Integral Studies, and has a BA in Religious Studies from UC Berkeley. For the last twenty years she has been a body-based therapist both in private practice and community health centers. She is a presenter and published writer on topics of the social construction of whiteness, critical media literacy, Islamophobia, subversion of stereotypes in a time of war, social justice comedy, modern monsters and the zombie apocalypse, and representations of gender, race, consumerism and US imperialism/militarism. 
Zara co-founded the White Noise Collective, an anti-racist feminist training and resource organization. She is a co-founder and Special Projects Director of Partners for Collaborative Change, which supports organizations to become more equitable through democratizing research planning and design, and through anti-oppression facilitation and coaching. A former member of the National Council of the Fellowship of Reconciliation, the nation's oldest interfaith peace organization, she has worked in solidarity with nonviolent activists resisting militarism in the US, Palestine/Israel and Colombia. 
Her work is influenced by frameworks of critical pedagogy, postcolonial studies, feminist praxis and popular education that seek to make forms of shared knowledge and experience more conscious. She is passionate about facilitation that combines critical dialogue, somatic awareness and Theatre of the Oppressed, a form of community-based inquiry that uses theatre exercises as tools for transformation. Her passions include interdisciplinary cross-pollination, anthropologizing the West, and rendering what is considered "normal" strange. As an educator, she values opportunities to connect issues within the classroom to global and local realities, through deeper understanding of power dynamics, identity construction, histories of the present, unexamined assumptions, and applied projects of relevance. Her goal is to support a context of curiosity, critical thinking and compassion that supports skilled navigation and justice-oriented care for the diverse worlds we inhabit. To learn more about her work, visit Zara's personal website: http://www.zarazimbardo.com.
About the organizer
CIIS Public Programs produces events, continuing education opportunities, and a podcast for people who are curious about themselves and the world. Our programs further personal and social transformation by bringing together the diverse voices of visionaries, artists, change-makers, and scholars to share compelling experiences, offer new perspectives, and expand creative horizons. Public Programs enhances and reflects the academic mission of our nonprofit university home in San Francisco—California Institute of Integral Studies 
Discounts
CIIS students, staff, and faculty receive discounts on all events. CIIS Public Programs Members receive a 20% discount on all events. Contact us for more information (contact info below). Please note that we may check your ID for proof of eligibility on arrival at event. 
Refund Policy
Tickets and donations for talks and conversations are nonrefundable.
Tickets are fully refundable up to 7 days prior to the event start. Within 7 days of the event, credit may be available. No refunds or credits are available within 24 hours of the event start. Read our full refund policy at our Frequently Asked Questions web page.
Contact Information
Email: publicprograms@ciis.edu
Phone: (415) 575-6175
Read our Frequently Asked Questions here.