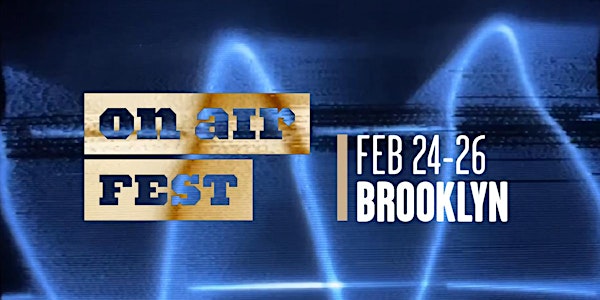 On Air Fest 2022
Join us for a magical weekend of sound.
When and where
Location
Wythe Hotel 80 Wythe Avenue Brooklyn, NY 11249
Refund Policy
Contact the organizer to request a refund.
About this event
Reserve your tickets now for two days of sonic wonder on stage and via virtual livestream. Our full schedule is available now. Here's just some of what's in store...
FRIDAY FEB 25
Gathering together leading voices from the vanguard of podcasting for a full day of performances, talkbacks, live tapings and in-depth interviews including:
Put your hands together for the 20 year anniversary of 'Radiolab' with Jad Abumrad and Anna Sale
Experience the healing power of sound with music producer Maejor
Take a full-on journey into the underworld of psychedelic therapy with Cover Story from New York Magazine
Catch sneak-previews of new podcasts from VICE
Join NPR's Yolanda Sangweni for a sit down with NPR Music's 'Louder Than a Riot' host Sidney Madden on the unique dynamic of hip-hop storytelling.
Simone Polanen takes us back to 1692 in Salem, Massachusetts with Not Past It
Get your dose of the days' harrowing and hopeful news when Gideon Resnick and Priyanka Aribindi for What A Day
'How Long Gone' hosts Chris Black and Jason Stewart discuss the power of personal brands
Acast sheds light on how to use podcast subscriptions to rally your listeners
An incisive and inspiring conversation between one of the biggest names in podcasting, and the next big thing, with Simplecast
We'll take you inside the negotiations shaping the podcast industry, with Gumball
Our first day concludes with cocktails and the reveal of a new show from Radiotopia Presents
And more...
SATURDAY FEB 26
Day two of On Air Fest centers experimental and experiential programming pushing the creative possibilities of sound.
An in-depth conversation between Debbie Millman and Starlee Kine for Design Matters
Learn how to tell a story with 'The Moth'
Experience 'Radiolab' live
A live taping of Cultured Mag's Point of View
Dig into the future of audio news with Today, Explained
Imagine yourself in the radio utopia of your dreams with Babette Thomas
Get in tune with the music shaping our culture with poet Hanif Abdurraqib
The worlds of song and science merge in this live rendition of Sing for Science, with Kilo Kish and Wendy Suzuki
Day two of On Air Fest comes together with a performance from Everything is Alive.
And more...
VIRTUAL STAGE - FEB 25 & 26*
Go behind the scenes of Audible's new post-apocalyptic vampire series, Impact Winter
Blending and bending realities, Afia Kaakyire 'S***hole Country' and Sharon Mashihi 'Appearances' interview one another's avatars
Public Enemy's Chuck D tells us about the 'Songs that Shook the Planet'
'The Experiment' host Julia Longoria tells a salty-sweet tale in SPAM: How the American Dream Got Canned
First look at HBO Docs Club, with Brittany Luse and Ronald Young Jr.
'Talkhouse' returns to On Air Fest for another provocative pairing: audio engineer steve albini and Max Collins of eve6
Get your head in the game in a livestream conversation with Locked On Sports and Megaphone.
Find out why Oprah matters with the experts: the 'Oprahdemics'
A special edition of 'Keep It' with Ira Madison III, Louis Virtel, and Aida Osman
Soak in a conversation with Dr. Jane Goodall DBE and Robin Wall Kimmerer
Turn up the volume for SHEROES Radio, with special guest SASAMI
Dustlight Productions presents a conversation on finding your own unique creative sound and voice
Wanna make your life slightly—or maybe profoundly—better? Tune in for the Best of 'The Best Advice Show'
Les Alfred, host of Balanced Black Girl, speaks about finding success in podcasting with the help of RedCircle
*Please note: all Friday passes, Saturday passes, Two-Day Passes and VIP tickets include access to all virtual programming, both on site and through our event platform.
-
OUR VENUE
In the heart of Williamsburg, Brooklyn, Wythe Hotel is an independent hotel focused on culture and community. We're happy to be hosted in such a warm and beautiful environment. The luxurious hospitality is equally matched by the encouraging staff support of creativity.
We are pleased to offer all ticket holders a 20% discount for their stay at the Wythe Hotel during the weekend of the festival, with the promotional code:
ONAIRFEST2022
-
A FULLY VAXXED FEST
We're so excited to gather in-person this year with our incredible On Air Fest community of storytellers, listeners, and audio enthusiasts. It's important to us that we are able to convene as safely as possible, keeping the health of our festival attendees, talent, and staff in mind.
Therefore, On Air Fest 2022 will require that all attendees be vaccinated against COVID-19.
All vaccinations must be completed by 2/10/22—at least two weeks before the festival. For vaccinations that require two rounds (i.e. Moderna, Pfizer), you must have completed both rounds of the vaccine.
Ahead of the festival, all attendees will be required to have their vaccination status verified via CrowdPass. The app will send you a screening form. After you complete the form, the app will generate a unique QR code that festival staff will scan when you enter the event. After vaccination status has been verified, attendees will be given wristbands which will allow them to come and go freely throughout the day's programming. If you do not complete the Crowd Pass application, you will not be allowed to enter the festival.
This policy will be updated to reflect any changes to CDC/NYS COVID-19 guidelines. Ticket holders will be emailed immediately with any updates.
-
Subscribe to our newsletter and visit onairfest.com for updates.
Live programming subject to change.