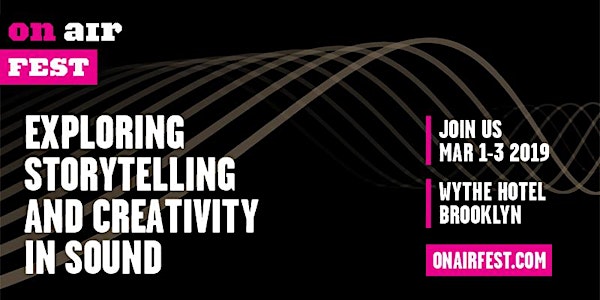 When and where
Location
Wythe Hotel 80 Wythe Avenue Brooklyn, NY 11249
Description
The only event of it's kind, On Air Fest brings together audio makers, artists and storytellers, the podcast industry and listeners to be inspired by the art of sound. Join us for 3 full days of intimate conversations, performances, art installations, listening parties and live podcasts.
Our 2019 line up includes Radiolab's Jad Abumrad, writer Roxanne Gay, Still Processing's Jenna Wortham, U.S. Poet Laureate Tracy K. Smith, Surviving Y2K's Dan Taberski, Love + Radio's Nick van der Kolk, Crimetown's Zac Stuart-Pontier, Tina Brown, The Kitchen Sisters, and talent behined WNYC, Radiotopia, CBC Podcasts, Science Friday, Artforum, Complex, VICE News, ESPN 30 for 30 and more.
For the full line up and schedule for each day visit onairfest.com
Some of the festivities include:
The live debut of APM's new daily poetry podcast, The Slowdown hosted by U.S. Poet Laureate Tracy K. Smith.

Vulture podcast critic and Hot Pod Editor Nick Quah profiles Dan Taberski, host of Missing Richard Simmons and Surviving Y2K, on how Taberski creates unforgettable audio stories.

A Radiotopia listening party with the creative minds behind Criminal, The Kitchen Sisters Present, Everything Is Alive, The Truth, Radio Diaries and ZigZag playing clips, answering questions and sharing cutting room floor treasures.

An in-depth look at the life and work of author Roxane Gay. This intimate conversation recorded live for Debbie Millman's Design Matters Podcast, will touch on Gay's creative process, the contemporary writing landscape and an inside look at her latest projects.

Radiolab​​ sound designer ​Dylan Keefe​​ shares his secrets for creating rich and layered stories through sound.

Enter the world of The Shadows, the first audio fiction from CBC Podcasts produced by Kaitlin Prest. In this On Air Fest exclusive, Prest shares unreleased scenes, blending lush sound design with intensely intimate storytelling into an experience that won't be repeated.

Join VICE News and the team behind the acclaimed new podcast 'Chapo: Kingpin on Trial' for a behind-the-scenes look at the making of the 8-part bilingual documentary series which uncovers the extraordinary rise and fall of Mexico's most infamous alleged drug kingpin, Joaquín "El Chapo" Guzmán.

Complex editor-in-chief Damien Scott and Pigeons & Planes founder Jacob Moore come together to dissect new trends in music and the rise of unexpected voices.

OUT Magazine's Fran Tirado and Broadly's Sarah Burke join Nancy co-hosts Kathy Tu and Tobin Low for a performance and panel sharing their vision for the future of queer audio making and community building.

Last Sounds of the Day, original short form sonic dreamscapes composed by artists like Peter Silberman of The Antlers for On Air Fest and presented to guests staying at Wythe Hotel.

A live performance by musician-storyteller duo ​James & Jerome​​.

A live bonus episode of Wireframe, the podcast about user experience design from Adobe and Gimlet Creative hosted by Khoi Vinh.

A conversation with Crimetown's Co-Creator ​Zac Stuart-Pontier about the groundbreaking series and his expansive work across film and audio.

Freshbooks networking breakfast and #imakealiving panel conversation, featuring small business owners and artists speaking candidly on how they work and live.

ESPN 30 for 30 celebrates its ten year anniversary at On Air Fest showcasing talent behind their documentary storytelling in film and audio.

A rare stage performance from ​Science Friday's​​ ​Undiscovered​​ ​blending audio and projections to tell the overlooked history of the first woman to circumnavigate the globe.

Machine of Unfamiliars exhibition is on display all weekend in a dedicated Art Suite on the 8th floor of Wythe Hotel. Designed by Love + Radio's Nick van der Kolk.
Presenting sponsors and media partners include: Mastercard, ESPN 30 for 30, Adobe, Stitcher, Freshbooks, Luminary, Simplecast, Acast, Hot Pod and WNYC.

* Programming is subject to change