Event Information
Location
Cedar Cultural Center
416 Cedar Ave S
Minneapolis, MN 55454
About this Event
This is a seated show with general admission, first-come-first-served seating. The Cedar is happy to reserve seats for patrons who require special seating accommodations. To request seating or other access accommodations, please go to our Access page.
General Admission tickets are available online and by phone.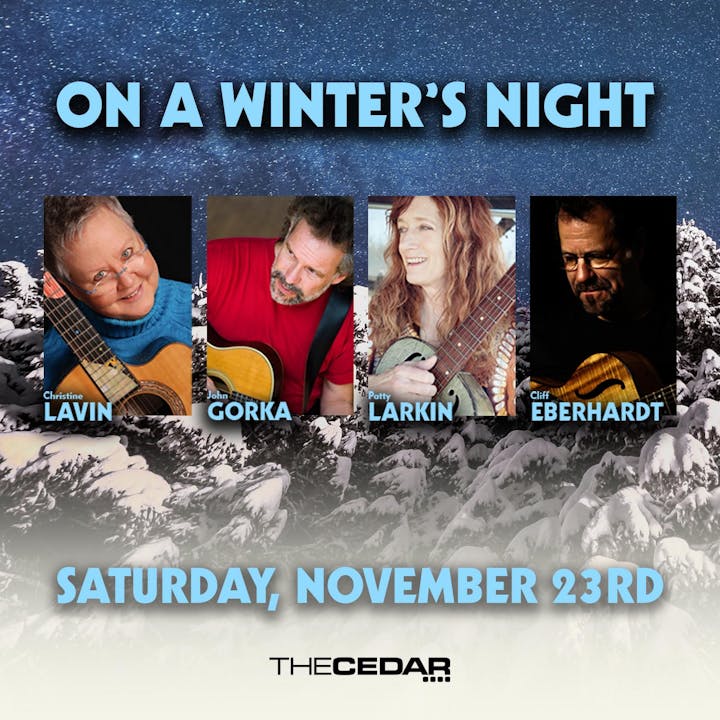 Presenting the 25th Anniversary concerts of "On A Winter's Night" from veteran singer-songwriters Christine Lavin, John Gorka, Patty Larkin, and Cliff Eberhardt. These are among the brightest stars of the singer/songwriter movement for the past three decades. In 1994 Christine Lavin gathered them together, along with folk and Americana artists to showcase music of the Winter Season on the now classic On A Winter's Night CD, followed by several years of touring collaborations. These artists have released dozens of recordings and toured steadily through the decades, with fond memories of their touring days together.
About Christine Lavin
Christine Lavin is a singer/songwriter/guitarist/recording artist/author/videographer who has been working as a musician based in New York City since 1984. In 2017, she released her 23rd solo album, Spaghettification, which charted at #5 for the month of September 2017 on the International FolkDJ charts.
For four years she hosted "Slipped Disks" on XM Satellite Radio, playing CDs slipped to her backstage by compatriots, and she is now the occasional guest host for the City Folk Sunday Supper on WFUV-FM at Fordham University. She also writes freelance for various publications, including The Washington Post, Huffington Post, The St. Petersburg Times, The Performing Songwriter, The Finger Lakes Times, and Delta "Sky" Magazine.
The book The Pluto Files: The Rise and Fall of America's Favorite Planet, written by Neil deGrasse Tyson, director of the Hayden Planetarium in NYC, includes the complete lyrics to Christine's song "Planet X," which details Pluto's history and planetary status debate. The book is published by W.W. Norton -- and Christine got a "D" in Astronomy in college (See kids? You CAN make up for the mistakes of your youth). She has appeared in concert with Neil deGrasse Tyson as part of his "Astronomers & Comedians" tour, and is fairly certain she is the first Astronomy D student to ever do so.
Christine Lavin performs "The Password Song" courtesy of World One Video's YouTube channel.
About John Gorka
From New Jersey, John Gorka is a world-renowned singer-songwriter who got his start at a neighborhood coffeehouse in eastern Pennsylvania. Though small, Godfrey Daniels was and is one of the oldest and most venerable music institutions and has long been a hangout for music lovers and aspiring musicians. In the late 1970's, John was was one of these aspiring musicians. Although his academic coursework at Moravian College lay in Philosophy and History, music began to offer paramount enticements. Soon he found himself living in the club's basement and acting as resident MC and sound man, encountering legendary folk troubadours like Canadian singer-songwriter Stan Rogers, Eric Andersen, Tom Paxton and Claudia Schmidt. Their brand of folk-inspired acoustic music inspired him, and before long he was performing his own songs – mostly as an opener for visiting acts. Soon he started traveling to New York City, where Jack Hardy's legendary Fast Folk circle (a breeding ground for many a major singer-songwriter) became a powerful source of education and encouragement. Folk meccas like Texas' Kerrville Folk Festival (where he won the New Folk Award in 1984) and Boston followed, and his stunningly soulful baritone voice and original songwriting began turning heads. Those who had at one time inspired him – Suzanne Vega, Bill Morrissey, Nanci Griffith, Christine Lavin, Shawn Colvin – had become his peers. 
John Gorka lives in Minnesota and when not on the road, he enjoys spending time with his wife and children. He continues to tour, playing festivals, theaters and clubs all over North America and Europe.
John Gorka performing "Love is Our Cross to Bear" courtesy of John Gorka's YouTube channel.
About Patty Larkin
Patty Larkin redefines the boundaries of folk-urban pop music with her inventive guitar wizardry and uncompromising vocals and lyrics. Acoustic Guitar hails her "soundscape experiments" while Rolling Stone praises her "evocative and sonic shading." She has been described as "riveting" (Chicago Tribune), "hypnotic" (Entertainment Weekly) and a "drop dead brilliant" performer (Performing Songwriter). 
Patty Larkin grew up in a musical and artistic family in Milwaukee, Wisconsin. Descended from a long line of Irish American singers and taletellers, her mother was a painter, her sisters both musicians. She learned at a young age to appreciate the beauty of the arts. She began classical piano studies at age 7, and became swept up in the sounds of pop and folk in the 60s, teaching herself the guitar and experimenting with songwriting in high school. An English major, Larkin sang throughout her high school and college career, starting out in coffeehouses in Oregon and San Francisco. Upon graduation from the University of Oregon, she moved to Boston and devoted herself to music, busking on the streets of Cambridge and studying jazz guitar at Berklee College of Music and with Boston area jazz guitarists.
Patty Larkin performing "Winter Wind" courtesy of PhDa64's YouTube channel.
About Cliff Eberhardt
Cliff Eberhardt knew by age seven that he was going to be a singer and songwriter. Growing up in Berwyn, Pennsylvania, he and his brothers sang together and their parents played instruments. His dad introduced him to the guitar and he quickly taught himself to play. Fortunate enough to live close to the Main Point (one of the best folk clubs on the East Coast), he cut his teeth listening to the likes of James Taylor, Joni Mitchell, Bruce Springsteen, Howlin' Wolf, Muddy Waters, Bonnie Raitt, and Mississippi John Hurt — receiving an early and impressive tutorial in acoustic music. At the same time, he was also listening to great pop songwriters like Cole Porter, the Gershwins, and Rodgers and Hart, which explain his penchant for great melodies and clever lyrical twists. 
Cliff Eberhardt, Louise Mosrie, and Grant Peeples performing courtesy of WUWF's YouTube channel.
Performers
Date and Time
Location
Cedar Cultural Center
416 Cedar Ave S
Minneapolis, MN 55454
Refund Policy