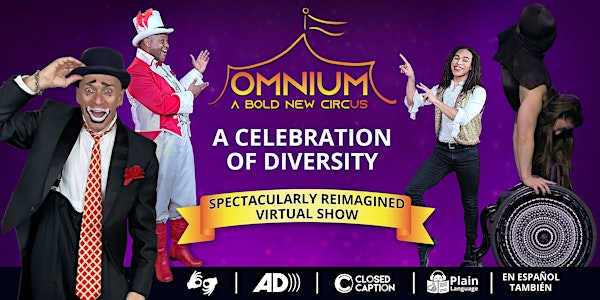 Omnium Circus presents "A Celebration of Diversity"
Extraordinary, Inclusive, Diverse, Multi-Sensory - Circus Reimagined!
About this event
Omnium: A Bold New Circus transports the audience into a world of wonder, inspiring all with extraordinary feats of human accomplishment and the astounding potential of the human spirit. Experience the stars of international circus, from all four corners of the globe as they perform jaw dropping spectacles, celebrating that disability and diversity shine through the joy and excitement of Circus arts.
You can enjoy Omnium: A Bold New Circus' production "A Celebration of Diversity" on your schedule! Your ticket gives you access to the performance from 10:00am to 11:59pm EST on the day of your choice and is available seven days a week. The show's runtime is approximately one hour.
At the time of broadcast audience members will have the option to select their preferred experience; Typical/American Sign Language Video, Plain Language Video, Audio Description, or Spanish Language Video. All of our experiences are captioned.
For group sales, private viewings, virtual field trips, or questions about your tickets, please email: info@omniumcircus.org. To learn about sponsorship opportunities please email sponsorships@omniumcircus.org.
To learn more about Omnium visit us at https://omniumcircus.org/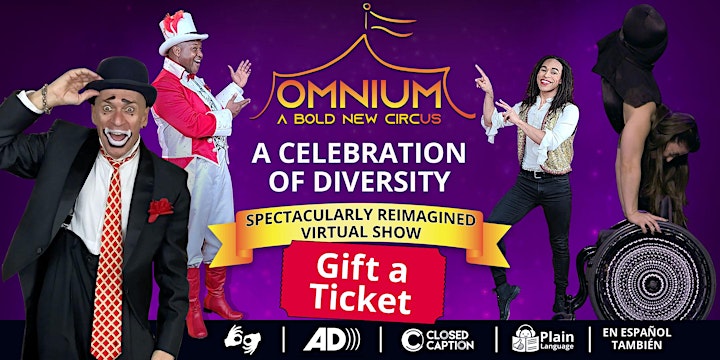 Give the gift of joy! Give the Omnium Circus experience at home!
Do you know someone who would love to watch Omnium: A Bold New Circus? Whether you are practicing random acts of kindness, celebrating a special moment, or looking to send someone a smile, a gift ticket to Omnium is the perfect fit!
A gift ticket to Omnium gives the recipient the flexibility to pick which virtual show they want to attend. Gift tickets may be redeemed for any virtual performance and can be purchased at
https://www.eventbrite.com/e/give-the-gift-of-omnium-a-celebration-of-diversity-tickets-488929781137
----------------------------------------------------------------------------------------
Don't know who to gift a ticket to? Let us help. We have families waiting for you. Your kindness will bring joy and laughter to a family who really needs it right now. Donate the cost of a ticket here https://omniumcircus.org/donate/ and we will happily share your generosity with someone seeking joy.
Please email info@omniumcircus.org with any questions.