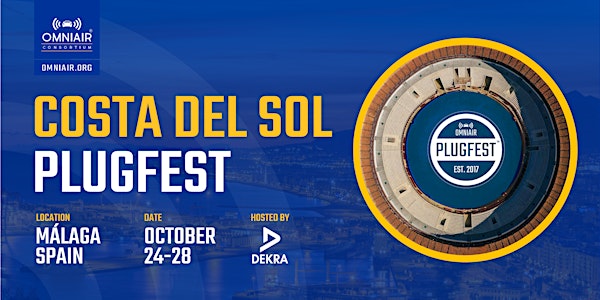 OmniAir Costa del Sol Plugfest - Hosted by DEKRA - Málaga, Spain
OmniAir Consortium, the leading industry association promoting interoperability and certification for ITS, tolling, and Connected Vehicles,
Date and time
October 24, 2022 · 8:30am - October 28, 2022 · 12:30pm CEST
Location
DEKRA 2 Calle Severo Ochoa 29590 Maqueda Spain
About this event
The OmniAir Costa del Sol Plugfest, hosted by DEKRA is SOLD OUT.
Although testing is SOLD OUT, you are still able to participate in the Connected Mobility Workshop on 25 October. There are two options: you can purchase a ticket and join us at the Promalaga Excelencia Conference Center at 27 Calle Steve Jobs 29590 Málaga Spain. In addition to the conference, you are invited to the VIP reception! For those not fortunate to join us in Spain, we are offering a complementary live-stream link to view the workshop in real-time. Please click on the link below to see the program agenda and register.
We look forward to seeing all you soon!
OmniAir Consortium®, the leading industry association promoting interoperability and certification for ITS, tolling, and Connected Vehicles, is bringing our Plugfest back to everyone's favorite testing location Málaga Spain the week of October 24, 2022, for the Costa del Sol Plugfest.
Take advantage of early bird pricing - The sale ends on August 31
The OmniAir Costa del Sol Plugfest, hosted by DEKRA, will feature comprehensive testing for C-V2X devices, including OBUs, RSUs, and Modules. In addition to testing standards used in North America, Korea, and Taiwan participants, for the first time, will have testing based on standards for Europe and China.
In conjunction with the OmniAir® Costa del Sol Plugfest, OmniAir is offering a one-day workshop on advancing the connected mobility ecosystem. This in-person workshop will address key technical and policy issues and will be held on Tuesday, October 25. Guests will also have a tour of the testing activities, live demonstrations, and, an evening networking reception.
The Costa del Sol Plugfest will test LTE-V (C-V2X PC5) devices for conformance, interoperability, and security in both lab and field environments. Devices under test will have access to comprehensive testing of the following test cases provided by OmniAir staff, member test laboratory, test equipment, and PKI provider personnel.
761-3GPP (3GPP LTE-V Radio Release 14)
762-J3161/1 ( LTE-V2X V-V Minimum Performance & Message Profiles)
763-1609.2 (WAVE Security Services)
765-1609.3 (WAVE Networking Services)
767-J2945/1 ( V2V Minimum Performance - Bench)
770-RSU (RSU 4.1 Procedure)
OmniAir Plugfests are the premier testing event for Connected Vehicles. These week-long events provide an opportunity to test V2X devices, in both lab and field environments, with leading laboratories and test equipment providers from around the world. Participation in OmniAir Plugfests are strongly encouraged for any C-V2X vendors considering applying for OmniAir Certification or Qualification of a device or test system.
OmniAir Plugfests draw device manufacturers, Tier One Suppliers, chipset providers, OEMs, deploying agencies, and leading engineering firms from Asia, Europe, and North America.
Participants can take advantage of state-of-the-art testing at DEKRA's test track and host facilities. Their track includes actual and simulated infrastructure elements and vehicles.
Refund Policy
Payment in full of all fees is due upon registration. All sales are final. There are no refunds or exchanges for any reason. OmniAir will apply your paid registration to a future event if the event is postponed.
Health and Safety
The health and safety of event participants and staff are our top priority. Everyone in attendance is expected to comply with posted health and safety requirements.
Please ensure that you have reviewed any advisories or restrictions that may be in place for travel to Spain.
Please be advised that the risk of exposure to COVID-19 exists in any event or public space, including the OmniAir Costa del Sol Plugfest, in Malaga, Spain. Before purchasing a ticket for and attending the OmniAir Costa del Sol Plugfest, please be sure that you have read the latest information from the Spanish Ministry of Health for more detailed information.
About OmniAir Consortium
OmniAir Consortium is the leading industry association promoting interoperability and certification for ITS, tolling, and connected vehicles. OmniAir's membership includes public agencies, private companies, research institutions, and independent test laboratories. www.omniair.org