Three free, exclusive events, presented in partnership with Reverb, Source Elements, and Spitfire Audio LABS.
About this event
Join Omni Sound Project for three free, exclusive events created just for our community members! Register for your free ticket and then tune in for any of the following Free Week events:
Monday, November 1, 7 to 8 pm CST
Reverb presents: Why I Like This Mix with Jam Phelps, Annlie Huang, Kia Shavon, Lisa Kacos, and Marisa Ewing
Omni Sound Project's 2022 core faculty members share their favorite mixes and explain how their favorite effects are created.
Tuesday, November 2, 7 to 8 pm CST
Source Elements presents: Remote Collaboration in Recording with Rebekah Wilson
Source Elements Co-Founder Rebekah Wilson demonstrates how to use free and/or open source remote recording technology so you can work with others who are either geographically distant from you.
Wednesday, November 3, 1 to 2 pm CST
Spitfire Audio presents: Breaking Down Cues with LABS with Lucie Treacher
Spitfire Audio's in-house Composer team member Lucie Treacher displays how to be resourceful with your tools, matching timbres and soundworlds, all with free LABS instruments.
All genders are welcome to attend all three events for free, and then join us for Signal Gain on Saturday, November 6th.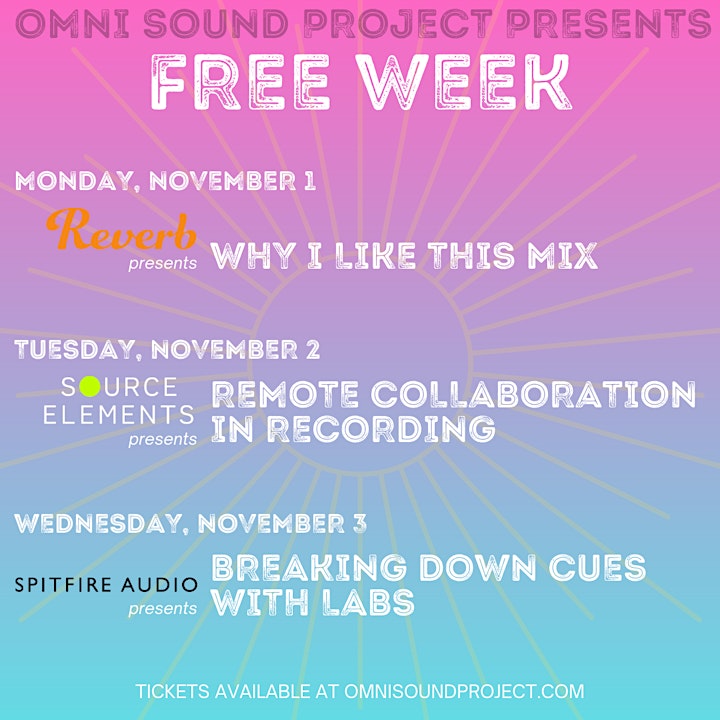 Organizer of Omni Sound Project presents Free Week 2021
Omni Sound Project exists to help you learn the skills you need to create, record, and produce music and sound. We know you need to start learning in an encouraging, welcoming atmosphere, and our classes, tours, and private lessons create a safe space for everyone to explore freely. Learn more about our mission and team here.
We hold three types of educational events: one hour Intro Classes, four week Intensives, and three hour Workshops. In addition, we host several free member events, including studio tours, interviews, and the popular Four Track Challenge. Membership is free and open to anyone who identifies as female, trans, or gender non-conforming. To become a member, click here.