Description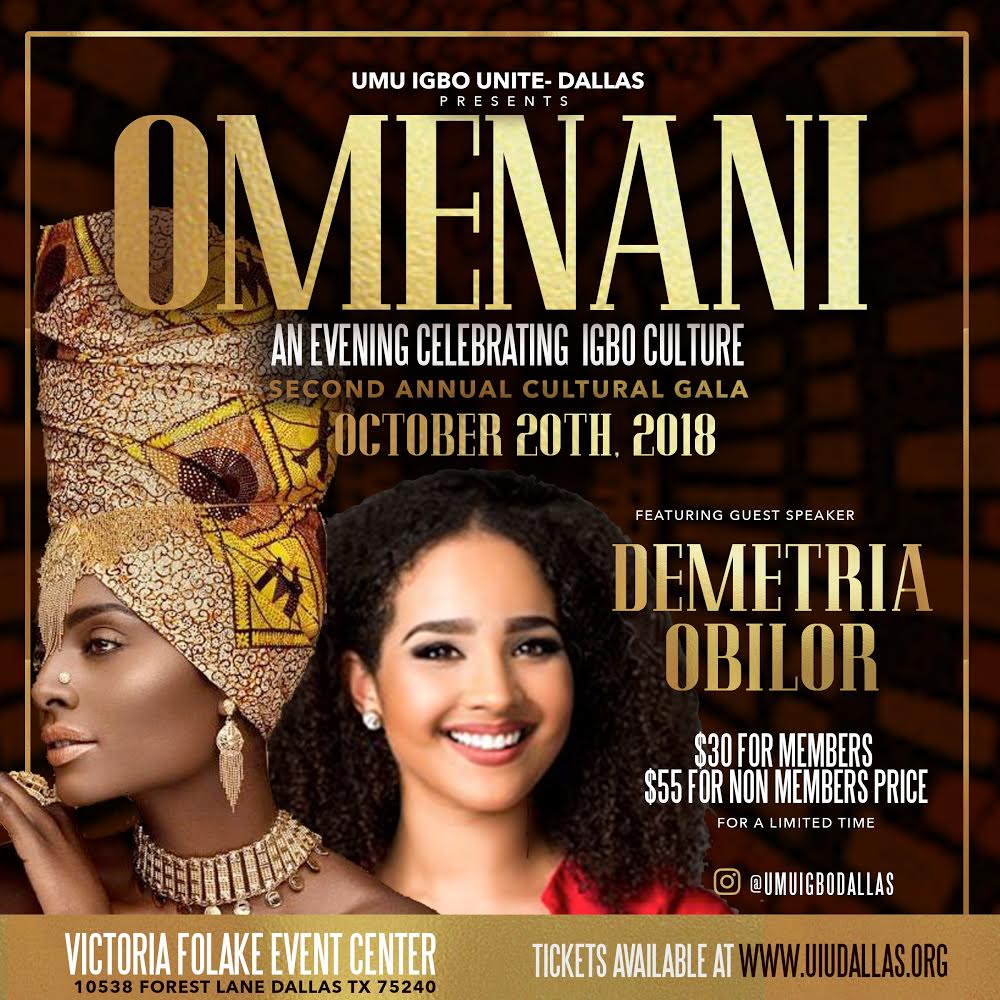 DALLAS...WE ARE BACK AT IT AGAIN!!!
Umu Igbo Unite-Dallas cordially invites you to attend its 2nd annual end of the year cultural ceremony, Omenani: An Evening Celebrating Igbo Culture.

On the evening of Saturday, October 20th, close to 350 friends and family will gather to celebrate the very best of our Igbo culture here in Dallas put together by the young professionals of the Igbo community. It'll be a night consisting of Igbo traditions, tribal dances, traditional music, a wonderful gourmet dinner, awards and recognizition of individuals in the Dallas Igbo community.
This years gala will be hosted by Wowo Boyz comedian O.T. White (@Otwhite) and the special guest speaker is national celebrity and local WFAA channel news anchor, Demetria Obilor! (@DemetriaObilor)

The Cultural Ceremony will be held at the Victoria Folake Event Center (10538 Forest Lane) located in Dallas, Texas.
The red carpet and doors open at 7:00 P.M with a COMPLIMENTARY COCKTAIL HOUR. The show starts at 8P.M.
THIS EVENT WILL SELL OUT!
To book your seat or dinner table, please purchase your ticket. Seating will be granted on a first come first serve basis and there will be no refunds provided.

If you require further information, please contact the events team at Dallas@UmuIgboUnite.com and/or check out our website https://www.uiudallas.org/

Umu Igbo Unite-Dallas looks forward to welcoming you to the ceremony on October 20th for a fantastic evening of celebration. This is an event you DO NOT want to miss out on and this will be a night where everlasting memories will be made once again.
Follow on Instagram @UmuIgboDallas
#IgboKwenu #UmuIgboUnite #UIUDallas #Omenani