OMEN A CELEBRATION OF LIFE DECEMBER 2022 - ALL TICKETS HONORED - RESCHEDULED TO 2/12/22
About this event
OMEN
|| OMEN CELEBRATION OF LIFE ||
23RD ANNIVERSARY
NUDE MENS DANCE AND KARAOKE BAR
A FULLY VAXED EVENT
|| OREGON MEN ENJOYING NATURISM ||
CELEBRATION OF LIFE DECEMBER 2021
Leave Your Cares And Clothes Behind And Celebrate Life With Us!
BOSSANOVA BALLROOM
722 EAST BURNSIDE STREET,
PORTLAND, OREGON, 97214
RESCHEDULED TO SATURDAY FEBRUARY 12TH
21 and over only / Exclusive Mens Party
$18.00 advance tickets / $25.00 at the door
Must have "M" as gender on I.D. to attend
A CELEBRATION OF LIFE!
This is our 23nd Anniversary Party, a private event for our organization, but with so much space we are opening this up to other gay/bi men interested in social nudity to join us for the evening. This is our chance to expose our group to you and let you experience us firsthand. Consider this evening a celebration of life after all we've been through!
As it turns out, Ballroom availability coincided with Valentine's Day, so we are adding that to our celebration for an even funner evening. OMEN has always had Valentine's Day dances but in smaller venues so we are pleased to welcome others to join us for this. Our members tend to be playful and dickorate for the occasion and of course themed hats, socks, and jewelry are always welcome and we do encourage our guests to join in the fun.
WHO WE ARE
OMEN (Oregon Men Enjoying Naturism) is a nude social group for gay/bi men in the Portland/Vancouver area. Originally founded as a monthly potluck group in 1998, we are now celebrating our 23rd Anniversary. The group has grown to 300 men, with activities ranging from dances, game nights, camp outs and spa nights at Steam, to themed parties, gatherings at Rooster Rock, and still some traditional potlucks! With ages ranging from 20 to 92 and almost 20 languages spoken, we are a very diverse group and have every imaginable body type. If you are a vaccinated adult male you are welcome to join us. For more info: www.omenpdx.org/membership
OPEN INVITATION
We have more space than our members can fill, and we have all had a rough 2020, so we are extending an invitation to all men who would like to experience us firsthand and join in the evening. You must agree to no body shaming, and must remain uncovered. We are not clothing optional and this is not an event for voyeurs. You are welcome to participate, but no hiding behind jock straps, thongs, cages and the like. Sorry, ladies, but since we are a gay men's group, we do require an "M" on your I.D. We are also a fully vaccinated group and our guests must be able to provide proof at checkin.
INCLUSIONS
Due to the nature of the event, some materials were necessary. The rates include a tote bag at check in with a small towel to sit on as required by law. You will receive a neck wallet for your valuables with a name badge just prior to checking your clothes. Your valuables go in the neck wallet, the towel is to sit on or clips around your neck when not sitting, and the bag is for the rest of your clothes aside from footwear which are then checked. Image capable devices are NOT permitted. Any cell phones must have tape over the camera lens.
ENTERTAINMENT
We are not a plush group so don't expect anything more than a great time, but that you will have. We have set up two areas for our celebration. The main ballroom will have a dance run by Rocky Rhodes from Sailing on Productions while his other half will run a karaoke bar on the mezzanine level overlooking the ballroom. They are well known in the gay community and have hosted at both Silverado and Scandals. As an added bonus, Steam Portland is offering $5.00 off a room or locker following the party with your ticket stub / exit stamp.
Leave Your Cares And Clothes Behind And Celebrate Life With Us!
OMEN PDX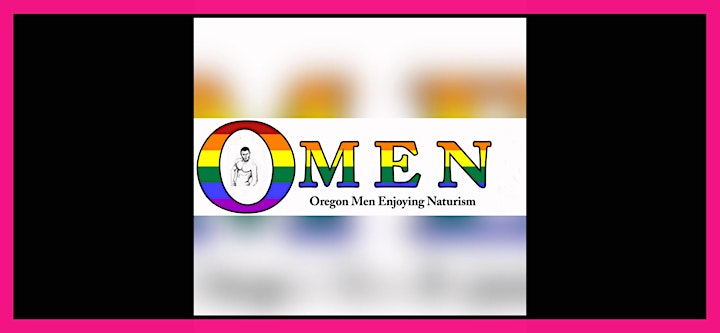 Organizer of OMEN || A CELEBRATION OF LIFE || RESCHEDULED TO 2/12/22