Postfontaine Presents: OMD at The Union on May 16 , 2022! Get tickets!
About this event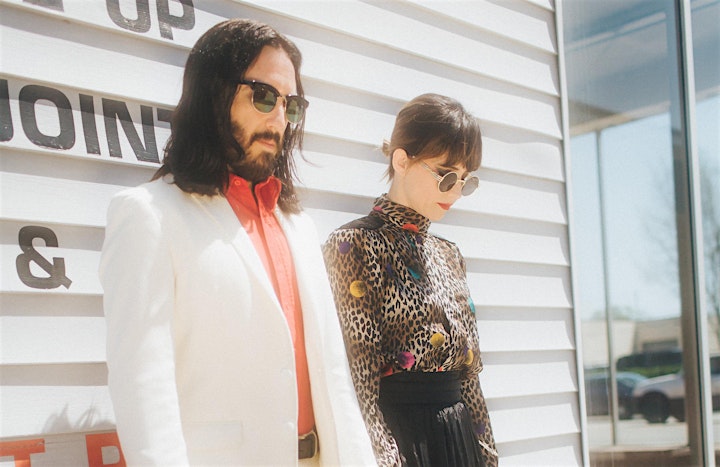 IN THE VALLEY BELOW – BIOGRAPHY
In The Valley Below – Angela Gail and Jeffrey Jacob – meld harmony-laden Americana, adventurous art rock, squelchy synth pop and woozy blues into something altogether different: stylistically elusive, yet oddly inclusive. Her loaded purr cajoling with his weathered inflections, they craft gauzily compelling music at once introverted and all-embracing.
A small-town girl from Michigan, Gail discovered songwriting while holed-up on an even smaller Caribbean sailboat. A thousand miles away in Memphis, Jacob was inhaling Link Wray's ragged rebellion and the darker side of Phil Collins and Peter Gabriel. In The Valley Below was born one Texas night when the pair, performing at SXSW in an experimental L.A. rock band, recognized their rare on-stage connection. Back in California, they plunged into collaboration with twin-like telepathy and a feverish, fated chemistry
ITVB's genre-ambiguous, dreamily accessible expressions traveled well, inducing tireless touring. High-profile stops included England's Reading and Leeds festivals, Rock en Seine in Paris, Austin City Limits, Corona Capital in Mexico City, The Late Show with David Letterman, and Conan. They have toured with bands from Cold War Kids to Tricky, White Lies to Albert Hammond Jr. and many more.
"Peaches", their debut single from "The Belt" (Capitol Records) first found the airwaves in Europe, debuting on BBC Radio One and climbing the charts in France and Germany, becoming #1 on French Alternative radio. Over a year later, it became a staple on US alternative radio. The song was remixed by Passion Pit, Kele Okereke of Bloc Party and more.
Their latest chapter is an ongoing relationship that is rooted in both the music they create and the family which has followed. Relocated from their tiny, one-bedroom Echo Park apartment in Los Angeles, the pair have moved to a 100-year-old house they bought in Grand Rapids, MI. There, they installed a basement studio that served as the birthplace for their sophomore album released on acclaimed indie labels Bright Antenna and Arts & Crafts. The band self-produced their album for a second time with one song produced by Dave Sitek of TV on the Radio.
"The Pink Chateau" album release was a groundbreaking creative endeavour with a live immersive experience in Los Angeles and a feature length music video/movie. "The Pink Chateau" film premiered at the Newport Beach Film Festival and screened across the US while the band played the accompanying soundtrack broadcast through headphones to a live audience. The full movie is now streaming on Amazon.
Organizer of OMD Souvenir: OMD 40 YEARS – GREATEST HITS