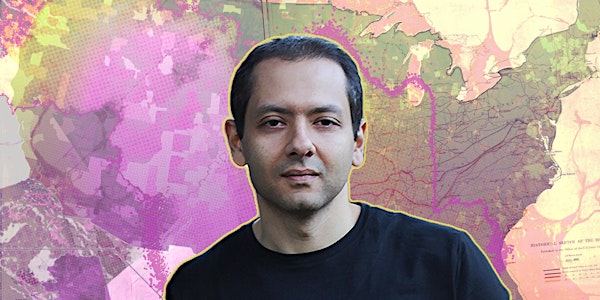 Omar El Akkad: The Story of the American War
Sales Have Ended
Registrations are closed
Thank you so much for registering for this event. As a reminder, any RSVPs and registrations are purely for the purposes of monitoring attendance, gauging interest and better understanding the community we serve. Any seating is first-come, first serve. You do not need to RSVP or register to attend. You do not need to bring your printed registration or RSVP. Information about parking, access, and other logistics will be sent out a week or so before the event. This event is open to the public and free. To find more talks, readings, classes, workshops, or other literary events and programs around the Valley, visit our website at http://piper.asu.edu
Sales Have Ended
Registrations are closed
Thank you so much for registering for this event. As a reminder, any RSVPs and registrations are purely for the purposes of monitoring attendance, gauging interest and better understanding the community we serve. Any seating is first-come, first serve. You do not need to RSVP or register to attend. You do not need to bring your printed registration or RSVP. Information about parking, access, and other logistics will be sent out a week or so before the event. This event is open to the public and free. To find more talks, readings, classes, workshops, or other literary events and programs around the Valley, visit our website at http://piper.asu.edu
Description
Join award winning journalist and author Omar El Akkad for his talk, The Story of the American War, on Thursday, April 18, 2019 at the ASU Memorial Union in the Ventana Ballroom (301 E Orange St, Tempe, AZ 85281) at 6:00 p.m. A Q&A and a book signing will follow.

While encouraged, RSVPs are purely for the purposes of monitoring attendance, gauging interest, and communicating information about parking, directions, and other aspects of the event. You do not have to register or RSVP to attend this event. This event is open to the public and free.
Presented by the Imagination and Climate Futures Initiative at Arizona State University, a partnership between the Center for Science and the Imagination and the Virginia G. Piper Center for Creative Writing.
For more information, visit our website at http://piper.asu.edu/events/omar-el-akkad.
About the Talk
In this talk, El Akkad talks about how he came to write his debut novel – the events that inspired it, the references buried throughout the text and the places he visited to research the book. This lecture covers the writing and editing process, the story of how the book came to be published, and the wildly different reactions it has prompted inside and outside the United States.
About the Book
An audacious and powerful debut novel: a second American Civil War, a devastating plague, and one family caught deep in the middle—a story that asks what might happen if America were to turn its most devastating policies and deadly weapons upon itself.

Sarat Chestnut, born in Louisiana, is only six when the Second American Civil War breaks out in 2074. But even she knows that oil is outlawed, that Louisiana is half underwater, and that unmanned drones fill the sky. When her father is killed and her family is forced into Camp Patience for displaced persons, she begins to grow up shaped by her particular time and place. But not everyone at Camp Patience is who they claim to be. Eventually Sarat is befriended by a mysterious functionary, under whose influence she is turned into a deadly instrument of war. The decisions that she makes will have tremendous consequences not just for Sarat but for her family and her country, rippling through generations of strangers and kin alike. (Penguin Random House)
About the Author
Omar El Akkad was born in Cairo, Egypt and grew up in Doha, Qatar before moving to Canada with his family. An award-winning journalist and author, El Akkad has traveled around the world to cover many of the most important news stories of the last decade. His reporting includes dispatches from the NATO-led war in Afghanistan, the military trials in Guantanamo Bay, the Arab Spring revolution in Egypt, and the Black Lives Matter movement in Ferguson, Missouri. El Akkad is a recipient of Canada's National Newspaper Award for investigative reporting and the Goff Penny Memorial Prize for Young Canadian Journalists, as well as three National Magazine Award honorable mentions. His critically acclaimed debut American War, published in 2017, is a post-apocalyptic novel set during the second American Civil War in the year 2074. He lives in Portland, Oregon.
Original image credits: Burning oil from Deep Water Horizon, United States Coast Guard; 2016 Electoral Map by Ali Zifan; Tubular Carcinoma by Mark Ong
Organizer of Omar El Akkad: The Story of the American War