Description
Click register on the upper right, then follow prompts to enter your promotional code for a free pass.

Angelbeat is hosting this comprehensive morning workshop on IT Security/Compliance, Storage/Data Center Infrastructure and Network Management. Great content on today's (and tomorrow's) top technology issues, covered in just a few hours..

Scroll down to see the full agenda. Click here to download presentation guidelines that are followed by all participants, which makes the program so worthwhile for technology professionals, business executives, etc.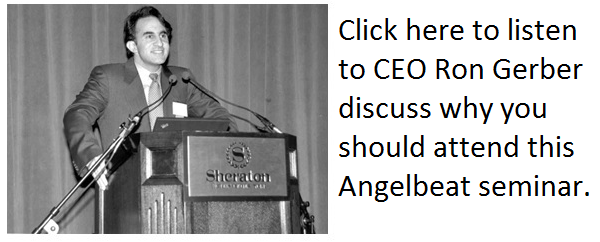 Join your peers from TransWood, Werner, Mutual of Omaha, Gallup, Nebraska Furniture Mart, Nebraska Medicine, ConAgra, Douglas-Omaha Commission, Central States, Omaha Public Power, Boys Town, City of Lincoln, Creighton University and many more organizations who are confirmed attendees.

Every attendee receives a full hot breakfast, complimentary WiFi, plus 2 CPE credit hours towards your CISSP or other certification.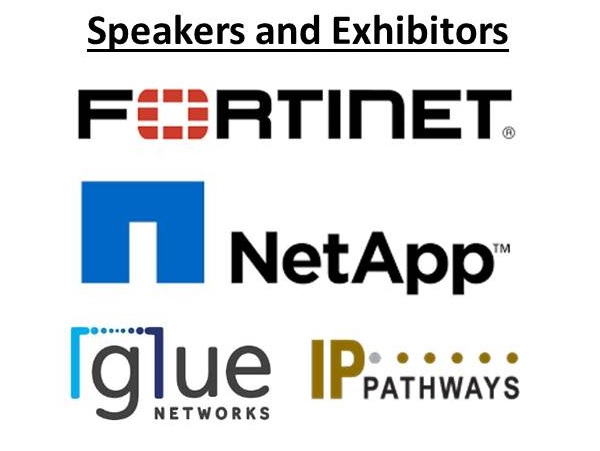 Agenda

7:30 - 8:40: Registration Begins, Full Hot Breakfast and Coffee Served, Exhibit Area Open with Product Demonstrations, Time For Peer Networking/Interaction

8:40 - 9:10: Threat Landscape Report: The Latest Security Breaches and Solutions from Fortinet
Cybercriminals and threat actors continue to move forward with new tricks and tools designed to gain access to networks and the valuable assets within. The Fortinet Cyber Threat Assessment Program is a free service and in the past 90 days recorded over 185 million threat events and incidents. Many of these attacks succeeded in getting past traditional perimeter security defenses and onto the internal network. Thanks to Cyber Threat Assessment capabilities, Fortinet customers were able to identify these threats and secure their network.

DJ Sayles, Fortinet North Dakota Manager, will be joined by Systems Engineer Steve Karkosky. They will highlight trends in the industry, then review how Fortinet is helping customers address pain points in protecting both their internal data and external/customer data.

9:10 - 9:40: Multi-Vendor Network Infrastructure Complexity; How to Simplify with Glue Networks
Typical networks have become increasingly complex and require constant attention, especially when there is a multi-vendor architecture/configuration.

To greatly simplify network management, Glue Networks created Gluware, a software-based orchestration platform that reduces life cycle costs and boosts network agility. Richard Long from Glue Networks will demonstrate how network operations teams can simplify tasks like switch management, ACL, QoS, firewall rules and many other time consuming functions. Gluware makes the network work for operations - not the other way around.

9:40 - 10:10: Hybrid vs All-Flash vs Cloud: Storage Options/Strategies from NetApp
During this informative briefing, learn from technical specialist Joel Kennedy of NetApp and its partner IP Pathways how to create your Next Generation Data Center, by understanding which one of these three storage platforms makes the most sense for your organization:

- Hybrid Flash Arrays: Created for shared, consolidated environments running SAN and NAS workloads, that require rich data management, enterprise-grade capabilities, and easy cloud connection. Perfect for enterprise applications, virtualization, Microsoft solutions, and back-up/recovery.

- All Flash: Consolidate all applications on the most datacenter-efficient flash storage you can buy, based on scale-out architecture, combined with the best data management. Designed for VDI, Microsoft/Oracle Databases, Big Data/IoT/Analytics.

- Cloud Connected: Integrate existing data center/storage infrastructure with all major cloud providers including Azure and AWS. Created for DevOps, Openstack, back-up/recovery.

At the end of this session there will be an overview of NetApp FabricPool, an innovative technology that allows customers to capture the disruptive economics of the Cloud without sacrificing the performance and improved user experience of Flash or having to re-architect applications. FabricPool does this by allowing any SAN or NAS workload to keep hot data on all-Flash but tier inactive cold data onto low-cost object storage, either locally or in the cloud.

Coffee Break, Product Demonstrations and Exhibit Area Open, Peer Networking

End of Event, Raffle Prize Drawings!

FAQs

What are Angelbeat's privacy and optin/optout policies
Each attendee acknowledges/understands that financial support from Angelbeat sponsors allows him/her to attend this event at no cost, and that the sponsors will be given your contact information 2 days after the event for follow-up email and telephone communications. All sponsors are required to provide you with an opt-out option, allowing you to be removed from their database

However each attendee can opt-out of sponsor follow-up by informing Angelbeat staff at the event, or by emailing Angelbeat immediately after the event, but before Angelbeat releases the attendee list to the event sponsors.

If you have any questions regarding Angelbeat's privacy policies and how your contact information is used, please contact CEO Ron Gerber directly at 516-277-2057 or at rgerber@angelbeat.com.

Who might be available to receive the special Promotional Code and free pass
There is a special promotional code, that will allow you to attend for free, that is limited and only available for end user IT professionals who work in the telecom/network/storage/security/data center/desktop/purchasing departments of corporations (private and publicly-held, large and small), universities, school districts, government agencies, hospitals/healthcare providers, pharmaceuticals, insurers, manufacturers, retailers, financial services/banks, real estate, legal/accounting/services, transportation/logistic firms, etc. and use, support, approve and/or are involved in or influence the decision to buy the products and services offered by our sponsors.

Reporters from major newspapers, websites and other media outlets are eligible for a free pass and must submit in advance their media credentials to the event organizer for approval.
All other individuals who are not end user, IT professionals must pay the registration fee.

In all cases Angelbeat reserves the right to accept or reject a registration at its sole discretion.

What are my transport/parking options getting to the event
Detailed driving directions will be sent out to all attendees one week before the event. There is

What is the dress code
Suggested dress is business casual.

What if you have special dietary needs/restrictions
If you have special dietary needs/restrictions, then please email Angelbeat below. We will do our best to accommodate any and all requests.

What if I am a government employee and cannot accept free meals and/or win raffle prizes
If you are a government employee and cannot accept free meals, then you can pay Angelbeat $35/person, to cover the cost of meals. Please contact the event organizer at registration@angelbeat.com to arrange payment.

Each sponsoring company/exhibitor handles its own raffle prize drawing; Angelbeat itself has nothing to do with these prizes and attendees are not automatically entered for any raffle prize drawing. Since each attendee must individually signup to win a raffle prize, then government employees (who are not eligible to win these prizes) can simply not signup for the drawing.