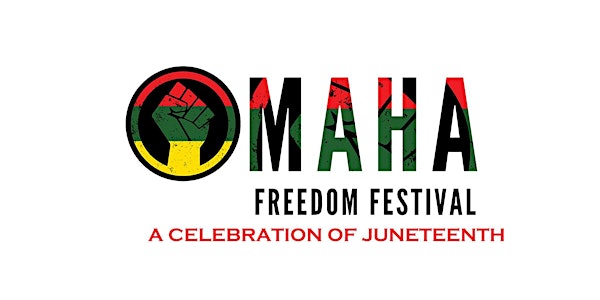 Omaha Freedom Festival:Free Daytime 12-5 & Night Concert Musiq Soulchild$$
Omaha Freedom Festival provides for cultural and historical celebration in addition to education, entertainment and exposure to resources
By White Rhino Productions LLC
When and where
Date and time
June 17 · 7pm - June 18 · 12am CDT
Location
Malcolm X Outside Event Plaza 3448 Evans ST Omaha, NE 68111
About this event
The Omaha Freedom Festival provides for cultural and historical
celebration in addition to education, entertainment and exposure to
resources from 12pm-midnight to not only those in North Omaha, but
actively markets to the entire metropolitan area and targeted tourism
pockets in the Midwest to create positive economic development.
It was first offered in 2021 to create an all-day companion
celebration event to expand the existing morning Juneteenth Parade
which has been taking place annually in North Omaha by the NAACP
Omaha chapter from 10am-noon. Parade attendees historically
represent the North Omaha neighborhoods.
It provides Free, Safe, Family, Fun Activities During the Hours of Noon to 5pm
Bike Give Aways, Arts & Crafts, Carnival Games , Entertainment and more!!
Concert later that Evening at 7:00pm with a Charge $$$
Featuring Musiq Soulchild, Lyfe Jennings and Enjoli & Timeless
The first festival was successfully held in 2021
VIP Ticket Holder Early Admission 6:30pm
Premier Seating (max 4 per table, not reserved), Chair & Tented Table Provided, Free Buffet Style Food, Access to Top Shelf Bar ($$) 1 Ticket Per Attendee Needed For Entrance.
General Admission Begins 7:00pm
. ALL PROPERTY and PERSON SUBJECT to SEARCH. Food & Beverage vendors available ($$). 1 Ticket per Attendee Needed.
NO PURSES ALLOWED!!!! SMALL CLEAR BAGS ONLY!!!
Taalib Hassan Johnson (born September 16, 1977), better known by the stage name Musiq Soulchild or simply Musiq (pronounced "music")[1] is an American singer and songwriter whose style blends R&B, funk, blues, jazz, and gospel influences fused with hip hop.[2] Soulchild has released several successful studio albums that went platinum in the United States
Chester Jermaine "Lyfe" Jennings (born June 3, 1978)[1] is an American R&B and soul singer-songwriter, record producer, and instrumentalist. He plays the guitar, bass, and piano which he integrates into his music. The New York Times referred to him as a "socially minded R&B singer".
Since 2017, Omaha-based R&B/Soul band Enjoli & Timeless has performed every year on Black Friday to honor their time together as a group and collectively reminisce to the sounds of their favorite R&B and Soul classics. Over the years, the dynamics of this live ensemble has evolved, but in the band's beginnings there were many voices that were a part of the Timeless collective. Sponsored by Omaha Performing Arts, this year's concert in the Holland Music Club will feature all the vocalists of the past and several artists of the present. Join us for this one-of-a-kind performance from some of Omaha's finest artists in your finest black attire.
Humbly labeled by her fans as "The Voice of the Streets, Enjoli and her sultry vocals quickly rose to recognition after the release of her debut album called "Set The Mood" in 2013. After releasing her hit single "Thinking," in 2017 Enjoli formed her R&B/Soul band, Timeless.
Enjoli & Timeless has performed on numerous stages with artists like Pleasure P, Juvenile, Angela Winebush and toured with the legendary rap artist, Twista. During the 2020 Presidential Election, Enjoli & Timeless had the prestigious honor of performing live at the Biden Harris Campaign for the historic District 2 of Nebraska. They were the inaugural featured artists in the 2021 and 2022 Omaha Performing Arts Miller Park Concert Series and the recipients of the 2022 Omaha Entertainment Art Awards for Outstanding R&B
About the organizer
White Rhino Productions located in Omaha, Nebraska represents musicians by providing them with concert production to include:  venue placement, event marketing, ticket sales, music production/distribution/video and general consulting.  It specializes in old school hip hop and R&B artists from the late 90's and early 2000's by arranging for past bigger acts to come to today's smaller venues; however represents all genres looking to perform in smaller venues.  White Rhino Productions boosts interest and ticket sales for upcoming events using strategic marketing, superior networking skills and working knowledge of the entertainment industry.