About this Event
Our country has been hard hit during this pandemic, and our national community of teachers and leaders are joining together to share this offering with our homebound community to lift our spirits and help raise money for meals and protective supplies.
We invite you to join us for a day of yoga, meditation, talks and so much more. Thanks to the generosity of all the teachers, you are welcome to join for free. If you can, join us as we help raise money for the World Central Kitchen and Americares charities. We are also providing an opportunity to directly donate to NY YOGA LIFE magazine, so we can keep providing our print publication for FREE during these challenging times.
Zoom log in info for each session will be emailed with confirmation, 24 hours before the event.
WCK is working across America to safely distribute individually packaged, fresh meals in communities that need support – for children and families to pick up and take home, as well as delivery to seniors who cannot venture outside. WCK is now active in dozens of cities providing nearly 200,000 fresh meals every day.
Traditional safety nets like school feeding programs, city services, and food banks are struggling to meet basic needs. Seniors, who are isolated for their safety, are unable to access meal services. Meanwhile, the country's hospital workers are more stretched than ever before.
WCK is also now activating restaurants to help meet this demand by providing jobs for their staff and meals for those in need. #ChefsForAmerica is making a key connection between people who need meals and restaurant workers and drivers who need to earn a living.
Americares is delivering protective supplies – masks, gowns, gloves and disinfectants – as well as leading support groups and skill-building workshops for health workers in COVID-19 hot spots. Americares has provided protective gear and infection control supplies to health facilities in the United States, the Bahamas, Haiti, Honduras, India, Lebanon, the Philippines and Tanzania. In the U.S. alone, Americares has delivered 38 tons of protective supplies to health facilities in 40 states, Puerto Rico and the U.S. Virgin Islands. Our aid includes 1.6 million masks, 121,000 gloves, 40,000 gowns and more. More international and domestic shipments are planned.
NY YOGA LIFE magazine is NY's only free print and digital publication that is entirely volunteer run. We have been providing free content, events and festivals for the last four years, even during these challenging times. You are welcome to show your support via a contribution on the ticketing page.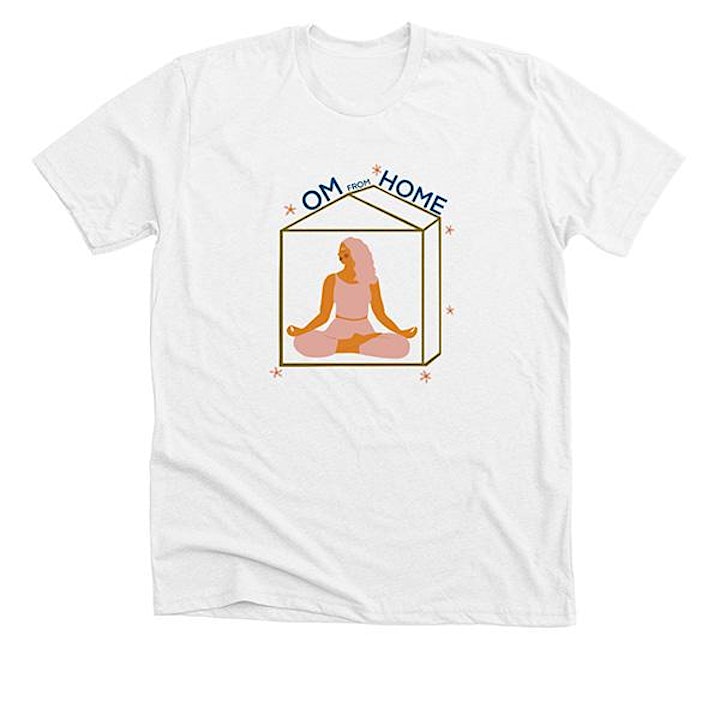 Om From Home shirt and tanks designed by Harmony Willow Art are available until only until May 11th.
Learn more about the artist: harmonywillowart.com
Schedule below. ZOOM info for each individual session will be emailed Friday 5/8 to all registered attendees.
8 - 8:45 am
Kundalini Yoga for Elevation with Alyssa Snow: Join Alyssa Snow, Founder of MindBodySoul Yoga + Wellness for a kundalini yoga kriya intended to cleanse your energy field, stretch and open your body and create a calm and receptive state of mind. This class will include movement, breathwork and meditation and is open to all levels of physical practice. (NYC)
9 - 9:30am
Empowered Flow with Leah Cullis : Join Leah for a dynamic and soulful vinyasa class that will encourage you to find your unique edge and move with intention. Each posture is an opportunity to amplify your breath, and align your inner energy with your outer expression. You will build strength, focus and purpose that extend to life beyond the yoga mat (AUSTIN)
10 - 10:50am
Body & Soul: Poetry Infused Flow with Sami Lea Konczewski: Join Sami for a mesmerizing and penetrating class that will immerse all your senses. Savor a steady yoga practice of familiar and new shapes with the metronome of your breath coupled with poignant poetry and electronic beats. This 50 minute, all levels class will leave you feeling connected with both yourself and your community, despite the walls between us. Leave feeling grounded by earth, moved by wisdom, and rocked by rhythm. (BOSTON)
11 - 11:30am
Kundalini Healing Circle with Lauren Hanna: Join Lauren Hanna, Director of Sonic Yoga in NYC for a Kundalini Healing Circle to channel the healing energy of the universe and send it out to all in need. We are all powerful healers and have the potential, through our intentions and prayers, to spread healing and light where it is needed most. We will chant Ra Ma Da Sa Sa Say So Hung, one of the major healing mantras chanted in the Kundalini yoga tradition.Let's join our hearts together for this powerful transformative experience to create a healing shift for all. (NYC)
12 - 12:50pm
Vinyasa Flow with Colleen Quinn: Vinyasa Flow with Colleen Quinn, founder of NYPD Blue Karma yoga. Suitable for all levels.(NY)
1-1:30pm
Family Yoga with Shari Vilchez-Blatt: Join Shari owner of Karma Kids yoga in NYC for Family Yoga fun! Yoga is a great activity that you can do with your child no matter what age! In this playful class, partner poses are emphasized, ensuring great bonding time. We'll include basic and challenging poses, play fun yoga games, and practice partner acrobatics all while building confidence and self-esteem. This class promises fun for the whole family because you can do yoga together foreve. (NYC)
1:30 - 2:00
Mudras with Kelly Kamm: Mudras, the sacred hand gestures of yoga, are the perfect combination of science and mysticism. They actually affect the same places in our brain as language! In this fun workshop we'll talk about the 5 elements and how they can be cultivated using hand gestures, and we'll explore a few spiritual mudras to help you get through hard times. (NY)
2 - 2:30pm
Meditation with Sarah Platt Finger: This inspiring meditation will integrate the profound effects of pranayama, mantra, and visualization to take you into an expanded state of consciousness. Leave feeling replenished, re-centered, and re-connected to your true source.(NYC)
3 - 3:50pm
Moving Meditation with Pilin Anice: Join in for a breath centered, movement practice that flows with sequences to stretch and strengthen the body, release stress, and connect you to the power that lives within. This moving meditation will encourage body awareness, mindfulness, and inner peace. Class is for all levels.(NYC)
4- 4:50 pm
A Little Truth Serum: Pranayama + Vinyasa Yoga with Lauren Beth Jacobs: This 50-minute creative vinyasa yoga flow, inspired by Kali Mudra and the goddess Durga, is designed to help you cut through the noise, trust your intuition, and stand in your truth! (DC)
5 - 5:50pm
Gentle breath and mudra meditation session with Ali Cramer: Join Ali for this meditation session utilizing mudras, ancient hand positions for invoking physical and mental well being. There will be gentle movement, breath work and a soothing guided meditation.
(NYC)
6:00-6:30
Closing Meditation with Angela Bisanti: Join Angela, owner of bambooYOGA for guided meditation, a process in which you will be guided through a meditation designed to help your mind focus, reduce tension, and promote stress relief. (NYC)