Description
***Please note: we will be walking quite a bit during this workshop (roughly 2.5 miles). Bring your walking shoes***
There's an extensive community of people devoted to watching and photographing birds. Why? They're spectacular creatures with varied size, coloring, and behavior across countless species. One thing birds share in common: they're not so easy to photograph--they don't pose where you want them to and it's often tricky to get close enough to photograph them. Olympus Representative, Mike Amico, will be leading a workshop specifically geared towards our Olympus shooters at the Kensington Metro Park to show you how to photograph birds with your Olympus camera.
Why Should I Come?
An opportunity to learn bird photography and help getting the most out of your Olympus camera.
Our bird photography guide, Mike Amico, will be leading you through Kensington Metro Park and stopping at regular intervals to explain different concepts and offer real-time instruction and critique for helping to get great shots.
Olympus is offering loaner equipment
If you do not currently use an Olympus camera, Olympus is bringing Olympus cameras for you to borrow; and they have a large number of Olympus lenses, including some nice telephoto lenses, to loan out. We ask that you arrive early on Saturday morning (aim for 8:00AM), so we have an opportunity to get gear checked out to you prior to the event! We will borrow your drivers license and take down some personal information in exchange for a camera and/or lens. Contact sales@cameramall.com with any questions.


At the end of the walk, we'll have an opportunity to photograph a Redtailed Hawk.
Around 10am, we'll stop by the Kensington Metro Park Nature Center, which features a redtailed hawk, a large bird of prey with an almost 5' wing span! You will be allowed to get within 5 feet of the bird for close-up photos.


What do I need to bring?
Your Camera with a Fully Charged Battery
Bring your Olympus camera, and if you have a long telephoto lens please bring it. We'll be bringing some loaner lenses for attendees to try. Don't forget to charge your battery!
At Least 1 Memory Card
You'd be surprised how many times guests show up to our photo events without a memory card. Please remember a memeory card even if you are borrowing a camera from us.
Water & Bug Spray
While not necessary to bring on the walk, it's probably a good idea to bring water since we'll be walking quite a bit. There will be mosquitos as well, so bug spray is a good idea!
The Location
This workshop takes place at Kensington Metro Park and will be starting at the Kensington Metropark Nature Center. We will be meeting at the shelter located under the star next to the nature center.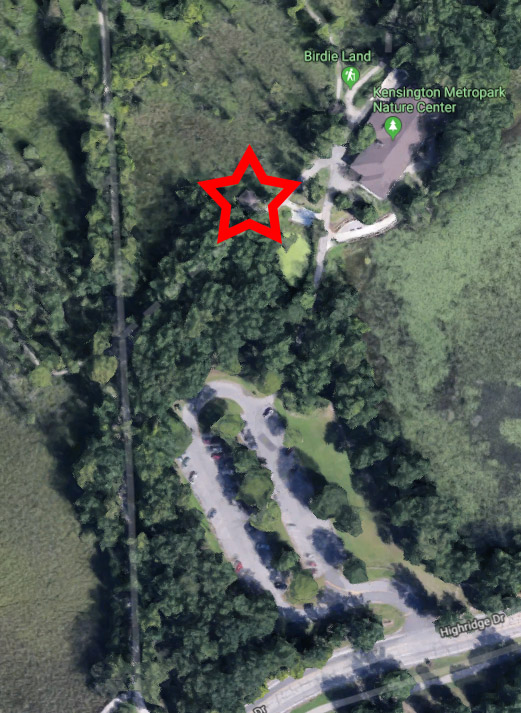 Admission to the park is $10 per vehicle for a daily pass or $35 for an annual pass. If you're 62 or older, there is a senior discount available.
What Happens if there are Thunderstorms?
In the event of thunderstorms, we will be canceling this walk. We will send out an email to all attendees, notifying them of the cancelation and provide a full refund for the walk. It's no fun to be walking around in a thunderstorm, and it's not ideal bird watching weather either!
We will, however, keep the event going if it's raining very lightly or sprinkling. You are more than welcome to request a refund right up until the event if you are unable to come, and we will refund you in full.
The Workshop Leader
Mike Amico
Photos By Mike Amico