Location
Held at all 9 of our different locations
Description
Harvest Tour 2016
November 11th, 12th, & 13th, 2016
11am - 5pm
Sip and savor the flavors of fall, enjoy seasonal activities and marvel at nature's vibrant palate during the Olympic Peninsula Wineries' Harvest Wine Tour, November 11th through 13th from 11 a.m. to 5 p.m each day. The nine artisan wineries and cideries are located in the Peninsula towns of Chimacum, Nordland, Port Townsend, Sequim and Port Angeles. "Fall is spectacular on the Olympic Peninsula," says Wineries Association President Vicki Corson. "The Harvest Tour Weekend is a great opportunity to get away, taste some fantastic new wines and discover delicious new pairings for your holiday table." Visitors will be greeted by signature scarecrows at each winery, and enjoy live music! Come out and celebrate the season!

Ticket and glass package entitles you to a special commemorative wine glass, complimentary wine tasting at all nine of our Wineries and Cideries. Tickets are available online for $35 plus service fees. Any remaining tickets will be sold for $40 at participating wineries during the Harvest Tour. This event does not take place at one location. You travel from winery to winery, visiting the ones you are interested in exploring. Tickets are not required to attend this event. A $7.00 wine tasting fee will be charged at each winery for non-ticketed visitors. You must be 21 or over to purchase tickets and/or participate in wine tasting. All ticket sales are non-refundable.
The Olympic Peninsula Wineries encourage responsible wine touring and recommend that you have a designated driver in your group.
Participants who have their ticket stamped at all nine of our wineries will be entered into a drawing for an elegant wine themed gift basket. The gift basket winner along with a second and third place winner will receive two tickets to the Red Wine & Chocolate Tour in February.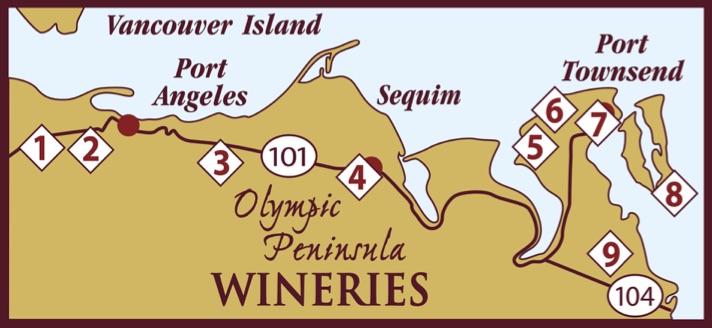 9 Wineries & Cideries participating in the 2016 Harvest Tour:
1.) HARBINGER WINERY will be participating, check back soon for details.
2.) CAMARADERIE CELLARS is celebrating our 25th harvest—twenty-five years of making great wine in a beautiful place.  During the Harvest Wine Tour, we will feature some newly released wines such as Tempranillo, our new Madrona blend and will also find some well-aged varietals to recall years gone by.  Harvest tastes will include Turkey Pumpkin Chili (back by popular demand) and a harvest savory scone.  Because Camaraderie celebrates the bounty of life found in food, wine and friends and to celebrate our 25th harvest, we will offer special discounts on wines and will include with each purchase a sample of Chef Steve's Wine Club recipes.
3.) This time of year, the sun slants lower on the horizon, misty afternoons pull the world into soft focus and crispness in the air calls for red wine and delicious savory treats. Our theme for this year's tour is Thanksgiving. We will feature wines specially selected to pair with your holiday table. Autumn at OLYMPIC CELLARS equals grape harvest. Our wines are made in small, batch lots and hand-crafted using some of the same winemaking equipment constructed by our original owner, Gene Neuharth. Lemberger is the perfect wine to partner with turkey dinner. It's bright and flavorful, light enough that it won't overpower the delicate flavor of turkey and the acidity works well with all the rich side dishes. We will also feature our Neuharth's Legacy Magnum. There are still a few cases of this very special wine left. Opening a magnum-sized bottle of wine during a party is a very special feeling. One of our most popular fall wines is the Cranberry Jubilee. Usually it is sold out by the time November rolls around, but this year we made extra. So, there is still some available. Chef Michael from Kokopelli Grill in Port Angeles will create a delicious turkey soup. I just talked to Michael and he will smoke the turkey in his newly built BBQ smoke house. Nash's vegetable will round out the flavors. Samples of the soup will be available for tasting in our Gathering Room. For dessert, My Sweet Syrah paired with Yvonne's chocolate.
4.) At WIND ROSE CELLARS we will be pairing some of our wines with the bounty of harvest here on the Olympic Peninsula. We are excited to partner with Aldewrood Bistro who will be providing us with focaccia bread loaded with a bounty of harvest goodies. Stop in and see what wines we'll pair. Sunday we have a special treat, where we will be pairing our Sauvignon Blanc with locally harvested oysters from Sequim Bay. For Harvest Tour Wind Rose Cellars be pouring five wines: Pinot Grigio; Sauvignon blanc; Dolcetto (New release); Malbec; and Barbera. We plan to have these wines on special during the event. We'll also have a VIP bar where you can spend time with the winemaker one on one. You'll also taste additional wines and hear all about the winemaking process and philosophy that goes into making award winning wines. Join us Saturday night as we host a local blues group the "Malcolm Clark Trio". Music starts at 7pm and goes til 9pm. We strongly suggest getting in early to find a seat.
5.) Baby it's going to be cold outside so stop by ALPENFIRE for hot cider cocktails and (sans alcohol) hot cider and coffee. We will be serving Mt. Townsend Creamery's Red Alder cheese, raclette style on a slice of Pane de Amore baguette. We will have fresh warm apple cake to sample along with our traditional ciders. Vinegars and shrubs will be available to taste and purchase for holiday gifts. Cheers!
6.) Visit FAIRWINDS WINERY for a Harvest Seattle Seahawks celebration! Begin your tour with a tasting of our limited- released Merlot bottled especially for this Harvest Tour/Seahawks weekend as well as our other award-winning wines. Play our football game to win Seahawk prizes! Enjoy harvest treats! The winery is decked out for fall with harvest and Seahawk themes--all for your pleasure and fun! Come out and see us!
7.) EAGLEMOUNT WINE & CIDER is celebrating the bounty of the harvest season with several new releases, including Eaglemount Red, Syrah, Ginger Cider, and Cranberry Mead (our seasonal fall selection, made with Washington-grown cranberries from Starvation Alley Farms). Samples of experimental ciders not yet in production will also be available. Come experience the cider-making process with footage of Eaglemount's production crew hard at work harvesting apples, grinding and pressing, fermenting, and bottling their small-batch, artisan ciders.
8.) For Harvest Tour, MARROWSTONE VINEYARDS will be inviting Alexa from Sol Food to whip up some tasty, savory, finger foods. We will also have chocolate from PT Chocolate Company, and of course, Mt. Townsend Creamery cheese and cracker plates for sale that pair exquisitely with our delicious, seasonal wines.
9.) FINNRIVER celebrates the harvest season at our new Cider Garden location with special release craft ciders from our organic orchard and hot toddies featuring our Spirited Apple Wine.  Sweet seasonal treats provided by Sugar Hill Confections. Visitors can walk the paths through our 50 acre farm and orchard and soak up the season with Chimacum Valley views and fresh farm air.