Actions and Detail Panel
Olive Brand Collaborative
Sat, May 20, 2017, 9:00 AM – 11:00 AM PDT
Description
Following our open discussions regarding best practices and tips, Jeremiah Flowers will close out our event with key information on various business' tax and corporation structure, as well as answer questions that our guests may have. So, if you have questions, need clarification, thinking about starting a corporation, or any or all the above, you won't want to miss this one!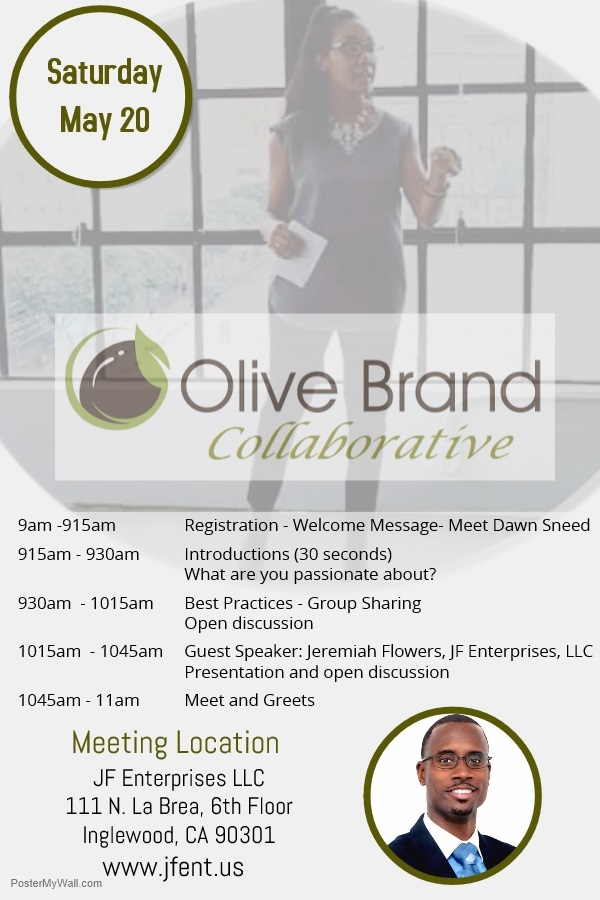 About Our Guest Speaker:
Jeremiah is dedicated to helping clients & prospective clients achieve business success by helping them establish/understand practical sound tax and financial principles. He is focused on services for small to medium sized businesses, as well as clients in the banking industry, financial industry and retail service providers, he is committed to delivering proficient services that meet each client's unique objectives.
Upcoming meeting:

In June, want to know just how smart your smartphone is? We will have a gentleman show you how to unlock the potential of your phone to help you manage your business. Work smarter. Not harder.
About Olive Brand Collaborative:
There is a void in professional networking, especially in our community. Olive Brand Collaborative is a forum in which professionals come to share best and worst practices, provide resources, encourage, forge business partnerships, and more! Not becuase it is required, but because our members start with the mindset of giving, not receiving. Come see for yourself!