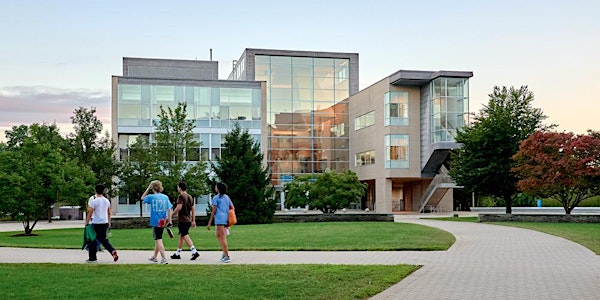 Olin Learning Lab Seminar Series
Take a Seminar from an Alum at the Olin Learning Lab. Learn while connecting to Olin alumni!
Refund Policy
Contact the organizer to request a refund.
Eventbrite's fee is nonrefundable.
About this event
Take a Seminar from an Alum at the Olin Learning Lab!
Join us for a series of content-rich seminars designed to build your skills and enrich your knowledge on a range of topics. The best part? The seminars are led by Olin alumni. Our lineup of virtual summer and fall seminars range in topics from Thermodynamics to Software Engineering. This is an opportunity to spend some time with Olin alumni, gaining access to lessons they have learned on the job and in grad school. At Olin, the learning doesn't end with graduation.
These learning labs are part of lifelong learning and are designed to be multi-faceted. Join to enrich your own professional development, your curiosity, or just for fun. The time commitment for an Olin Learning Lab seminar can be as little as a few hours to a deeper dive into a single topic requiring a slightly more intensive time commitment. These are live, virtual seminars – and will be recorded in case you have to miss a meeting.
See below for the full lineup of seminars! ________________________________________________________________________________
----> FALL '21 SEMINARS <----
Getting Started in Software and The Technical Interview
David Abrahams '18
David, Software Engineer at Stripe and Lauren, ML Engineer at Upstream Tech will share their tips on what you can do at Olin (or beyond) to strengthen your software skills. How do I get started? How do I get better? And how in the world do I get ready for the dreaded technical interview?
Date: Wed, September 29
Time: 6 pm (PT) / 9 pm (ET)
Location: Virtual and In-person (Library)
________________________________________________________________________________
Finding Your Role as a Hardware Engineer (ME or EE) - Lessons Learned
*Note New Dates for James' upcoming seminar*
James Nee '15
As a senior looking for a job, James felt anxious. His classmates had jobs locked up – he did not. He wasn't getting anywhere with his applications. What was the trick to getting a job?
Now after working at four different jobs with Motiv, Modbot, Cruise and now Nuro, he would love to share what he has learned about searching for a job as a non-software engineer in Silicon Valley. Figuring out next steps - how to approach the job application process –understanding a job description –– judging a company and assessing their culture – negotiations!
Join James for two sessions as he speaks about these topics, with a focus on his career to date at these various companies in the Silicon Valley:
Session 1 – October 27 5-6 pm PT, 8-9 ET
James will present lessons learned
Session 2 – November 3 5-6 pm PT, 8-9 ET
Open forum: Bring your questions to James – ask him anything!
________________________________________________________________________________
Designing Gorgeous UIs: The Engineer's Guide
Erik Kennedy '10
Erik Kennedy is a freelance UX/UI designer and founder of Learn UI Design, an online school teaching user interface design. His design tutorials have been read by over a million people, and he's spoken in the US and abroad at conferences, businesses, and universities such as Yale, Berkeley, and UW. His past clients include Amazon, Soylent, Pro.com, and GiveWell.
In this live demo, Erik will redesign user interfaces while explaining some of the most useful frameworks and tactics for engineers to think about when creating beautiful, pro-looking UIs. We'll focus on color, typography, layout, etc. while taking an analytical approach to a traditionally 'art school' task.
Date: Tues, Oct 26
Time: 6 pm (ET) / 3 pm (PT)
Location: In Person and Virtual
________________________________________________________________________________
HEADS UP! Space is limited. If the seminar is at capacity, you may join the waitlist and will be notified if a spot becomes available. Questions? Contact Sally.Phelps@olin.edu or Kristin.Casasanto@olin.edu.
Interested in teaching your own seminar? Contact us! We are seeking alumni instructors for new seminar offerings. Sally.Phelps@olin.edu or Kristin.Casasanto@olin.edu.
________________________________________________________________________________
----> SPRING '22 SEMINARS <----
Building New Ventures for Social Impact
Hari Iyer '13 | New Ventures @ Cisco, Emerging Technologies & Incubation
Are you interested in building a product or starting a business that will have a high impact? Do you want real-world insight into how to get new ventures off the ground? Or are you an intrapreneur who wants to implement new programs at your company? Do you want to brainstorm ideas for billion dollar new ventures?
The purpose of this class is to help students understand how to extend user-centered design thinking with business and tech insight to build high-value ventures.
Using real examples from my personal experiences and depending on class interest, I'll cover:
- How to identify valuable problems to solve
- How to take a big, vague problem and break it down to figure out opportunities for value creation
- How to learn faster
- How to crack initial sales (for 5 and 6 figure B2C and B2B deals)
- How to help your first 1-2 customers be successful
- How to build leadership skills that help when scaling & working with a bigger team
- Career Related: differences in roles and skills across product managers, PE/VCs, management consultants, program managers, and founders (as it relates to building new ventures)
- Corporate innovation - lessons learned from building billion dollar new ventures with Cisco Emerging Technologies & Incubation & Google X (the moonshot factory)
Time/Dates: TBD