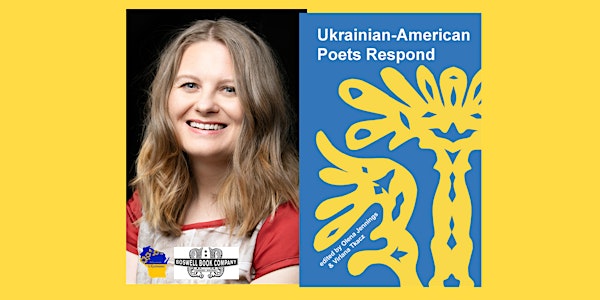 Olena Jennings for UKRAINIAN AMERICAN POETS RESPOND - a Boswell event
Olena Jennings, coeditor of UKRAINIAN-AMERICAN POETS RESPOND - an in-person Boswell event
When and where
Location
Boswell Book Company 2559 North Downer Avenue Milwaukee, WI 53211
About this event
Boswell Book Company presents an evening with Olena Jennings, editor of Ukrainian-American Poets Respond, a book that encompasses 29 poets' responses to the invasion of Ukraine by Russia in the spring of 2022. In conversation with Krystia Nora of Wisconsin Ukrainians, our event cosponsor. Wisconsin Ukrainians is a nonprofit organization founded to help connect Ukrainians in our state, share and celebrate the Ukrainian culture, and help provide support to important causes in Ukraine.
Ukrainian American Poets Respond collects work by poets from Boston to Austin, New York to Chicago, including names recognized in Ukraine such as Oksana Lutsyshyna and Serhiy Zhadan as well as rock favorite Eugene Hutz, front man for Gogol Bordello. Many poets work in English and Ukrainian, but included are poets who also work in other languages. The poems range in style from lyrical to narrative to song. Some poems create a dialogue with Ukrainian literature, while others address events in the United States.
Editor Olena Jennings is the author of the poetry collection Songs from an Apartment and the chapbook Memory Project. She holds an MFA from Columbia University and an MA from the University of Alberta. She is the founder and curator of the Poets of Queens reading series.
Click here to order your copy of Ukrainian American Poets Respond. Signed copies and personalization available on pre-orders. Please note that signed copies will not be shipped until after the event.