Older Adult Hiring Fair- Open to All Older Adult Residents of San Francisco
Description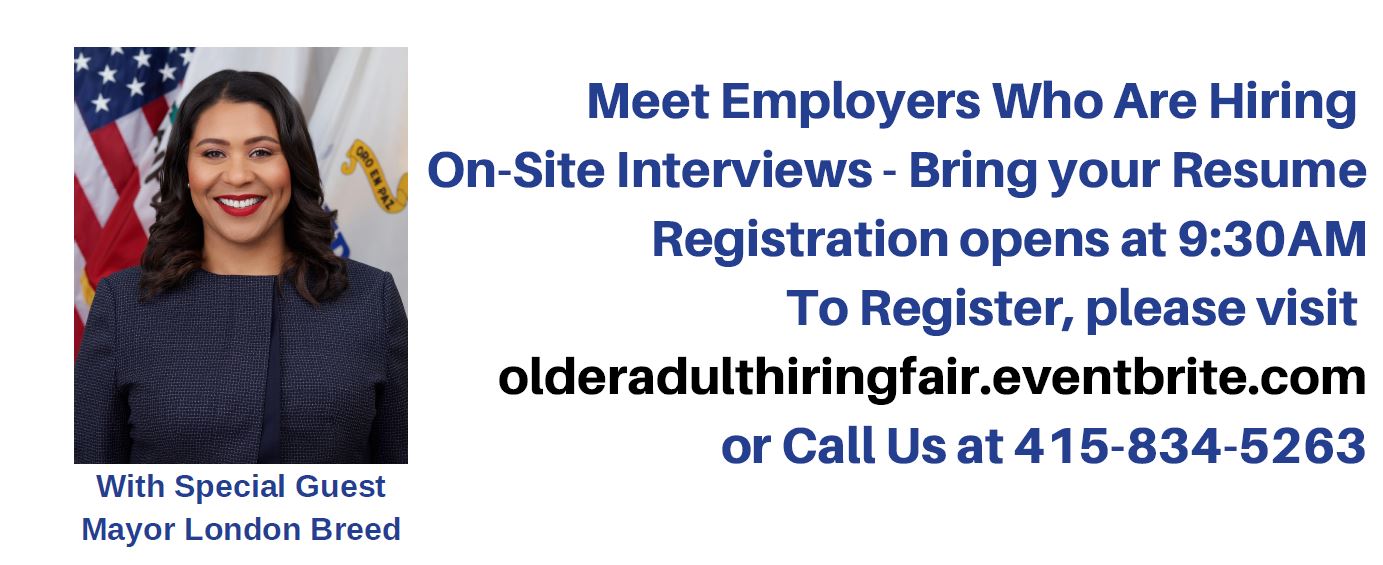 In January of 2019, Mayor Breed voiced her commitment to supporting employment for all San Franciscans who desire to work, and her administration's commitment to hosting a job fair dedicated to mature workers and adults with disabilities.
The employment fair will be led by OEWD and will be supported by a number of community partners, including the Work Matters Coalition, with HSA's JobsNOW! Program, Community Living Campaign's ReServe Program, and Felton Institute's Senior Community Service Employment Program (SCSEP). Other OEWD partners, including Goodwill and Toolworks, along with service providers offering a number of resources.
OEWD has committed to bring companies looking to hire mature workers and adults with disabilities to the fair. Those participants with resumes in hand will be able to interview directly at the fair, leading to the potential of walking out the door with a new job. If someone is looking for training or other ways to improve their success in getting a job, the goal is to have the participants leave the fair with an appointment in their calendar.
We look forward to Mayor Breed joining Joshua Arce, San Francisco's Director of Workforce Development, and his team at this significant event, which we expect will begin a movement to support those individual San Franciscans, who for any number of reasons, have not been able to secure the jobs that they want and need.
The Older Adult Hiring Fair will be held Monday, August 5th, 2019 at the War Memorial, Green Room, 401 Van Ness Avenue, 2nd Floor
ACCESSIBLE MEETING POLICY
The hiring fair will be held at the San Francisco War Memorial & Performing Arts Center, Veteran's Building, Green Room, located at 401 Van Ness Avenue, (between McAllister and Fulton Streets) San Francisco, CA 94102. The room is wheelchair accessible and has accessible seating for persons with disabilities and those using wheelchairs.

The closest accessible BART station is Civic Center. Accessible MUNI lines serving this location are: Muni Bus Lines 5, 6, 9, 21, 47, 49 and 71 stop within three blocks of the War Memorial Opera House. For more information about MUNI accessible services, call 415-673-6142.

Parking is available at Performing Arts Garage located at 360 Grove Street (at Gough) (Phone: 415.252.8238) or the Civic Center Plaza Garage located at 355 McAllister Street (at Polk) (Phone 415.863.1537) and rates vary.

Per the Language Access Ordinance (Chapter 91 of the San Francisco Administrative Code), Chinese, Spanish and or Filipino (Tagalog) interpreters will be available upon request. Assistance in additional languages may be honored whenever possible. To request assistance with these services please contact Lauran Acevedo at 415-701-4839 or lauran.acevedo@sfgov.org at least 72 hours in advance of the meeting. Late requests will be honored if possible.

Requests for language interpreters at a meeting must be received at least 72 hours in advance of the meeting to help ensure availability.

Assistive listening devices are available. Materials in alternative formats, ASL interpreters, real-time captioning and other accommodations will be made available upon request. Please make your request for alternative format or other accommodations, to Lauran Acevedo at 415-701-4839 or via e-mail at lauran.acevedo@sfgov.org. Providing at least 72 business hours' notice prior to the meeting will help to ensure availability.