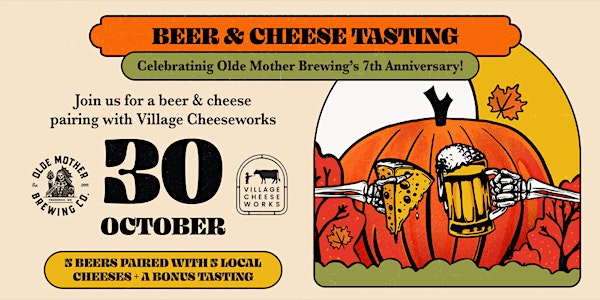 Olde Mother's Anniversary Beer & Cheese Pairing with Village Cheeseworks
Olde Mother Brewing teams up with Village Cheeseworks for a beer and cheese pairing! Enjoy 5 beers paired with 5 cheeses & bonus tastings!
When and where
Location
Olde Mother Brewing 526 North Market Street Frederick, MD 21701
About this event
Celebrate Olde Mother Brewing's 7th Anniversary with a beer and cheese pairing. Old friend and cheesemaker Kelly Harding from Village Cheeseworks in Upperville, VA will join us. He will bring his cheeses and others from local cheesemakers around the Mid-Atlantic in search of the perfect pairing with our beers. After we've tasted 5 beers paired with 5 local cheeses, we can't stop there, so we'll include some bonus tastings! Hey, we're celebrating here, but you might just learn something about beer and cheese along the way, too. All of the featured beer and cheese will also be available for purchase if you want to take more home. Most of all we'll have a great time, so be sure to bring some friends!