Actions and Detail Panel
Old World Versus New World Wine Class
Thu, April 6, 2017, 6:30 PM – 8:30 PM EDT
Description
Old World Versus New World Wine Class
Calling all Label Shoppers (that is not a bad thing at all): this class is for you! This is a fun class! Every single bottle in the world WILL fall into one of two categories: Old World, or New World. Here you will compare a grape varietal grown in the "Old World" (Greater Europe) style with the same varietal grown in the "New World" style (The Americas, South Africa, New Zealand, and Australia), and you will learn about two fundamental winemaking philosophies that a great winemaker needs to use for the creation of complex wines: the art of blending and the art of the single vineyard as well as how to differentiate the two. All 6 wines will be served blind to encourage thoughtful examination of the wine and stimulate discussion. Our classes are known for being both educational AND fun!
This class is part of a 6-week wine course called "Be Your Own Sommelier" (also listed on Eventbrite). The cost for all 6 classes is $210. All classes can be scheduled individually. You can also schedule by calling WineNot directly to save the Eventbrite service charge.
Instructional Staff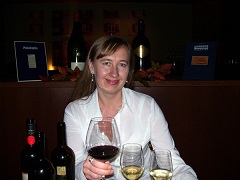 All wine education classes are led by professional sommelier and wine educator Svetlana Yanushkevich. Svetlana has spent the majority of her life surrounded by wine. She grew up on the southern peninsula of Ukraine, in a territory renowned for its 2,000-year-old winemaking tradition. After moving to the US in 2002, she built upon that foundation by managing wine programs at several prestigious restaurants and earning a diploma from the renowned Wine and Spirit Education Trust in London. Svetlana managed the wine program at several very prestigious Philadelphia restaurants, the three-diamond restaurant The Marker, and four-diamond Penne Restaurant & Wine Bar. She worked as wine educator for corporate and private clients in Philadelphia.
In 2007 Svetlana moved to Nashua, NH, where she decided to open WineNot Boutique, winner of "The Best of The Best Wine Shop of NH 2011-2014" in the Hippo Magazine Reader's Poll, "The Best Wine Store of Greater Nashua 2011" by the Nashua Telegraph, "The Best Wines of Greater Nashua 2011" by the Nashua Telegraph, and "The only A rated Wine Shop of NH" by the Better Business Bureau of NH. Svetlana Continues to offer her expertise by offering unique wine educational events to private and corporate clients. In September 2013, Svetlana became the owner of The Wine Steward in Hampstead, NH.