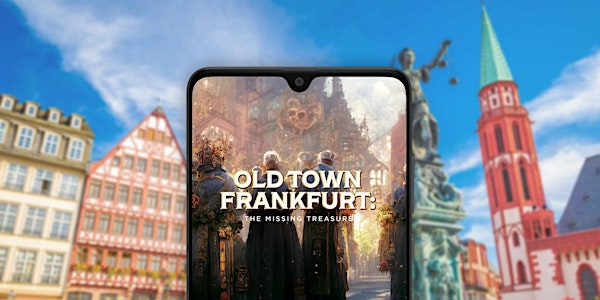 Multiple dates
Old Town Frankfurt Outdoor Escape Game: The Missing Treasure
If you're looking for a new and exciting way of spending time with your one and only, family or friends, this is your Eureka moment!
By Questo - City Exploration Games
Date and time
Starts on Wednesday, November 16, 2022 · 11am CET
Location
Kaiserdom St. Bartholomäus Markt 5 60311 Frankfurt am Main Germany
Refund Policy
Contact the organizer to request a refund.
Eventbrite's fee is nonrefundable.
About this event
Embark on a quest around the heart of Frankfurt, where you follow clues and answer riddles to discover amazing places and local history. Walk from the visually stunning Römerberg market to the banks of the Main river, discovering lesser-known sites along the way. Are you ready?
+ Explore Frankfurt's charming Römerberg and Alte Stadt
+ Take a stroll along the River Main in search of often unseen sights
+ Learn about Frankfurt during the time of the Holy Roman Empire
+ Try a new type of experience, the perfect mix between a tour, outdoor escape game, and treasure hunt
Discover Frankfurt's fascinating history and attractions while you solve clues around the Old Town. Explore this beautiful German city by playing a quest with your friends, significant other or family.
Each clue will lead you from one place to another by providing you with exact directions so you won't need a map, GPS, or guide. As you solve the problem and guess the answer, the secret story of that place is unlocked.
Storyline:
The Holy Roman Empire dispatches Kaspar Spiess, the chief-inquisitor of the Emperor, to the Free City of Frankfurt to track down and locate stolen relics from the Cathedral of Saint Bartholomew.
There's growing discontent within the city. After years of war with the Protestant Schmalkaldic League, the Imperial Free City is now once again under direct Imperial control, with Catholicism returned to power.
The theft of priceless relics from a Catholic church is a blatant affront to the Emperor, and only agents of the Schmalkaldic League would dare to be so bold. An attack on the church is an attack on the empire, and the relics must be returned swiftly.
After hours of grueling travel, there's no time to lose. Track down the thieves and locate the missing relics. The Holy Roman Empire demands it!
What's included:
Full flexibility: start at any hour, take a break at any time and resume later
This is always available. It's 24/7, every day of the week. This is the safest event you can book: private, no human contact, you will avoid crowds.
Play offline: you DON'T NEED an internet connection to play this city game.
HOW IT WORKS❓
1. Book your tickets 🎫
2. Download the Questo app - it's free 📲
3. Head to the starting point📍
Available 24/7
Pause and resume anytime.
You can play offline
WHAT YOU'LL DO
The game is an interactive activity where you are guided by a mobile app through the city. With it, you follow directions and solve very fun puzzles, riddles, and cryptic codes.
During the game, you will also visit popular and hidden places in the city while learning fun (and we mean it) stories about them. This is a storytelling experience just as much.
The people doing these city exploration games gave them an average rating of 4.7/5 around the world. Join the playground too!
------------------
More about Questo 🚶‍♀️
Questo is an urban entertainment platform offering thematic real-world exploration games. It is currently available in over 130 cities 🌎 and has entertained hundreds of thousands of players already. As of today, the app offers more than 300 different experiences created by a growing network of local content creators and event organizers.
About the organizer
Questo is a gamified travel startup founded in 2017. Winner of the Booking.com Booster Labs, the company helps travelers & locals explore cities, discover tourists attractions and unique local stories by solving clues in a treasure hunt style.