Location
The Secret Garden at the Rectory
711 Princess Street
Alexandria, VA 22314
One-hour live Old-Time, Bluegrass and American Roots music event, featuring Ken & Brad Kolodner and Rachel Eddy
About this event
Old Time Roots: Bluegrass and Americana
Ken Kolodner - hammered dulcimer, hammered mbira, fiddle| Brad Kolodner - banjo, gourd banjo, fiddle | Rachel Eddy - fiddle, guitar
The dynamic father-son team Ken & Brad Kolodner weave together a captivating soundscape on hammered dulcimer and clawhammer banjo blurring the lines of Old-Time, Bluegrass and American Roots music. Regarded as one of the most influential hammered dulcimer players in North America, Baltimore's Ken Kolodner joined forces in 2009 with his son Brad Kolodner, a renowned clawhammer banjo player. They've sculpted their own brand of driving, innovative, tasteful acoustic roots music with a "creative curiosity that lets all listeners know that a passion for traditional music yet thrives in every generation." The hypnotizing groove of the percussive hammered dulcimer and rhythmic clawhammer banjo is the core of their sound. For this performance, they are joined by the dynamic multi-instrumentalist Rachel Eddy on fiddle and guitar. Their ensemble won 1st place in the Neo-Traditional Band Contest at the renowned Appalachian Stringband Festival in the summer of 2019. They released their fourth studio album Stony Run in March 2020 to rave reviews. The album reached as high as #6 on the Billboard Bluegrass Charts.
"Ken and Brad transport the listener to a distant, dusty crossroads across the sea making ancient music that touches a place inside of us that some of us didn't even know was there."
"…exceptionally talented musicians and they have created a tight, top-notch sound." Bluegrass Today
"The Kolodners and their collaborators play with impeccable chops and with great feeling." Bluegrass Unlimited
PROGRAM
The history of the selections will be announced from the stage and will be drawn from the following (not necessarily in order of performance!):
I've Endured (Ola Belle Reed) – Born in NC, Ola Belle Reed moved to Southern PA and then to northern MD. Many of her songs (eg "High on the Mountain" and "I've Endured") have become standards in the Bluegrass and old-time repertoire. Ken had the pleasure of meeting Ola when he was just starting to play the fiddle, over 35 years ago.
Coleman's March (Traditional)/Snake River Reel (Peter Lippincott) Many old-time tunes are descendants of traditional Irish & Scottish melodies. Coleman's March is possibly a descendant of a 19th century Irish jig which later became the Civil War song known as The Bonny Blue Flag, which later became Coleman's March. Snake River Reel is a more recent composition but is widely played by old-time musicians today.
Across the Great Divide (Kate Wolf) – Kate Wolf was a prolific songwriter who died in her early 40's from leukemia but nonetheless had a huge impact on the folk scene. Her song "Give Yourself to Love" is a wedding standard.
Wild Bill Jones (Traditional) A Bluegrass and old-time standard re-imagined featuring the gourd banjo, dampered hammered dulcimer, bass and guitar.
Black Eyed Susie (Traditional) This piece won the ensemble 1st place in The Neo-Traditional Band contest at Clifftop, WV competing against 30+ bands from around the U.S. and beyond.
Stony Run (Brad Kolodner) – the title track from our latest CD, inspired by the creek that runs through a section of Baltimore.
Happy Hollow/Hunting the Buffalo (Traditional) In Baltimore, Ken & Brad run a hugely popular old-time jam where these tunes are played often.
Otter Creek (Brad Kolodner) The title track to our first recording in 2011, this has been a long-time favorite of ours to perform. There are many Otter Creeks but this one is in Vermont, which served as the inspiration for many of our compositions.
Hop High (Traditional) Brad and Alex perform in another Baltimore-based band that fuses Irish, old-time and Bluegrass: Charm City Junction. The group recorded this Bluegrass standard on their latest CD.
The Circle (Ken Kolodner)/North Carolina Breakdown (Fiddlin' Arthur Smith) We recorded Ken's composition on our recent CD. Ken also recorded "The Circle" in 2021 with Scottish National Fiddle Champion Elke Baker (with Alex as a guest). Arthur Smith's was an influential fiddler and songwriter in the early days of Bluegrass.
Swift House (Ken Kolodner) – The title track to our third recording, Ken will tell the story of writing this piece with one hand in a cast.
Angel Island (Peter Rowan) Now a state park, Angel Island (in the San Francisco Bay) was for many years a detention center used to control immigration primarily of the Chinese under The Chinese Exclusion Act of 1882.
Swing and Turn Jubilee (Traditional) The late Jean Ritchie was a key figure in the 1950's folk revival responsible for unearthing this lovely song. Known for her playing of the mountain dulcimer, Jean's music influenced the likes of Johnny Cash, Bob Dylan and countless others, including us! Ken was thrilled to play a concert with Jean many years ago in CT.
Bowling Green (Traditional) – Sourced from the playing of Cousin Emmy, this up-tempo number has become a Bluegrass standard.
Liza Jane/Old Yeller Dog Come Trottin' Through the Meeting House/Sandy Boys (Traditional)/Bradley's Tune (Brad Kolodner) We end with lots of instrument switches in our "Big Set" which features three old-time tunes, concluding with Brad's very first composition.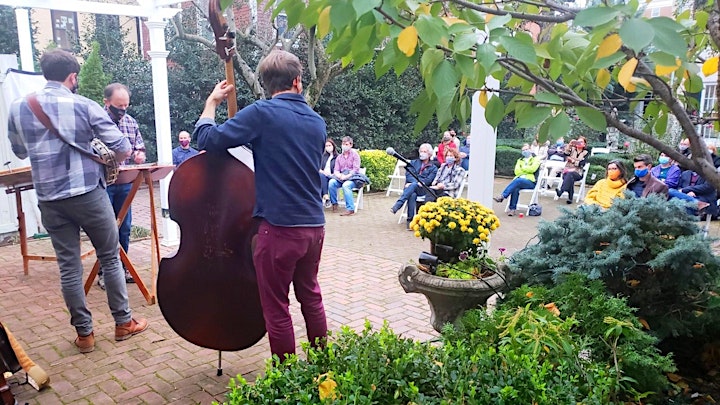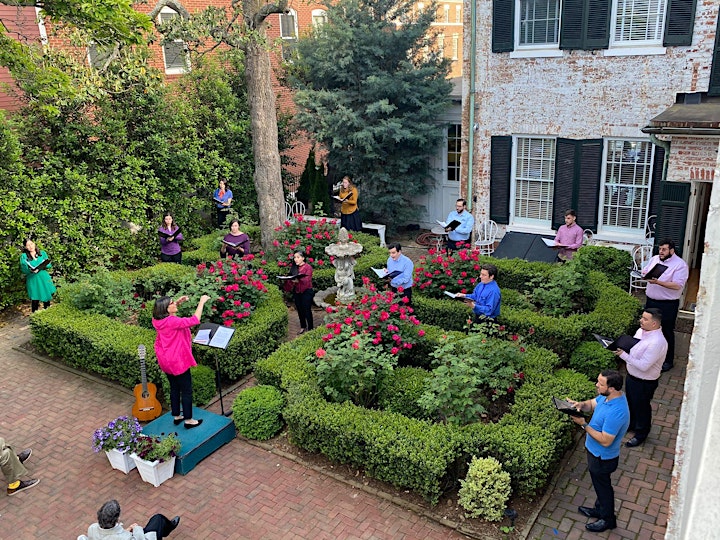 Classical Movements will take precautions to limit the risk as much as within our power and requests the cooperation of the audience in these preventative measures, so that we can again enjoy live music and support musicians in our community. Audience members are required to wear masks, as will staff and musicians when not performing.
Due to COVID, guests are strongly encouraged to avoid using public restrooms. If needed, restrooms will be available upon request.
Please note: Seating will be provided for concerts. Chairs will be socially distanced between individuals or groups. To maximize social distancing, seating will be assigned by the presenters.
Tickets are non refundable.
Classical Movements has a small fund to offer limited discounted tickets to veterans, students, underprivileged families, and disabled concert-goers, with the generous support of John H. Hart and Musical Movements for Change. Please contact us for more information.
For ticket requests and wheelchair accessibility; please contact Alessandra@ClassicalMovements.com or call (703) 683-6040, ext. 203 for special accommodations.
Tickets and seating assignments will be communicated by email the day prior the concert. All seats have a clear view of the stage.
Additional important instructions, tickets and concert programs will be provided by email only.
Classical Movements will provide more information about alternative forms of transportation to access The Rectory on Princess Street, 711 Princess St by email before the event. You can also go to https://www.alexandriava.gov/GOAlex for more information about available options. We encourage all patrons to park off-street through the provision of nearby garages or lots. Many parking garages and lots are located conveniently in the area. There is a parking garage at N. Alfred St Garage, 117 N. Alfred St, $5/hr ($25 daily max, $10 evening max) and a surface parking lot at Cameron/St Asaph Lot, 517 Cameron St, $2.50/hour ($10 daily max, $5 evening/weekend max). Visitors are encouraged to bike, walk or take the Metrorail Yellow or Blue lines to the King Street Station and take the free King Street Trolley, or DASH or Metro buses. For DASH schedule information visit, www.dashbus.com. For Metrobus schedule information, visit www.wmata.com. Bicyclists may visit www.alexandriava.gov/GOAlex for the City's Bikeways Map, which features the City's best on-street and off-road bikeways, as well as locations of grouped bicycle parking.
We discourage you from using on-street parking. To ensure legal parking, read all posted signs before parking.
Limited off-street private parking is available on a first-come-first-served basis at the following locations:
Classical Movements, 711 Princess Street, Alexandria, VA 22314
Fitness Together Alexandria's main entrance, 300 N Washington Street building, Alexandria, VA 22314
Seasons Culinary Services, 715 Princess Street, Alexandria, VA 22314
About the Rectory
Built in 1785 and the home of Classical Movements' offices since 2014, the building formerly served as the rectory of the nearby historic Christ Church, once the church of George Washington. Since then, it has been owned by several distinguished Virginians and has been a commercial space since the 1960's.
Located in the heart of beautiful Old Town Alexandria at 711 Princess Street, the Rectory is minutes away from the shops and restaurants of bustling King Street and is easily accessible by bus and metro.
Like and follow the Rectory on Facebook