VISIT--- ENJOY --- MEET --- FREE FLOWING DRINKS --- 1HR OUTDOOR OPEN BAR--- LOCAL BARS--- GREAT FOOD --- GOOD VIBES ---FRIENDLY HOSTS ---
About this event
WELCOME AND THANK YOU FOR TOURING WITH US.
Puerto Rico the Rum's Capital of the world Welcomes you to its most unique bar scene in the Old city of San Juan ... With a history that runs back 500 years .. offering you a lifetime experience around its beautiful streets.
Meet our team of dedicated hosts and let us take you a specially crafted route around 3 local bars , enjoy our 1 hour outdoor open bar , complimentary drinks (1) (2 )shots, and enjoy the amaizing food options at our last bar.
Catered to all types of travelers We welcome you to come and meet us at :
153 CALLE SAN SEBASTIAN (EL CAFETIN)
6 DAYS A WEEK FROM 7:30 TO 10:30 PM
Featuring now : LA PERLA CULTURAL WEEKEND Find More at: @osj_partyking
FAQ SHEET :
Wear confortable shoes : the tour comes with 2 small walks of around 5-7 minutes from the top of the old city all the way to the bottom.
Complimetary drinks : 1st Bar (1 Coquito shot + Mojito or Rum-vodka based drink )
3rd Bar(Rum Based Shot)
1 Hour Open Bar : it's the 2nd stop and Its unlimited on selected items only.
(Bacardi, Jose Cuervo Especial , Dewar's White Label, Tito's Vodka and Medalla Light beer )
mixers and a wide variety of cocktails allowed.
Is there food ? : YES! 1st Bar (Puerto rican tapas) 3rd Bar ( Late mixed menu ).
Transportation: Easy access trough Uber for arrival and departure .
-15 min walk from the scooter station in old san juan.
( fun way to get from the condado-ocean park - miramar- santurce area)
-we can arrange transportation for groups 8 + only with at least 3 days of prior notification.
-Nearest parking at : El totem ( on apple-google maps).
Live Music: Friday trough sunday (subject to availability)
Featuring now : LA PERLA CULTURAL WEEKEND Find More at: @osj_partyking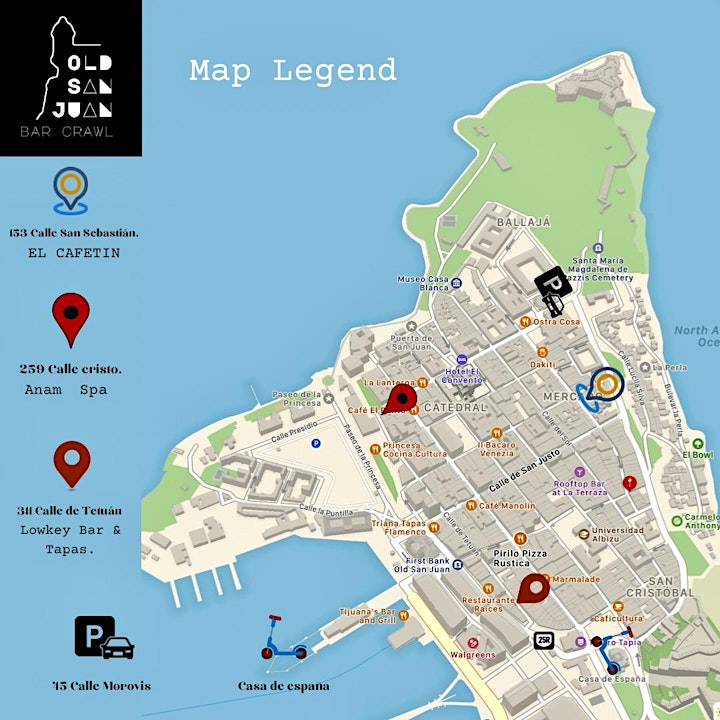 HOURS: 1st Bar : 7-30 to 8-30 pm
2nd Bar: 8-45 to 9-45 pm
3rd Bar : 9-45 to 10-30 pm
We have moved away from doing the tour on late hours to fit into the busy schedules of most travelers. if you are willing to continue enjoying the night scene .. ask our hosts for recommendations that fit your taste.
Who is this experience for : Initially the experience was created to bring together solo travelers in a safe and fun environment and gradually it has evolved into a very diverse and unique mix of people from all corners of life .. we now cater from Bachelorette parties to even whole Families here to have a good time
Featuring now : LA PERLA CULTURAL WEEKEND Find More at: @osj_partyking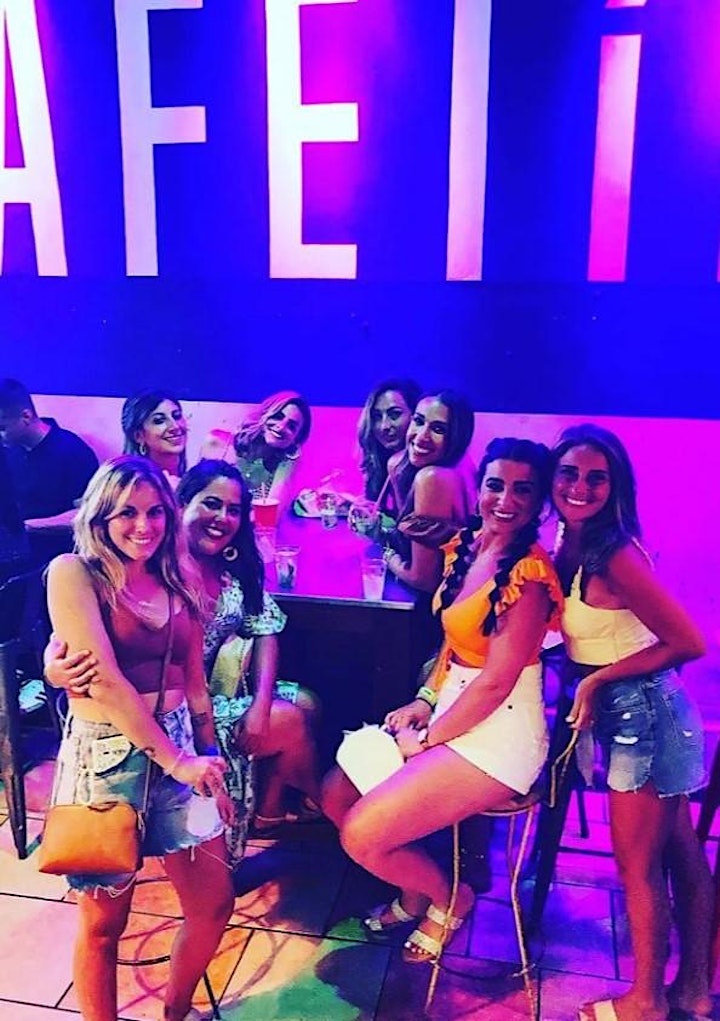 For more information or inquiries , text us at :
Email us at:
jeronimo@osjbarcrawl.com
carolina@osjbarcrawl.com
Refund Disclaimer
*** Same day cancellations and request for refunds will receive half the ticket price returned back. Please make sure you can attend the event before purchasing your ticket. ***
Featuring now : LA PERLA CULTURAL WEEKEND Find More at: @osj_partyking