| | |
| --- | --- |
| old- Fall 2013 Florida Style Landscaping Workshop Series | |
Event Details
Florida Style Landscaping Workshop Series comprises six classes held 6:00 p.m. on Thursday evenings at City of St. Petersburg Water Resources Department, 1650 Third Avenue North.  You may register for one or more classes at no charge.  Please note that class 4 on October 24 is a continuation of class 3 held on October 10.  It is recommended that you not attend class 4 if you are unable to attend class 3 as well.
NOTE: Seating is limited for each class. We appreciate your courtesy by canceling your reservation for any class you cannot attend as soon as possible. This will open your seat for an interested person on the waiting list.
If you register for and attend the October 3rd class, you may also order and pay for one or two rain barrels at $25 each.  You will pick up your barrel(s) at the end of the October 3rd class.
Rain Barrels are supplied by Pinellas County Extension and will be transported to the class the day of the event.   If rain barrels will be transported inside your car please bring something to cover your seats to protect from possible soil or moisture.
Rain Barrel Specifications:  Plastic, recycled food-grade drums.  Please note:  color of drum may vary.  Drum dimensions: 3' tall, 22" diameter. Capacity: approximately 55 gallons.  These drums have two 3" diameter threaded holes with caps in a NON-REMOVABLE top.  Please see photo below for examples of how these drums may be cut for a larger hole in the top.  As part of the installation we recommend the user attach screen (not supplied) to the top of the barrel to exclude mosquitoes and to filter roof debris.
Questions about registration?  Please call (727) 453-6524.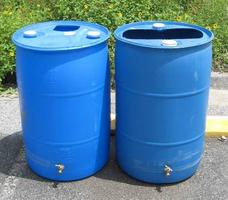 ---
Reservation policy

Before continuing, we would like to make you aware of our reservation policies. Cancellations - If your class is canceled for any reason you will be notified no less than 24 hours prior to class start. We will provide a full refund for cancellations made by Pinellas County Extension. Refunds may take up to 30 days to process. Payment - We require full payment at time of reservation so be prepared with a credit card to complete this transaction. Refunds - Refunds will be made in the event of a class cancellation or if the registrant requests a refund 24 hours prior to the class time. Reservations - You must be 18 to make a reservation. If you are under 18 and want to attend a class you must register and attend with a parent or guardian.
---
The Institute of Food and Agricultural Sciences (IFAS) is an Equal Opportunity Institution authorized to provide research, educational information, and other services only to individuals and institutions that function with non-discrimination with respect to race, creed, color, religion, age, disability, sex, sexual orientation, marital status, national origin, political opinions, or affiliations. U.S. Department of Agriculture, Cooperative Extension Service, University of Florida, IFAS, Florida A&M University Cooperative Extension Program, and Boards of County Commissioners Cooperating.
Where

City of St. Petersburg
Water Resources Department
1650 Third Avenue North
St. Petersburg, FLA 33703


Organizer
Lawn & Garden - Pinellas County Extension
Pinellas County Extension's Lawn and Garden program area provides solutions to citizens for all types of questions concerning lawn and landscape care. With the backing of research based information  our staff and volunteers offer sound expert advice to walk in customers as well as through phone calls and e-mail.
old- Fall 2013 Florida Style Landscaping Workshop Series