| | |
| --- | --- |
| OLD Eat Local First Week 2013: July 22-27 | |
Event Details
FEMIVORE AWARDS RECEPTION AND HAPPY HOUR
Come celebrate the women in our local food movement with a night of food and drinks, conversation, and competition.  Three amazing women will compete for guest votes during the Happy Hour for a $1,000 award to support their locally sourced food projects built around the ideas GROW, NOURISH or INSPIRE. Who will be named the ultimate 2013 Femivore?  Join us in the amazing Heurich House to find out.  
Show your support of Women in the DC Food Movement by sponsoring FEMIVORE as part of our week long celebration of local food, farms, chefs and independent businesses. 
Wednesday, July 24
6-9 p.m. - $35 Happy Hour and Awards Reception
Heurich House Museum
1307 New Hampshire Ave NW
Washington, DC 20036
GROW: Rebecca Lemos and Lola Bloom, City Blossoms
Rebecca Lemos-Otero and Lola Bloom, founded City Blossoms, which works with community-based organizations, neighborhood groups and schools to create outdoor spaces where children and youth can use their creativity, intellect, and energy to grow and maintain fantastic and functioning gardens.Transforming unused or underused land, each space and the workshops within are tailored to meet the specific needs of the community it serves, incorporating four core elements that constitute the City Blossoms brand: healthy living skills, community development, environmental education, and artistic expression. The Femivore scholarship will help fund the fall season's 'Open Times' at two Community Green Spaces, where children, families and volunteers can help maintain the garden while participating in FREE garden and food related workshops.
NOURISH: Bonnie Coberly, Healthy Bites
h
     Bonnie Coberly is a Certified Health Counselor and has studied all the major dietary theories, such as macrobiotics, Ayurveda, low carbohydrate, low glycemic, raw foods and blood type diets. In 2009 she started 
Healthy Bites
, a prepared meal delivery service that brings homemade meals that are made with local and organic ingredients directly to her clients homes. Bonnie is passionate about growing Healthy Bites as a way to provide the DC Metro area with healthier food options. 
The Femivore scholarship would enable Bonnie to invest further in Healthy Bites online and offline operations and distribution systems, as well as the Healthy Bites Café, a carry out café for the Healthy Bites delivery service. In addition, Bonnie is working on ways to invest in more educational services for her busy clients, including cooking classes, trips to the local farms, and healthy lifestyle workshops.
INSPIRE: Nikki Caporale, FRESHFARMS Matching Dollars Program
Nikki Caporale has been helping shoppers with Government nutritional benefits take home nutritious, local and seasonal foods from DC area FRESHFARM Markets since August 2012. In her role as EBT Coordinator with FRESHFARM Markets she matches WIC & Senior food assistance benefits dollar for dollar, and food stamp purchases for up to $15 at her markets. The matching dollars program is a great incentive to get low-income shoppers to eat minimally processed, nutrition packed foods as opposed to chain-supermarket foods, most of which are highly processed and grown using pesticides, hormones and antibiotics that are bad for our health and the environment. By supporting the matching dollars program you are not just providing extra food for an individual or family in need, but you are also supporting the business of the farmers and producers who sell at these markets. Nikki can be found at the market information booth at three FRESHFARM markets in DC - Foggy Bottom on Wednesdays, Penn Quarter on Thursdays and Union Market on Sundays.The Femivore scholarship $1,000 grant would help 20 families have more fresh foods for a whole month. It would also increase sales in the farmers markets, supporting farmers who harvest healthy local food and bring it to the DC communities.


---
Musical preformance by Maureen Andary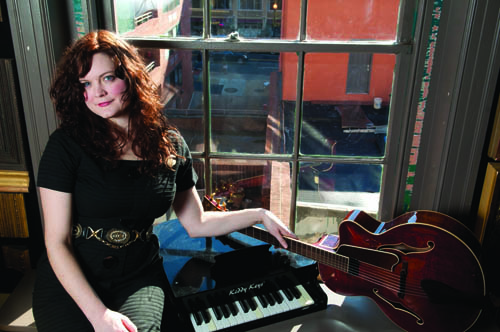 Maureen Andary is one half of award winning local folk/pop duo The Sweater Set. In her songwriting, Maureen draws from early jazz and country. At Femivore, she will perform instrumentals on an electric arch top guitar and vocals echoing Billie Holiday & Ella Fitzgerald.
 to hear her band The Sweater Set with fellow singer/songwriter Sara Curtin you can visit www.thesweaterset.com. Her performances as a solo artist remain unrecorded - but listeners are in for a treat!
Food and beverage sponsors:  


---
---
Foraged Cask Event
Drink Local! Join us for a night of flavor and fun as Meridian Pint features "foraged cask ales" from 8 area breweries. Each one-off cask ale will feature a selection of ingredients that you could find on a foraging expedition in the District. As an added bonus, the 24 bar taps will feature a local beer take-over and when you start getting hungry, Chef Shewmaker will be featuring foraged and local-ingredient specials.  
Thursday, July 25
6-9 p.m. - $12 - Two Cask Drink Tickets
Meridian Pint
3400 11th Street NW
Washington, DC 20010
Contributing Breweries:
DC Brau Brewing  |   Franklin's Restaurant, Brewpub and General Store  |   Lost Rhino Brewing Company   |  Mad Fox Brewing Company  |   Port City Brewing CompanyChocolate City Beer  |   3 Stars Brewing CompanyFlying Dog Brewing
---
Edible Urban Garden Tour + Happy Hour 
Featuring Bloomingdale
Hosted by Loulies.com
Grow Your Own is the theme for this year's 3rd annual Edible Urban Garden Tour.  The tour will stretch through the historic neighborhood of Bloomingdale with features to include back-yard, balcony and roof-top gardening, shared garden spaces, rain barrels, and community gardening.  It is a chance to learn and be inspired by those who have created amazing and unique urban, edible spaces.  Afterwards, join Big Bear Cafe for a seasonal garden cocktail.  The tour is self-guided and a map of the garden locations will be distributed the day of the event.  Biking or walking is recommended. For questions, please contact Suzanne@Loulies.com.
The tour is self-guided and maps will be handed out at Bacio (81 Seaton Place, NW Washington, DC 20001).
Friday, July 26
Gardens open for touring 5-8 p.m - $15
Bloomingdale (Starting Point: 81 Seaton Place, NW Washington, DC 20001) and Big Bear Cafe for Happy Hour
1700 1st Street NW
Washington, DC 20001
---
Farm-To-Street Party
Come and enjoy great food from our community, for our community, and by our community as Eat Local Week 2013 culminates in this fantastic food festival featuring over 125 vendors who are making local food happen; the ultimate block party celebrating the crops, commerce, and community members that feed our city.  Vendors include District restaurants dishing up locally-sourced specials, food and beverage producers featuring their Made-in-DC goods, chef-demos, speakers, and more.  Come hungry, come thirsty, and be sure to empty out your pantry in anticipation!
1:00 pm             The Delafield String Band
1:30 pm             Raw Living Foods with Joy Bliss Raw
2:00 pm             Candy Making with Thunder Pig Confectionery (winner of the 2013 Start                                                   Up Kitchen)
2:30 pm             What's all the Shoutin' About Vinegar Pie? with Annalee Ash (winner of                                                   the 2013 Makes Me Wanna Shout Making Contest)
3:00 pm             The Brass Connection
3:30 pm             Culinary Herb Container Gardening with the DC State Fair
4:00 pm             Fresh Made Food for Babies and toddlers with The Kid and the Kale
4:30 pm             Cooking Locally with Chef Will Artley of Pizzeria Orso
5:00 pm             Jonny Grave and the Tombstones
5:30 pm             Pie Eating Contest with Whisked!
                        (a Farm-to-Street party Tradition!)
6:00 pm             Flavor. Health. Soul. with Bazoar Spices
6:30 pm             Flavors of the Mid-Atlantic with Chef Colin of Equinox Restaurant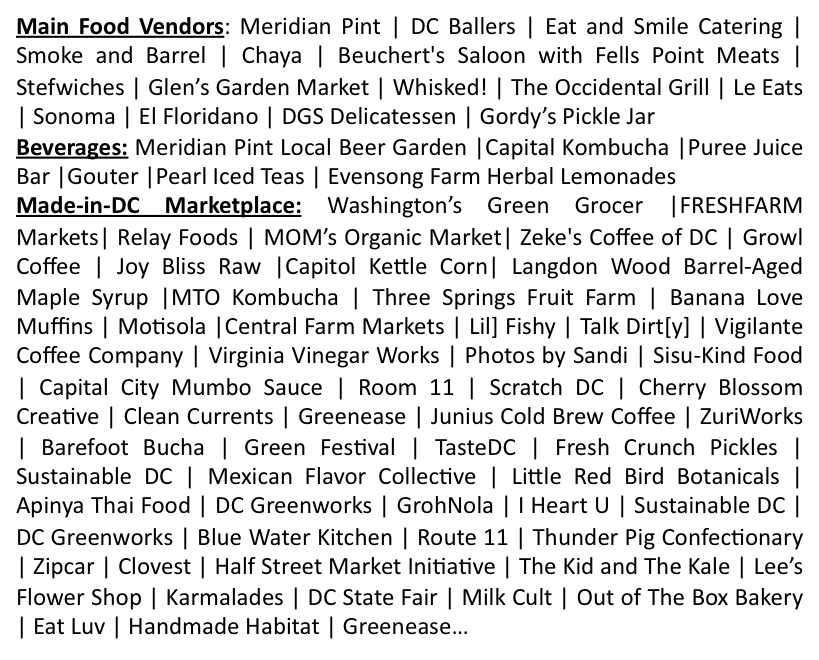 1-7 p.m. - $5 Suggested Donation

$20 SPECIAL DRINK LOCAL PACKAGE AVAILABLE   
Entrance + 2 Local Beers + Limited Edition DRINK LOCAL glass

1309 5th Street NE, Washington, DC 20002
Own a restaurant, food start-up or non-profit? Apply to be a vendor at the Farm-to-Street Party by filling out this
form
 .
Demo and Live Music Stage Co-Sponsored By:


Made in DC Marketplace 
Co-sponsored by:
:



Drink Local Garden Co-Sponsored By: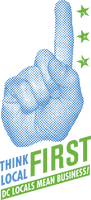 Travel with UBER - Use code 
UBEREATSLOCAL for a free UberBLACK or SUV ride up to $30 for new users (not valid for uberTAXI)

Organizer
Think Local First DC
Working with independent businesses, consumers and policymakers to grow a sustainable local economy in Washington DC.
Think Local First DC works with independent businesses, consumers and policymakers to grow a sustainable local economy in Washington DC.
OLD Eat Local First Week 2013: July 22-27