Old Crow Medicine Show Presented by The MaDee Project
About this event

All proceeds to this show will go towards the MaDee Project!
The MaDee Project provides support to pediatric cancer patients and their families in the Staunton, Augusta County, and Waynesboro regions of Virginia. The Project also supports funding national research in hopes of preventing pediatric cancer from affecting any other children and ultimately, to find a cure for this disease.
History
The MaDee Project was established in October 2010 in memory of MaDee Nicole Boxler. MaDee battled pediatric cancer from 2008-2010; it was her strong spirit while battling this disease that became the inspiration of this project. If MaDee were physically here with us today, she would be holding children under her wing, teaching, guiding and comforting them, especially those diagnosed with cancer. This project is our way of showing the community, MaDee's legacy continues. She lives on…providing the children and their family with hope, help, and healing.
Webpage | Facebook | Instagram
About the artist
Old Crow Medicine Show got their start busking on street corners in 1998, from New York state and up through Canada, winning audiences along the way with their boundless energy and spirit. They eventually found themselves in Boone, North Carolina where they caught the attention of folk icon Doc Watson while playing in front of a pharmacy. He invited the band to play at his festival, MerleFest, and the rest is history.
It's been over twenty years since these humble beginnings. The band has gone on to receive the honor of being inducted as members of the Grand Ole Opry, and have won two Grammy Awards: "Best Folk Album" for Remedy (2014) and "Best Long Form Music Video" for Big Easy Express (2013). Additionally, their classic single, "Wagon Wheel", received the RIAA's Double-Platinum certification in 2019 for selling over 2,000,000 copies while the band's debut album O.C.M.S. has been certified Gold (500,000 copies). The band's latest release is Live At The Ryman (2019) which was released on Columbia via The Orchard. Old Crow Medicine Show's latest endeavor was the Hartland Hootenanny, a variety show hosted on You Tube that featured music, storytelling, special guests, socially distanced square dancing and more.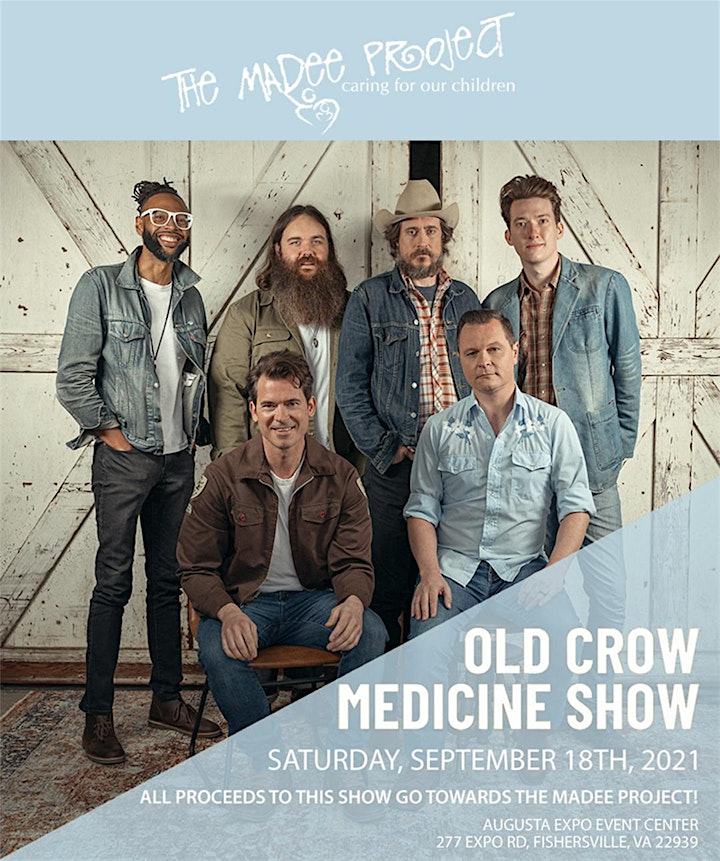 Performers
Location
Refund policy