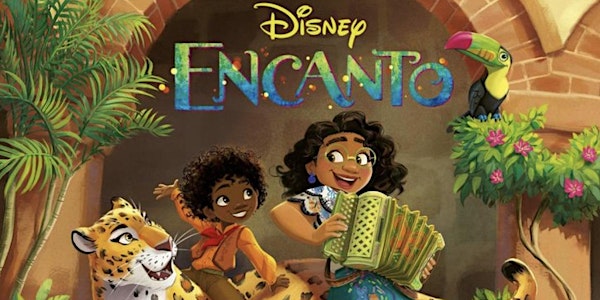 OLA's 19th Annual Latino Film Festival Sun 9/18 at WHBPAC - ENCANTO
Families welcome. Bienvenidos Familias. "Encanto" in Spanish with English subtitles. En español con subtítulos en inglés. Free / Gratuito
When and where
Location
Westhampton Beach Performing Arts Center 76 Main Street Westhampton Beach, NY 11978
About this event
Encanto (FREE EVENT)
Kids and Families welcome. Bienvenidos Familias y niños. "Encanto" in Spanish with English subtitles. En español con subtítulos en inglés.
Followed by live music by Quinteto Ecuador and a Youth singing competition. Seguido de música en vivo -Quinteto Ecuador y un concurso de canto para jóvenes.
Join us for a day of Family Film, Live Music, and even a bit of Competition when OLA's Latino Film Festival of the Hamptons comes to Westhampton Beach Performing Arts Center! Following a screening of Disney's instant classic and celebration of family, Encanto, (in Spanish language with English Subtitles) participants will be treated to music by Banda de música Ecuatoriana! We'll finish off the day listening to singing competition finalists – the finest young voices on the East End!
¡Únase a nosotros para disfrutar de un día de cine familiar, música en vivo, e incluso una pequeña competencia cuando el Festival de Cine Latino de los Hamptons de OLA llegue al Westhampton Beach Performance Art Center! Después de la proyección del clásico instantáneo y celebración de la familia de Disney, Encanto, (en español con subtítulos en inglés). ¡Los participantes disfrutarán de música del grupo Banda de Música Ecuatoriana! Terminaremos el día escuchando a los finalistas del concurso de canto: ¡Las mejores voces jóvenes del East End!
Love to sing? Between ages 7 and 18?
Enter our first-ever singing competition and let your voice be heard! Self-film a video of yourself singing (no more than two minutes) and submit by September 10th to: Jtovar@olaofeasternlongisland.org.
Three finalists will be chosen for each age category – 7-10, 11-14, and 15-18 and will perform on the WHBPAC stage live for esteemed judges and the crowd. In addition to bragging rights, the winner in each category will win free tuition for one of WHBPAC's highly acclaimed Arts Academy programs (class, camp, or private lessons)!
¿Te gusta cantar? ¿Tienes entre 7 y 18 años?
¡Participa en nuestro primer concurso y deja que tu voz se escuche! Graba un video tuyo cantando (no más de 2 minutos) y envíalo antes del 10 de septiembre a: jtovar@olaaofeasternlongisland.org.
Se elegirán tres finalistas para cada categoría de edad: 7-10, 11-14 y 15-18 que actuarán en vivo en el escenario del WHBPAC para los distinguidos jueces y el público en general. ¡Además de poder presumir, el ganador de cada categoría ganará una matrícula gratuita para uno de los aclamados programas de la Academia de Artes del WHBPAC! (clases, campamento o lecciones privadas)
OLA 631-899-3441