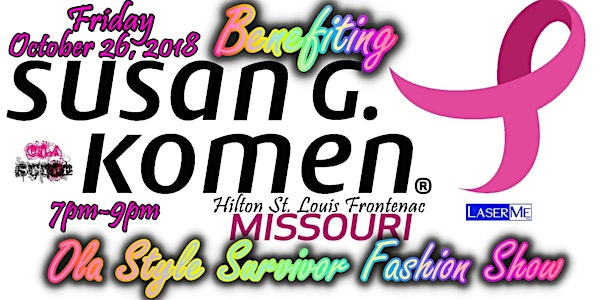 Ola Style Survivor Fashion Show
When and where
Location
Hilton St. Louis Frontenac 1335 South Lindbergh Boulevard Frontenac, MO 63131
Description
Ola Style Survivor Fashion Show Benefiting Susan G. Komen Missouri

By fashion designer & celebrity stylist Ola Hawatmeh
Applying the fashion industry to support one another as SURVIVORS!

A battle with two forms of cancer, including breast cancer, has inspired Ola Hawatmeh to share her experiences and make a positive difference in the lives of other survivors. The Ola Style Survivor Fashion Show aims to bring awareness to and educate others of the importance of applying modern technology to find, treat, and remove breast cancer. She also desires to remind survivors of how beautiful they are no matter their battle scars, by enlisting them as models and encouraging them to shine on as they walk the runway in white and pink designs created by Ola.

Ticket sales benefit the Susan G. Komen Foundation in Missouri, whose own foundation assists with research to obtain the cure for breast cancer. This organization is also extremely supportive of women through their battles with it, and has been there for Ola, who seeks to return the gesture by paying it forward.

---
Sponsor: Laser Me Inc.
All ticket sales to benefit Susan G. Komen Missouri
---
Sponsors, vendors, & volunteers are being accepted for this event. Please feel free to contact us at OlaStyle.net with information about your business or skills-sets, if you or someone you may know would like to participate.

If you can't make the event but would like to send an item for the silent auction please make contact.
---
Read more:
Watch Ola Hawatmeh & Suzanne Fontaine of Susan G. Komen Missouri on Channel 2 Fox News
Help us make this event a success! Click here and let us know that you're interested or going and then share the event with family and friends!
Your assistance is greatly appreciated. Thank you for your support!