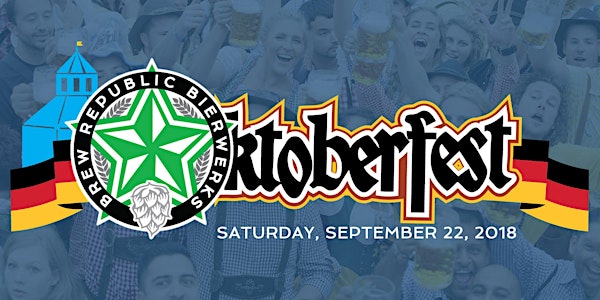 Oktoberfest @ The Republic (Munich Beer Festival)
When and where
Location
Brew Republic Bierwerks 15201 Potomac Town Place Woodbridge, VA 22191
Description
See below under event description for event update (as of 9/18/2018)
It's Oktoberfest in the Republic! We're once again bringing the world famous German beer festival from Munich to Woodbridge. Join us for great beer, delicious German-inspired food, traditional music, cool vendors, and fun, both in our tap room and our expanded outdoor biergarten (we're taking over the street out front)! We'll also be hosting a marzen competition, featuring several locally brewed marzenbiers (Oktoberfest lagers) from several of the best regional breweries. You'll get to enjoy the beers and then determine which is the best – the people's champion will take home the coveted Marzen Cup and bragging rights until next year. You'll also get a handsome commemorative glass stein to help you remember the festival, just in case the beers make it hard to do that on your own.
Get your tickets early to get the best deal. With the cost of admission, you get the commemorative glass stein, two drink/food tokens, and your voting coin... additional drink tokens can be purchased as well.
We hope you'll join us for the fun. Prost!
Visit http://oktoberfest.brewrepublic.beer/ for more info.
IMPORTANT INFO ABOUT SATURDAY'S EVENT (posted 9/18/2018)
Oktoberfest Update/Changes
Due to the threat of Hurricane Florence, events planned last weekend and the weekend before last are now seemingly all happening this Saturday (9/22) – the same day as our planned Oktoberfest. Among those events, which was postponed two weeks in a row, is the Stonebridge Fall Fest and Chili Cook-Off. It's a massive event that completely takes over Stonebridge (our center), and we were told a few days ago that it would be also happening on 9/22.
So, to account for this, we've had to shrink the footprint of our event, which will now be occurring outside directly in front of our brick-and-mortar location, as well as inside our taproom (shade and a/c!).
We will still have different Marzen (Oktoberfest) beers from 9 different breweries and a taste for you of each of them (for beer tic holders); you'll still get an Oktoberfest 20oz Glass Stein (or wine glass); we'll still have German wine for you wine ticket holders; and we'll still have outdoor games, seating (both indoors and outdoors), and delicious Oktoberfest food.
What's changed (besides the event's footprint) is that instead of two full pours into your 20oz stein, we're going to give you THREE! For wine drinkers, you'll get one extra wine pour (from 4 to 5). Alternatively, if you've had your fill of beer at two pours of beer or four pours of wine and don't want the extra pour, you can instead choose an order of our pretzel sticks with beer cheese with your extra drink chit. Oh, and one last thing on that extra beer: you can pick from any of the 9 Marzens we'll have from the different breweries, or you can pick any Brew Republic beers available on tap.
What's also changed is that we won't have any vendors present (with the exception of maybe a few), but with the Fall Fest/Chili Cookoff happening at the same time, there will be hundreds of vendors all around our event.
We apologize and regret this situation, but it was beyond our control. We hope our efforts to make it an even better event, notwithstanding the changes that have been forced upon us, will nevertheless make it an awesome day. Let us know if you have any questions. Looking forward to seeing everyone in their lederhosen and dirndls on Saturday!
Prost! To the Republic!