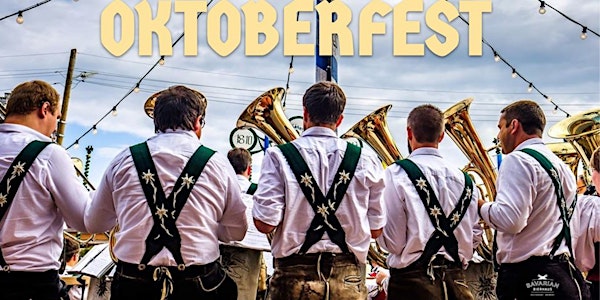 OKTOBERFEST Table Reservation (Friday 9/24)
Get Ready For Oktoberfest 2021! Every Weekend in September & the first Weekend of October!
When and where
Location
Heidelberg Park at Bavarian Bierhaus 700 W Lexington Blvd Glendale, WI 53217
Refund Policy
Refunds up to 7 days before event
About this event
Oktoberfest 2021 in Heidelberg Park at the Bavarian Bierhaus will celebrate over 60 years of great music, great beer, great food and great weather and now open THURSDAY-SUNDAY
Free Parking, a midway for kids and plenty of tables makes Oktoberfest at Heidelberg Park a fun place to be!
Advance admission ticket and Fest Hall table sales are on SALE NOW!
Food:
 Traditional favorites including Spanferkel and Rotisserie Chicken Friday and Saturday in addition to our regular Biergarten Menu
Thursdays 4pm: FREE admission!
Fridays 4pm $5 or FREE with Bavarian Bierhaus mobile App
- Menu for Friday: FISH FRY & RAINBOW TROUT IN ADDITION TO REGULAR MENU
Saturday 11am $10 or $5 off with Bavarian Bierhaus Mobile App
- Deal of the day: Half off liter Bier 11am-2pm
Sunday 11am - FREE Admission & Half off Liter Bier 11am-2pm

TICKETS/ GENERAL ADMISSION →
Friday General Admission Tickets: https://www.eventbrite.com/e/oktoberfest-2021-general-admission-tickets-for-fridays-tickets-162472173645
Saturday General Admission Tickets:
https://www.eventbrite.com/e/oktoberfest-2021-general-admission-tickets-for-saturdays-tickets-162472612959
TABLE RESERVATIONS:
(Each Table/Seat is 1 picnic table - that can fit up to 8 people per table)
All Table Reservations must be done through the eventbrite website.
Tables Sell Fast so get yours TODAY!
Tables are $30 on Fridays and $35 on Saturdays and Sundays
Oktoberfest LIVE Music Lineup:
Sept. 2nd
Pat McCurdy @ 6pm
Sept. 3rd
Polka Steve @ 1pm
Alpine Blast @ 6pm
Sept. 4th
TBD@ 3:30pm
Alpine Blast @ 7pm
Sept. 5th
Polka Steve @ 1pm
Sept.9th
Kris Crow & Dani @ 6pm
Sept. 10th
Edelweiss @ 6pm
Sept. 11th
Alte Kameraden @ 3:30pm
Alpine Blast Trio @ 7pm
Sept. 12th
Polka Steve @ 1pm
Sept.16th
Marcell Guyton @ 6pm
Sept. 17th
Alpine Blast Trio @ 6pm
Sept. 18th
Alte Kameraden @ 3:30pm
Alpine Blast @ 7pm
Sept.19th
Polka Steve @ 1pm
Sept. 23rd
Pat McCurdy @ 6pm
Sept. 24th
Alpine Blast @ 6pm
Sept. 25th
Alte Kameraden @ 3:30pm
TBD @ 7pm
Sept. 26th
Polka Steve @ 1pm
Sept. 30th
TBD
Oct. 1st
Alpine Blast - 6pm
Oct. 2nd
Edelweiss - 3:30pm
Alpine Blast Trio- 7pm
Oct. 3rd
TBD