Description
Risks & Opportunities in a Changing IP Environment
Join us for an evening in Munich at this one of a kind networking event amongst Unified members. Unified Patents will present a year in review and update on activies in Europe. Following the presentations, we invite you to join us for a taste test of German beer at the world famous Oktoberfest where we have reserved seating in the bier hall. Prost!
Agenda on Tuesday, 19th September 2017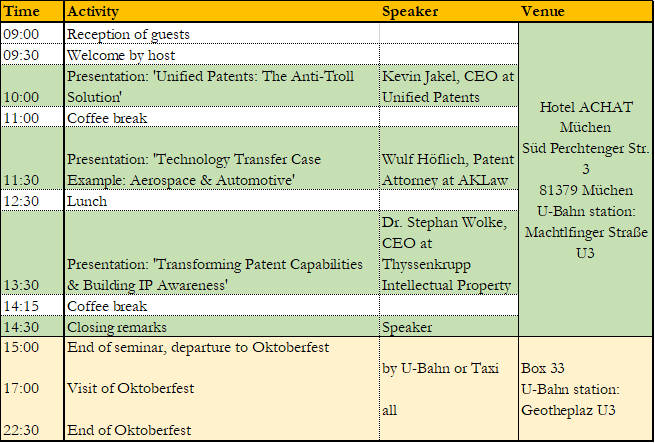 About the Speakers
Kevin Jakel is Founder and CEO of Unified Patents. Prior to founding Unified Patents, Kevin served as Intuit's Head of IP Litigation. Kevin previously practiced as a patent litigator with Kaye Scholer LLP and Howrey LLP and advised clients on intellectual property strategy, litigation and patent prosecution. Kevin began his career in IP as a patent examiner at the U.S. Patent & Trademark Office. Kevin has a JD from George Washington University Law School and a BS in Mechanical Engineering from UCLA.
Dr. Stephan Wolke graduated in physics. He spent the first five years of his professional career at McKinsey & Company. He joined Thyssen Krupp in 2011 and is on corporate level responsible for Intellectual Property as a well as head of management board of the newly founded ThyssenKrupp Intellectual Property GmbH.
Wulf Höflich is Patent Attorney and Co-founder of AKLaw IP & Law Firm in Munich. Prior to this, Wulf was Vice President Technology Licensing and Intellectual Property at Airbus Group in Toulouse. Wulf has a degree as aeronautical engineer.
Space is limited at our reserved table! RSVP as soon as possible if you plan to attend.