Description
Presented by
The Los Angeles Mission College Culinary Arts Institute
Don't miss the San Fernando Valley's premier Oktoberfest featuring local craft beers from Golden Road Brewing and 818 Brewing, as well as Bavarian-style foods like sausages and pretzels.
*** YOUR TICKET INCLUDES FREE BEER TASTING AND FOOD ***
Saturday, Oct. 20
4 p.m.-8 p.m.
Live Music and Theatre Performance
Location:
We're turning our Culinary Arts Patio into a full-scale Biergarten
Los Angeles Mission College
13356 Eldridge Avenue
Sylmar, CA 91342
Purchase Your Tickets for $55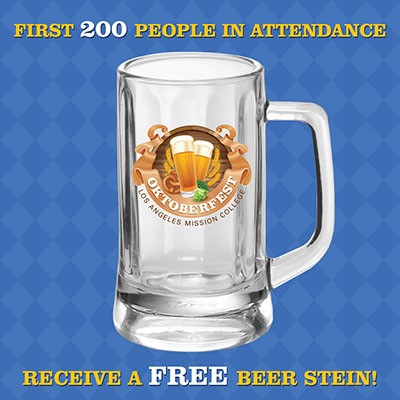 * This event is for adults ages 21 and older. Attendees must bring a government-issued ID showing their legal age for entry. We reserve the right to refuse entry to anyone.