Description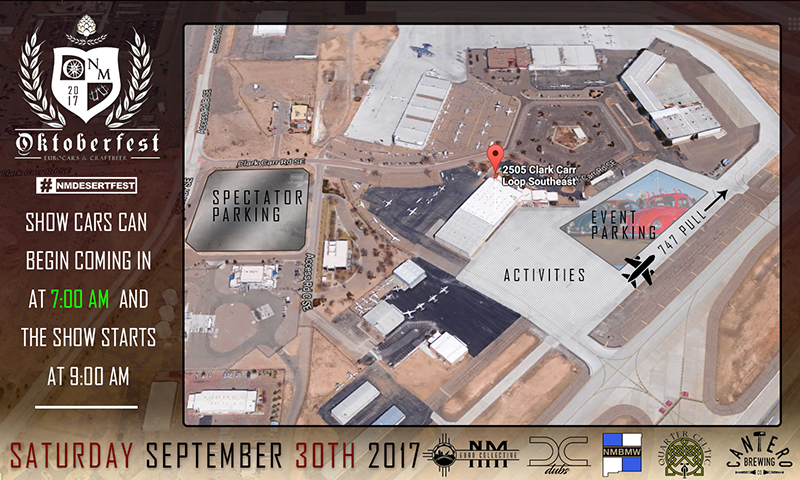 NM Desert Fest and NM Euro Collective are proud to present an exclusive Euro only Oktoberfest Car Show on 9/30/17. In partnership with Duke City Dubs and NMBMW this event will benefit the Boys and Girls Club of Central New Mexico.
This year we will be teaming up with the Pull For Kids event hosted by the Boys and Girls Club on the tarmac right infront of Atlantic Aviation at the Albuquerque International Sunport. This event will be FREE for the public to attend. All show cars must register to enter the event. This is a Euro Only show.
This event will have plenty of activities for all ages. We will have a Ninja course along with a rock climbing wall. We will also have active planes landing behind the show on the runways as the event is taking place. Plenty of food and a beer garden will be be hosted by Quarter Celtic.
1- When and where is the event?
The event is on September 30th 2017 and it will be at 2505 Clark Carr Loop SE, Albuquerque, NM 87106.
2- Is the show free for spectators?
Yes the show is 100% free to attend as a spectator. If you want your car in the show, you must register your car and pay for a ticket.
3- I want to be in the show, what do I need to do?
You will need to register your car and bring a digital or paper reciept for confirmation.
4- What time does the event start?
The event starts at 9:00am and ends at 2:00pm.
5- When do show cars begin arriving?
Show cars should begin arriving at 7:00am and must be parked by 9:00am. Your car will be inspected by police before entering the Tarmac.
6- Can me and my crew park together?
If you are a Crew or a club and you want to "park together" you must show up together. If there is no space for your club to park together, we won't be able to make room for you. Parking together is never guaranteed, I hope we won't have to show you this in writing at the event.
7- What do SHOW cars need to bring with them to validate their purchase?
You must bring a reciept of your ticket purchase for you to enter the event. No reciept, no entry. We will make absolutley no exceptions. The reciept/ticket will need to be printed after you have registered your car, please do not forget it.
9- There will be an undisclosed number of cars that will be set in a feature area. If you would like to submit your car for the feature spot area, please send an email to nmeurocollective@gmail.com with your name, proof of event registration, and 1 or 2 photos of your car with a list of mods.
10- Will there be food and drinks?
Yes, we will have several food trucks on the ground, Quarter Celtic will be serving beer as well.
11- Are tickets refundable?
Tickets are not refundable. If you can't make it to the event, please make sure you do not purcahse a ticket.
12- Who does this event benefit?
100% of all proceeds generated from ticket sales to this event will be donated to the Boys and Girls Club of Central New Mexico.
13- Will this event be judged?
Yes, this event will be judged. However, each class we decide to issue a prize for will be judged by three to four judges who will have the experience to make such decisions. We typically allow the childern to make the decision, but it seems like we expect too much of them.
14- What makes this event different?
For once we are able to hold a show on a tarmac where we will have a Boeing sitting behind the cars. This is the best opportunity for you to showoff your pride and joy.
15- Will there be a shuttle service from the Spectator lot?
Yes there will be a shuttle service from the spectator lot if you do not want to make the short walk. The service will be running the entire time during the event.
1- No revving and absolutley no burn outs. If you are caught doing it, you will be escorted off the permesis by the police.
2- If you have nothing good to say, don't say it at all.
We look forward to seeing you all out there on the 30th. Come and support an event that benefits the childern of New Mexico!